10 Best Wineries to Visit in Chianti Classico, Tuscany, 2019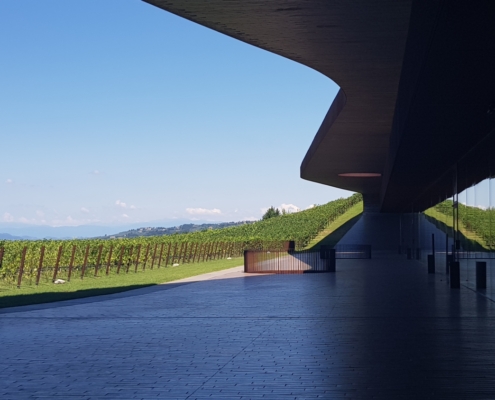 On your next vacation in Italy be sure not to miss out the beautiful Chianti Classico wine region in Tuscany, especially if you are a wine lover! Explore the enchanting Chiantigiana wine route, the land of Sangiovese, and taste different expressions of this Tuscan noble grape on our Authentic Italy Bespoke Food & Wine Tour! Listed in alphabetical order, discover some of our favorite wineries of this region, as noted below:
1) Antinori nel Chianti Classico
The famous state-of-the-art, Antinori nel Chianti Classico, winery awaits you; to say it is impressive is an understatement! A story that began in 1385, your visit with an in-house expert will reveal their truly magnificent innovative eco-friendly architecture blended with the surrounding scenery, and once inside the cellars, you will view their sophisticated wine making processes. You will enjoy their most suggestive and unusual tasting spaces, as you savour their flagship Chianti Classico wines, from both this, sleek and modern, as well as from another ancient, and also very prestigious, Badia di Passignano cellar by the same company.
Should you wish to explore the Antinori Tuscan estates further, the nearby quaint estate of Antinori's Badia Passignano, is truly worth visiting, with its fabulous reds, made from a selection of the best Sangiovese grapes harvested from the monastery's historic vineyards. The historical property extends over 223 hectares, of which 65 hectares are planted with vines. We will gladly arrange for a wine expert to take you on a memorable tour of the property and you will taste some of Antinori's mythical wines such as Tignanello, Cervaro della Sala, Chianti Classico Riserva Badia a Passignano, Guado al Tasso, and Solaia. After the cellar visit, enjoy an extra virgin olive oil tasting. If you have the time make sure to book at Osteria a Passignano for dinner that evening, you won´t be disappointed!
Another "not to be missed" winery is Castello di Brolio, one of the most important and historic Chianti Classico-producing estates. This is possibly the oldest winery in Italy, whose founder, the famous Barone di Ricasoli, was responsible for formulating the grape mix of Chianti Classico during the late 19th century. Your in-depth tour with an in-house expert will take you on a journey of nearly a thousand years to the remarkable ancient castle of the estate, around the grounds, to see the chapel and also to appreciate the great views across the surrounding countryside from the panoramic terrace. You will then head to the impressive modern winery where you will experience a tasting of several top Chianti Classico wines.
If you're looking for the complete package where you can stay, drink, eat and be merry then look no further than this quaint ancient village. The history of the Mazzei family dates back to 1435, their estate covers an overall surface of 650 hectares, where "only" 117 hectares is utilized for their special vineyards. The grapes here are harvested by hand, turned into wine and aged in wood barrels, it´s no wonder the excellence of their wines are renowned worldwide! Be prepared for a new sensory experiences and unique ambiance with a visit to the winery where you will discover the most important wines of Fonterutoli and the other Mazzei estates.
This fantastic historic estate has been welcoming guest since 1256, the first accounts date back to the eleventh century, when it was the property of the Benedctine monks. With the land extending across 2,400 acres, of which 400 are dedicated solely to vineyards, you will surely be fascinated by the prestigious wines on this visit. About 70% of the grapes are harvested by hand due to two factors, the slope of land and the commitment to selecting only the best fruit. As well as a great guided tour and tastings, you can also enjoy lunch or dinner at the restaurant, Fornace di Meleto. Make sure you collect some unique bottles from their wine shop once you have experienced your favorites!
The owners of Castello di Vicchiomaggio have dedicated their lives to preserving centuries-old tradition, where wine is still produced in their hilltop historic castle. The estate covers 140 hectares, of this 34 are vineyards and 10 are olive trees, leaving the rest as a park. The tour of the vineyard and historical cellars allow you to discover the secrets of the production of their award winning wines and to learn about their indigenous grapes such as Canaiolo and Colorino. Afterwards you can choose to continue your experience with wine tasting and lunch in the restaurant of the castle or with a tasting and a dinner paired with the labels belonging to the castle.
This incredible winery nestled in a medieval hamlet of this tiny village will not disappoint, it may possibly be one of the best you experience. With an incredibly authentic feel not only can you enjoy fantastic wines but you can stay overnight in the villas, join a bespoke cooking class and enjoy succulent dishes from the restaurants. From the eleventh century the village has been intimately involved in the wine and olive oil production, nowadays producing only certified organic options. Learn about the fascinating history of how the wines are produced and how they are joined together by an underground wine duct during one of their unique winery tours.
8) Dievole
Well known for fusing traditional methods and scientific innovation Dievole focuses on the finest quality, sustainability and low environmental impact. Founded in the 11th century Dievole produces elegant wines and top extra-virgin olive oil which you can learn about on one of their many fantastic tours. Walking down the street lined with signature cypress trees, you will find yourself in the medieval hamlet, where the sommeliers will welcome you into the wine shop for a fantastic wine tasting, followed by a visit to the cellar where you will swirl and savor Dievole's finest Chianti Classico DOCG and will also hear about their sustainable production system.
Experience a unique wine tasting and cellar visit to this small boutique winery, halfway between Florence and Siena, in the small village of Panzano. Changing ownership in 1994, to the Schmitt-Vitali family, all vineyards have since been replanted and take great care of, selecting only the right type of plants with the best rootstock. The property extends over 15 hectares of which 9 hectares are vineyards and the rest are olive groves. The organic vineyard is farmed sustainably to save the integrity of the environment, whilst taking meticulous care of the vines they only select the best grapes for the cellar which allows 40-50,000 top quality bottles to be produced each year.
10) Molino di Grace
Another small yet fantastic wine producer is this state-of-the-art winery which was built in 1997; although the vineyards have long been prosperous for over 350 years. Molino di Grace, the 'windmill of grace', has 30 hectares of vineyards that have been producing traditional Chianti Classico wines, and is complete with an historic 19th century windmill and world-class sculptures. The winery makes every effort to be a sustainable and bio-dynamic, producing around 250,000 bottles of Chianti Classico, Gran Selezione, Riserva, and Super Tuscan wines each year. Passionate staff offer tours of the winery including the vineyards and wine tastings of their vintages, as well as their artwork.
With our fantastic chauffeurs or on a self drive basis you will be able to tour some of these 10 Best Wineries to Visit in Chianti Classico, Tuscany and much more, as part of your private Wine, Gourmet & Cultural Tours of Italy. Feel free to browse our website and get inspired!
https://www.gourmandbreaks.com/wp-content/uploads/IMG_8389.jpg
1568
2352
admin
https://www.gourmandbreaks.com/wp-content/uploads/GourmandBreaks_v12.png
admin
2019-05-13 14:33:20
2020-10-27 12:37:15
10 Best Wineries to Visit in Chianti Classico, Tuscany, 2019