Best Wineries in Alentejo, Portugal 2020

Best Wineries in Alentejo, Portugal 2019
On your Portuguese wine and culture tour with us you will surely enjoy the visit to the tiny village of Igrejinha in Alentejo wine region, where the Herdade dos Coelheiros wine estate is run by the effervescent Teresa Leal. This estate not only produces wines, but also walnuts and cork trees.  The area is known for the world renowned typical Portuguese craft – the most beautiful carpets of Arraiolos, nearby, that throughout the years won a status of national symbol, and now they bring their image, tradition and identity to the labels of this fine winery.
Herdade dos Coelheiros estate in Alentejo is a family business founded in 1981, which over the years has won recognition for producing wines of unquestionable quality, both nationally and internationally. It launched its first wine, labelled Tapada dos Coelheiros in 1991.  Since then, their portfolio of wines and other products has gradually grown.   A visit to this fascinating Portuguese wine estate will surely end with a tasting of their best wines including their superb barrel fermented white and the powerful Tapada de Coelheiros Tinto.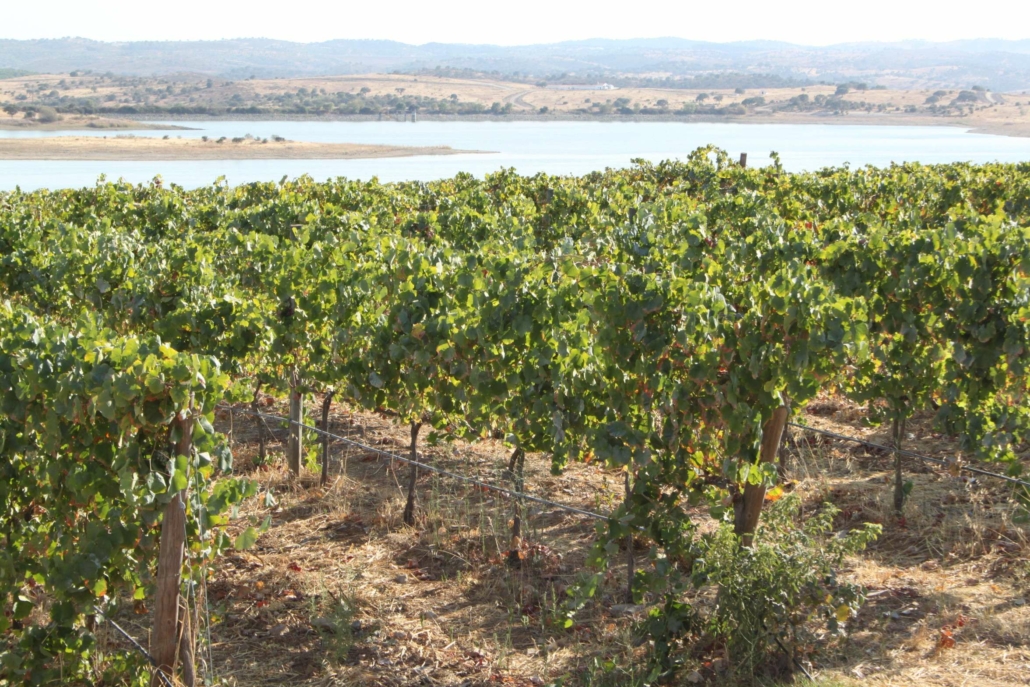 Another very fine winery in Alentejo region is Esporao, a very progressive family business which has recently won the hotly contested "Sustainability of the Year" Award in the Drinks Business Green Awards 2013.  The Drinks Business, British magazine and one of the publications most read in Europe, praised Esporão for its holistic approach in adopting a wide range of innovative sustainable practices.
Since it was founded in 1267, the boundaries of Herdade do Esporão have remained virtually unchanged, despite being the stage of bloody battles and heroic deeds over almost nine centuries.
A visit to this impressive Alentejo winery not only includes a tour of the vineyards, wineries and wine cellars, there is also a great opportunity to visit and get to know the historical and cultural heritage of Herdade do Esporão, which dates back to the 15th and 16th centuries.
In the historic and monumental centre of Herdade do Esporão you can visit the Esporão Tower, the Nossa Senhora dos Remédios Chapel (both of which have been classified as Public Interest Properties), and the Esporão Arch.  The chapel, an example of religious medieval architecture, was recently restored, thus making it possible for visitors to see the magnificent frescoes in its chancel.  There is also a Museum in the Esporão Tower where you can admire artefacts from the excavations at the Perdigões Archaeological Complex.
At the end of  your private tour of this winery, you will not only be able to taste some of their fine wines, but also their incredible virgin olive oil, prior perhaps to enjoying a delicious meal of local delicacies in their charming restaurant
Visit these incredible Portuguese wineries and much more on a Luxury Tour of Portugal with Gourmand Breaks!
https://www.gourmandbreaks.com/wp-content/uploads/Alentejo-Winery.jpg
1568
2352
admin
https://www.gourmandbreaks.com/wp-content/uploads/GourmandBreaks_v12.png
admin
2019-03-15 15:34:36
2020-11-17 14:17:45
Best Wineries in Alentejo, Portugal 2020