Orange Caramel Cream Traditional Spanish Recipe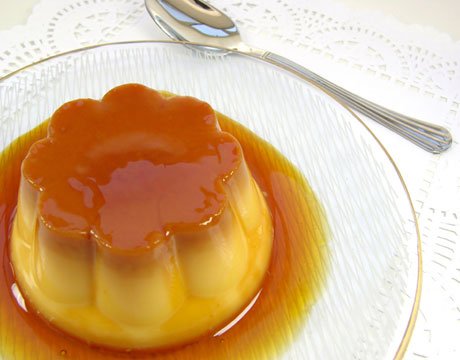 Flan, or caramel cream is just about Spain's National pudding – to be found on virtually every Menu del Dia (Menu of the Day).   This is not a flan as we know it, it is a caramel cream, a custard with a melted caramel top – somewhat like a Crème Brulee.   In this recipe orange juice is used rather than milk – it makes a perfect light sweet.
Ingredients for Traditional Spanish Caramel Cream, Spanish Flan de Naranja
Yolks from 7 large Eggs
1 large Egg
250g Caster Sugar
2 or 3 Large Oranges to make 7 fl oz freshly squeezed Orange Juice
Preparation of Traditonal Spanish Caramel Cream:
Firstly heat your oven to 170ºC.
Place 6 small 100ml moulds or coffee cups in a small roasting tin
Put 50g of sugar in a small pan with 2 tablespoons of water and heat gently to make the caramel.   Allow it to boil until it turns brown and gives off a caramel smell and then immediately remove from the heat before it burns and becomes bitter and quickly pour about 1 tbspn into the bottom of each mould or cup.   Turn each mould/cup slightly to cover the bottom and part of the sides.
Grate the zest from 1 orange on a fine grater.  Put the yolks and whole egg in a bowl and beat lightly to combine.
Put the remainder of the sugar in a pan with the Orange juice and bring to the boil, stirring all the time to dissolve the sugar – turn down the heat and boil for 2 minutes.
Take the pan off the heat and let it cool a little prior to integrating with the beaten eggs.
Pass this sauce through a sieve and then divide the mixture between the moulds/cups.
Pour boiling water around the moulds/cups to come half way up the sides of the moulds and bake for 30 minutes.
Take the tin out of the oven and let everything cool down sufficiently so that you can handle the moulds/cups, then chill in the refridgerator.
When ready to serve the Spanish Orange Caramel Cream upturn the moulds onto individual plates and enjoy with perhaps icecream, cream or even solo – refreshingly different!
If you would like to learn to cook like a professional then our private Cooking Tour in Northern Spain introduces you to the best of Spanish cuisine as well as a range of culinary delights such as Michelin starred dining, exquisite wine tastings and authentic gourmet tapas tours.
https://www.gourmandbreaks.com/wp-content/uploads/GourmandBreaks_v12.png
0
0
admin
https://www.gourmandbreaks.com/wp-content/uploads/GourmandBreaks_v12.png
admin
2011-02-03 02:39:30
2020-11-17 15:38:07
Orange Caramel Cream Traditional Spanish Recipe