The best cheese in Spain! Artisan blue cheese from Llavina in Catalonia

Lara & Brett Silverman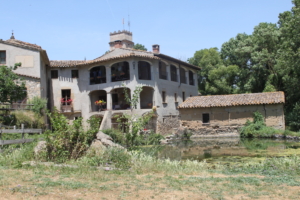 One of our most idyllic (and romantic) little lunchtime retreats arrives in the form of a 500 year old Catalan mill. Not only is the mill as pretty as a picture but is steeped in culinary history (which gets us really very excited). A visit here is as much about the passionate and knowledgeable owners, Gloria and Joseph Llavina, as it is about the cheese. Oh, the cheese….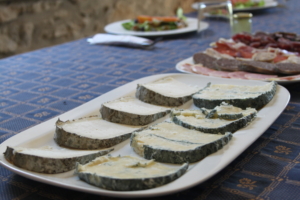 The blue cheese was the first of its kind to be developed in the area and is made by Joseph, Gloria and their daughters in the same family mill where Joseph's family have been for over 500 years. Made with raw milk from Friesian cows and a type of Penicillium Roquefort, matured in the cellar located under the mill itself, the cheese is a delightful combination of buttery, creamy, spicy and intense all at the same time. In the dairy crisis of the 80´s Joseph was forced to rethink the business, and due to his innovative spirit, he began to make cheese with milk from cows he had. In 1997, unlike any other Catalan cheeses at the time, the blue cheese was born.
After a guided tour around the mill by a sparkly eyed Joseph, a glimpse of a beautifully laid table hints that it´s finally lunchtime. A simple and fresh salad is suitable to accompany the delicious selection of cheeses and meats along with plenty of homemade baked bread ´con tomate´ – a true Spanish specialty (but nowhere has it tasted quite so delicious).
After a quick demonstration of the porrón (which can only be described as a sort of cross between a wine bottle and a watering can) from Joseph we washed down a substantial quantity of cheese (it would be rude not to) with plenty of refreshingly cold local red wine.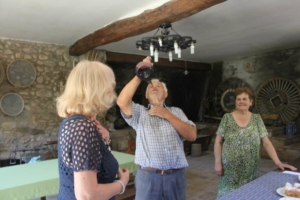 To finish with, an extremely strong pot of coffee and Gloria´s trade mark cake, beautifully light, soft and buttery with a little pot of soft goats cheese and local honey on the side.  And not forgetting a quick shot of home made Ratafia´- a traditional Catalan sweet liqueur concocted of around 50 different aromatic herbs, flowers, fruits and spices.
If you would like to experience your own taste of history then our Taste Your Way Through Catalonia Tours  include unique visits to secret foodie hideaways such as Moli Mill where you can experience and taste local produce first hand. History has never tasted so good!
https://www.gourmandbreaks.com/wp-content/uploads/Lara-Brett-Silverman-tour-reviews.jpg
720
1100
admin
https://www.gourmandbreaks.com/wp-content/uploads/GourmandBreaks_v12.png
admin
2012-07-04 09:40:44
2021-01-22 16:52:24
The best cheese in Spain! Artisan blue cheese from Llavina in Catalonia