The best food in Italy – Parma & Bologna in Emilia Romagna

For a true Italian food lover, Parma and Bologna are gourmet bliss! Ever tried real Parma ham? Authentic Parmesan cheese? What about that sweet and viscous salad dressing of balsamic vinegar of Modena? Without doubt you are sure to have eaten a version of `Bolognese' sauce dressed over some delicious lasagna sheets, right? All of these wonderful Italian ingredients originate in Emilia Romagna, the region between the well-known cities of Milan (in Lombardy) and Florence (in Tuscany).
Why you must include Emilia Romagna on your next food and wine tour of Italy
Emilia Romagna is such a foodie haven, that its capital city Bologna, is known amongst Italians as `La Grassa' (the fat one). We have Bologna to thank for what we English-speakers know as 'Bolognese sauce', a rich and thick tomato sauce with minced beef through it, sat atop (usually) spaghetti or tagliatelle pasta, or cooked into a lasagna. The perfect way to warm up on a cold winter's day! When it comes to pasta, Emilia Romagna has no less than twenty-three regional varieties! Here is where lasagna was born, as well as tortellini, fettuccine and tagliatelle. In fact, with over 200 traditional products now protected by law, Emilia-Romagna is undoubtedly the heart of classic Italian home cooking.
For you food-lovers and gourmets out there, we would love to create a customized food and wine itinerary in this historically-rich Italian region. Although our specialist food and wine travel agency is based in Spain, we have great Italian experts in our team, as we provide food and wine itineraries of Italy for our cherished repeat clients, all of whom (like us!) appreciate nothing more than a great meal in a scenic spot with good company… So if for your next European adventure you want to visit authentic local producers and the more hidden corners of this magnificent country, our Italian travel specialists will make sure that you encounter everything you want to on your ideal Italian food & wine vacation!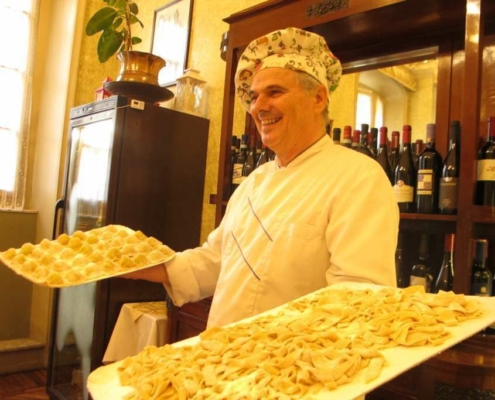 When in Emilia Romagna (that's 'romaña', English-speakers!) with us you will dine like an Italian aristocrat no matter where you go, from the local trattoria to the dining room of Osteria Francescana, the 3-Michelin-star restaurant in Modena, run by well-known food-lover and chef Massimo Bottura. In the Parma and Bologna area the respect for tradition and locally-sourced ingredients is strong: so be ready to encounter some incredible freshly made, home-cooked fare with its many beloved ingredients.
Parma is the second-largest city in Emilia Romagna, and the birthplace of renowned composer Giuseppe Verdi; so here you will not only find fantastic food, but marvellous opera at its 'Teatro Regio'. Parma gives its name to the beloved cheese, Parmesan (who can have a pasta dish without it?). Parmigiano-Reggiano is a D.O.P (Designated Origin Protected) cheese that is believed to have been created by monks as a way of preserving milk. Genius!
Watching someone cut open a wheel of Parmigiano-Reggiano (and at 35kg, they are difficult to manoeuvre!) is a spectacle in itself – you will see how laborious it is, as the knife makes its way into the hardened flesh of this incredible cheese. Then you will enjoy some Parmesan cheese local-style, a chunk with fresh crusty bread, a slice of Parma ham, and a drizzle of balsamic vinegar for sweetness. Buonissimo!
When it comes to all things pig, the locals of Emilia Romagna have that covered too! We have their ancestors to thank for Prosciutto di Parma (produced from the pigs' hind-legs) and Culatello di Zibello (considered the king of meats, it is made from the fatty back-end of pork) which is a ruby-red, melt-in-your-mouth kind of affair. On your gourmet Italian tour with us in the Parma and Bologna areas, you will taste some amazing prosciutto di Parma and Culatello di Zibello ham at local artisan producers.
A world-renowned Italian product which cannot be overlooked for its uses is the vinegar Balsamico di Modena, a condiment which has been produced for centuries. Made from the must of Trebbiano grapes, it becomes denser and sweeter as it ages in the barrel, and can be used to dress various types of meats , cheeses  and roasted vegetables, as well as add a dash of sweetness to sugo al pomodoro (tomato sauce) or stone fruit warmed on a griddle for dessert with gelato. Buon appetito!
Join us on an authentic hidden Italy food and wine tour, discovering not only the "must-sees" but also the just-as-beautiful but lesser-known parts of this glorious country.  Experience visits to charming local food artisans, Parmesan cheese and ham producers and enjoy the company of our excellent and fun local guides – you may even want to try your hand at making some tortellini!
Please note that we create only our own private itineraries, working directly with carefully hand-picked and proven providers, so we can easily custom-make a perfect Italian tour to suit your preferences, with no additional costs.
https://www.gourmandbreaks.com/wp-content/uploads/IMG_6599-e1573219915294.jpg
846
2246
admin
https://www.gourmandbreaks.com/wp-content/uploads/GourmandBreaks_v12.png
admin
2019-11-08 13:25:24
2020-10-28 11:30:38
The best food in Italy – Parma & Bologna in Emilia Romagna