The best Valpolicella wineries & wine tastings 2021

For any wine lover, once we are all able to travel again, there is much to be discovered in the small but beautiful Valpolicella wine region of Italy. As regular travellers to the area, we miss all those wonderful visits and wine tastings in lovely company, and cannot wait to return to Valpolicella! What better place to relax in your own bubble and enjoy scenic landscapes, cute rural villages, and of course exceptional wines! Aside from the classic Tuscan retreats, the iconic Valpolicella wine region of Italy, is also a small haven of peace and just over two hours' drive from Venice. The wine alone is worth the journey (more about the wines of Valpolicella later), but I would be remiss to not state the scenic splendour of this mountainous area of northern Italy. Along with Northern Italy's amazing food, its proximity to Piedmont and Venice, Valpolicella makes a perfect post-pandemic travel destination. Read on for our personal Valpolicella wine region travel tips on the best Valpolicella wineries to visit. If you prefer to enjoy the comfort of having it all organized for you, ensuring also that all the Covid measures are in place just drop us a line and we will happily assist! Or have a look at our sample Italian wine tours to get inspired!
Where is the Valpolicella wine region?
The Valpolicella wine region is found between three regions of northern Italy; Veneto, Trentino and Lombardy. It sits on the eastern side of Lake Garda, sheltered between the Alps and the Lessini mountains, creating an ideal microclimate. It is presumed that winemaking has occurred in this part of the world for millennia. When you come to the Valpolicella wine region, you will enjoy not only mouth-dropping scenery, but also an area full of history and some of the very best Italian wines! The main Valpolicella grapes are Corvina, Corvinone, Rondinella, and Molinara.
Valpolicella wineries not to be missed
Possessioni Serego Alighieri Masi is a Valpolicella winery located in the heart of the Classica district, surrounded by green hills only a few kilometres from the historic city centre of Verona and the beauty of Lake Garda. In 1353, the charming Tenuta (estate), already famous for the quality of its vineyards, was bought by Pietro Alighieri, son of Dante the Poet. For twenty-one generations, descendants of the Supreme Poet have lived at Serego Alighieri winery, a landmark site for viticulture in the Valpolicella wine region. Chief wine-maker Sandro Boscaini has said that while "It's impossible to bring Juliet's Balcony in Verona to New York, we can bring a bottle of Amarone. Through the juice of the grapes we can encapsulate in a bottle the romance, the culture, the story of a people." We couldn't agree more!  Serego Alighieri winery cellars are the oldest in Valpolicella, and their winery visits are truly outstanding.  The Valpolicella wines produced here are assisted by 600-litre cherry wood barrels, which helps to create a well-rounded red with a velvety mouth-feel. Our clients always rave about the Dantesque Experience touring the stunning estate, finishing with a tasting of four wines, paired with delicious local cheeses in the company of charming Davide, one of our favourite winery guides.
Ca La Bionda Valpolicella winery is a firm favourite of ours, found a mere 7 km from Serego Alighieri winery, also situated in what is historically the "classic" zone of the Valpolicella wine region. Founded in 1902 by Pietro Castellani, who was both a passionate and dedicated grape grower and wine-maker, all phases of the wine-making process at Ca la Bionda winery are still a family-done tradition. The varietals found at Ca La Bionda are the traditional Valpolicella wine region grapes;  Corvina, Rondinella, Molinara and Corvinone – all giving rise to the famous wines of Amarone and Recioto. This Valpolicella winery favours organic viticultural practices, and our private tours at Ca La Bionda include a tasting of all their wines, including their mind-blowing Valpolicella Classico and Amarone wines.
Quintarelli Giuseppe is probably the most mythical winemaker of the Valpolicella wine region, and if you can get yourself there; do! Giuseppe Quintarelli took over the estate which his father had created between the wars, in 1950. Today, the name Quintarelli is synonymous with excellence, but also tradition, patience (the maturation process is long) and authenticity. This humble domain (there is no grand château to be seen at Quintarelli Giuseppe winery, just a family home and a cellar), produces Amaroni that are unrivalled. Bottle labels are a modest affair and marketing is quasi-inexistent which all contributes to the charm. The vineyard spans 12 hectares and produces just a mere 60,000 bottles per year. At Quintarelli Giuseppe winery yields are purposefully kept small through methods such as green harvesting so as to privilege quality not quantity. It is not easy to secure a visit to this family-run Valpolicella winery, but we are here to help you ann be assured that once you are there, the hospitality is unrivalled! You will surely leave with a feeling of warmth from the charming owners and the taste of their wines…
The iconic Dal Forno Romano is a Valpolicella winery born in 1983, when Romano dal Forno and his family bought vineyards in Ilasi, just outside of what is the Classic Zone for the Valpolicella wine region, but within the Valpolicella DOC. Every time someone says 'Amarone' we are pretty sure most wine lovers immediately think about 'Dal Forno Romano Amarone' in the first 10 seconds!  Although Forno Romano Valpolicella winery has a mere 8 hectares of vineyard, Romano and his family make some truly exceptional Amarone and Valpolicella wine! You can taste the love and care in your glass! Dal Forno Romano is open to experimentation, and they are at the forefront of the new wave in Verona's winemaking scene. The family provides fabulous and very personal guided visits; we can assure your visit to their heralded 'Monte Lodoletta' is an experience you will never forget!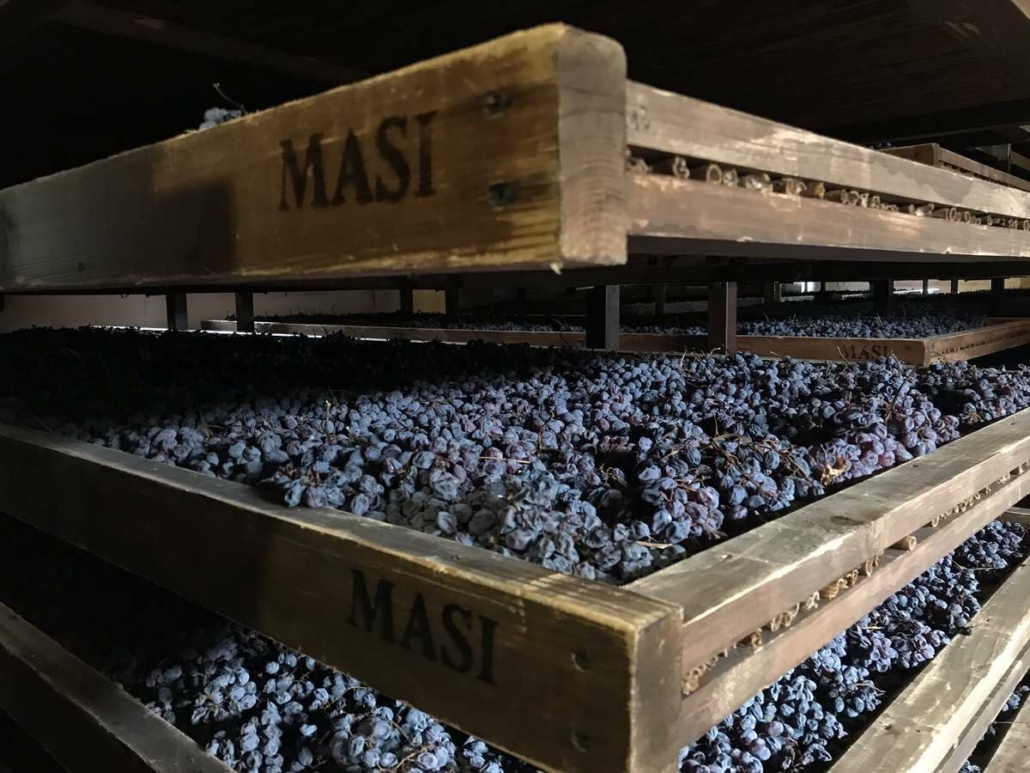 We could not talk about our favorite Valpolicella wineries without mentioning the tiny family run Rubinelli Vajol! Founded in the 1920s by Gaetano Rubinelli, an engineer who helped build the Chievo Dam, a hydroelectric plant on the Adige River, this Valpolicella winery has been in famiglia for generations! Affable Alberto will show you around his family's vineyards and through the winery; closing with a simple and delicious wine-tasting. The current generation of Rubinelli Vajol makes just five traditional wines from 10 hectares of vineyards: the sweet, dried-grape Recioto della Valpolicella; its dry, dried-grape sibling, Amarone; Valpolicella Ripasso; and two classic Valpolicellas. All the grapes come exclusively from the fields around Corte Sant'Anna, which gives the Valpolicella wines of Rubinelli Vajol a unique flavor.
Wine appellations of Valpolicella: what is the difference?
Valpolicella DOC is a Valpolicella wine whose grapes can be grown in either the Valpolicella Classica (area north-west of Verona until the Adige river) or the Valpolicella Allargata (area north of Verona, in an easterly direction).
Amarone della Valpolicella DOCG is a Valpolicella wine who many consider to be the Queen of the Valpolicella wines. Amarone literally means "The Great Bitter" and is made by using a traditional method called appassimento, which consists of drying the grapes for a few months until they have a raisin like appearance, before pressing them. The result is a wine with a great concentration of flavour, sugar and alcohol. The grapes are laid out on bamboo racks in drying lofts for up to 120 days – if you are lucky to visit during this time, the sweet aroma of drying grapes is so enticing!
Recioto della Valpolicella DOCG is a dessert wine made in the same method as Amarone della Valpolicella wine, from dried grapes.  For Recioto, the wine-making process focusses on keeping a higher sugar content, so during the fermentation process as the sugars turn to alcohol; the process is stopped while the sugar content is peaking. 
Valpolicella Ripasso DOCG is a Valpolicella wine is made by combining the finished wine of Valpolicella DOC with the drained but unpressed skins left over after Amarone della Valpolicella DOCG or Recioto della Valpolicella DOCG.
For an insider's experience of the Valpolicella wine region and its wine varietals, join us on a custom made Italian wine tour to include Valpolicella and other relevant Italian wine regions, all contained within your own private bubble, made to your preferences and budget. Our excellent local guides and chauffeurs will take good care of you! You might prefer to experience the Valpolicella wine region on a self-drive basis – in both cases, our personalized Italian wine tour itineraries will allow you to explore not only Valpolicella wineries, but many other aspects of northern Italy; including its prettiest villages and finest restaurants.
If you want to know the current travel situation in Europe, we are here to offer travel advice, always keeping your best interests in mind. Just drop us a line: [email protected] and we will provide all the pertinent information.
https://www.gourmandbreaks.com/wp-content/uploads/Zyme-winery-tasting-room-for-Valpolicella-blog.jpg
1080
1080
admin
https://www.gourmandbreaks.com/wp-content/uploads/GourmandBreaks_v12.png
admin
2021-03-11 10:30:18
2023-05-31 12:39:11
The best Valpolicella wineries & wine tastings 2021