The best wineries in the Spanish Emporda Wine Region

The up and coming Empordà wine region in Catalonia, northern Spain is known for it's high-quality wines, olive oil and beautiful scenery. The windswept Emporda landscape between the Costa Brava and Girona, does not only offer bucolic vineyards and olive trees vistas,  but fascinating medieval hamlets and gorgeous seaside villages as well. If you are a wine lover and like to discover exciting new wines, the Empordà wine region is a perfect wine travel destination.  Still undiscovered, but with great food, lovely rural hotels and charming vintners,  who are always ready for a chat with fellow wine buffs and of course, an Emporda wine tasting!
More and more local Emporda wine makers prefer to grow their grapes in a way which is in harmony with the local environment. One such Emporda winery is Terra Remota lying at the base of the mountains, close to the border of Spain with France.  This ecologically run vineyard is one of the best wineries in Catalonia and their fine organic Emporda wines have gained a fabulous reputation by being included on the wine lists of many Michelin 3 starred restaurants! Not only does this Catalan cellar produce organic wines, but they also aim for minimal impact on the surrounding nature. Their raw concrete "bodega" designed by architects Pépe Cortés & Nacho Ferrer is recently built, but in time will surely hide itself entirely in its natural surroundings, as  it is perfectly integrated in a side of a hill, lying long and low with the mauve Pyrenees high above, with its roofs covered with vegetation.  On our Spanish wine tours, covering the Emporda wine region, our guests also enjoy a picnic at this special winery!  It is lovely to relax and unwind, surrounded by vineyards,  where you can put your feet up and lounge in the shade of the tall trees on the sun beds provided. With the sun filtering through the tree tops, take time out to breathe in the fresh mountain air.
Close by, another Emporda winery, Mas Estela,  is tucked within the Cap de Creus natural park and only 3 kms from the Mediterranean sea; its moderating influence protecting the valley of vines. Another of the best wineries in Catalonia, here not only do they produce highly-regarded wines but the location of the winery is sublime. The family came here in 1988 and bought a large ruin with some 20 hectares of valley and scrub land with steep slopes on either side. Having rebuilt their house, they planted the terraces with varieties like syrah, monastrell and garnatxa gris to complement the garnatxa, cariñena and muscat which already existed.  This Emporda winery is organic as well and applies biodynamic principles that obey the cycles of the moon in order to interact with the soil or when to work on the vines. Their use of natural fertilizer only, means that the environment is not polluted by any type of chemical which ensures that the biodiversity remains strong and creates a truly healthy environment.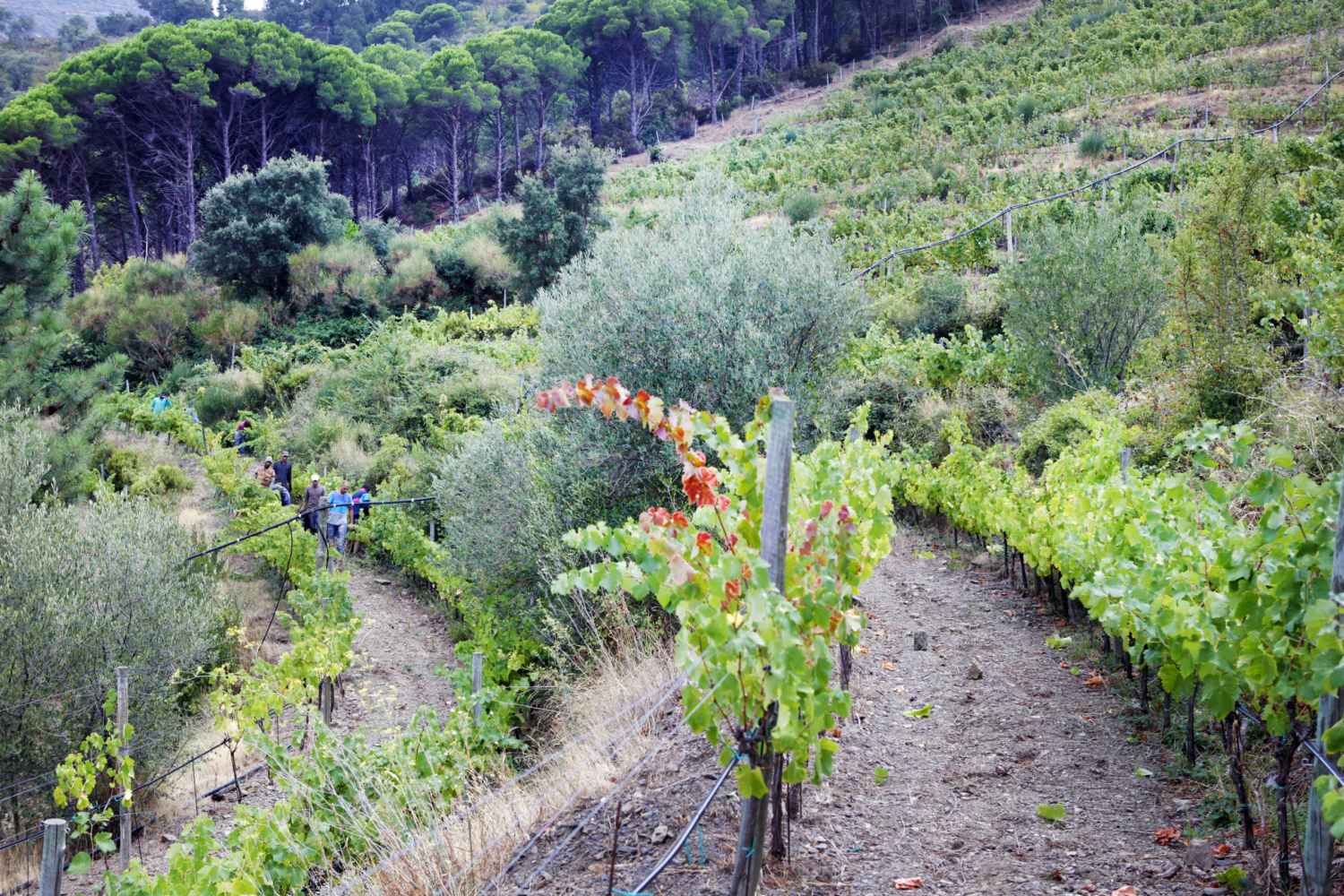 Another of the best wineries in Catalonia is La Vinyeta, in the heart of the Empordà wine D.O region. A young winery, it was purchased in 2002 by an enthusiastic Catalan wine making couple and is the fruit of much effort and ambition. From that moment on, more and more vines were planted, up to the present 30 hectares. The project was consolidated in 2006 with the construction of the winery and the making of the first wines. In 2009, La Vinyeta became one of the first Spanish wineries to adopt Integrated Production, an environmentally-friendly cultivation system. Their signature Emporda wines are not only delicious but structured as if they were part of a unique story. From the starting "Once upon a time" for the Heus label, the freshest and youngest of their wines; which is produced in red, white and rosé varieties. Passing on to the Llavors (it can be translated as "then"), which signals an evolution after spending six months in oak casks. This Emporda wine story is completed with the distinct Punt i Apart (which translates to "new paragraph"); La Vinyeta's flagship wine, and our definite favorite, which stays 13 months in oak casks.  
Our carefully designed Wine Lovers Tour of Spain covers not only the beautiful-up-and-coming Emporda wine region, but also many of our other favorite Spanish vineyards, some well known, others hidden gems waiting to be discovered. If you have just a few days, our Emporda Wine Region & Costa Brava Tour is a perfect opportunity to indulge in local wine, food and culture! Combining a few days of pure relaxation in medieval villages with a customized tour of the area including Emporda wine tastings, fine food and the best privately guided tours. Just drop us a line with your dates and budget and we will take it from there!
https://www.gourmandbreaks.com/wp-content/uploads/DSC04520.jpg
1125
1500
admin
https://www.gourmandbreaks.com/wp-content/uploads/GourmandBreaks_v12.png
admin
2020-01-09 14:13:35
2020-01-09 14:13:35
The best wineries in the Spanish Emporda Wine Region