The changing face of 'The World's 50 Best Restaurants' in 2019

The 2019 edition of 'The World's 50 Best' Restaurants has slightly changed shape.
A new addition to the awards' lists, is the 'Best of The Best'; created specifically to honor those who have taken the #1 spot of 'The World's 50 Best', as they can now no longer be in the running to compete; as previous winners. This allows new entrants to vie for the top prize without having to compete with the restaurants who have won time and again. This means chefs such as Ferran Adria, Massimo Bottura and Rene Redzepi can only receive the sought-after #1 if they open a restaurant in new premises.
The 51 – 100 World's Best Restaurants List 2019 was revealed yesterday (Full List HERE) and places have been tipped upside-down, meaning that there will be quite a few new entries in 'The World's 50 Best'. What we do know is that there are six restaurants from Spain, one from France and three from Italy in the 2019 list of the World's Best Restaurants; coming in between 51 and 100. At number 51 there is Niko Romito's Reale Castel di Sangro, San Sebastian's Arzak in 53rd place, and DiverXO (Madrid) gaining momentum from No. 96 last year to No. 75 this year. Albert Adria's Barcelonan restaurant Enigma goes higher up the list in its second year; now coming in at No. 82.
As fascinated by fine cuisine and wine as we are here at Gourmand Breaks we thought it best to show how the 'World's 50 Best Restaurants' do in fact get chosen: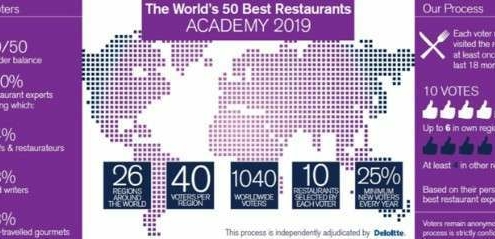 Each Academy member votes for 10 restaurants; at least 4 of these must be for restaurants outside their home region. Each member submits their 10 choices in order of preference, and they must also have eaten in the restaurants they nominate within the last 18 months.
Academy members cannot have financial interest in any restaurant they vote for, and they can only vote for a restaurant based on a dining experience that takes place at the restaurant itself. Nominations must be made for the restaurant, not for the restaurateur or the chef; and members of the Academy must remain anonymous.
https://www.gourmandbreaks.com/wp-content/uploads/singapore1.jpg
800
1200
admin
https://www.gourmandbreaks.com/wp-content/uploads/GourmandBreaks_v12.png
admin
2019-06-25 12:38:35
2020-10-28 11:30:16
The changing face of 'The World's 50 Best Restaurants' in 2019