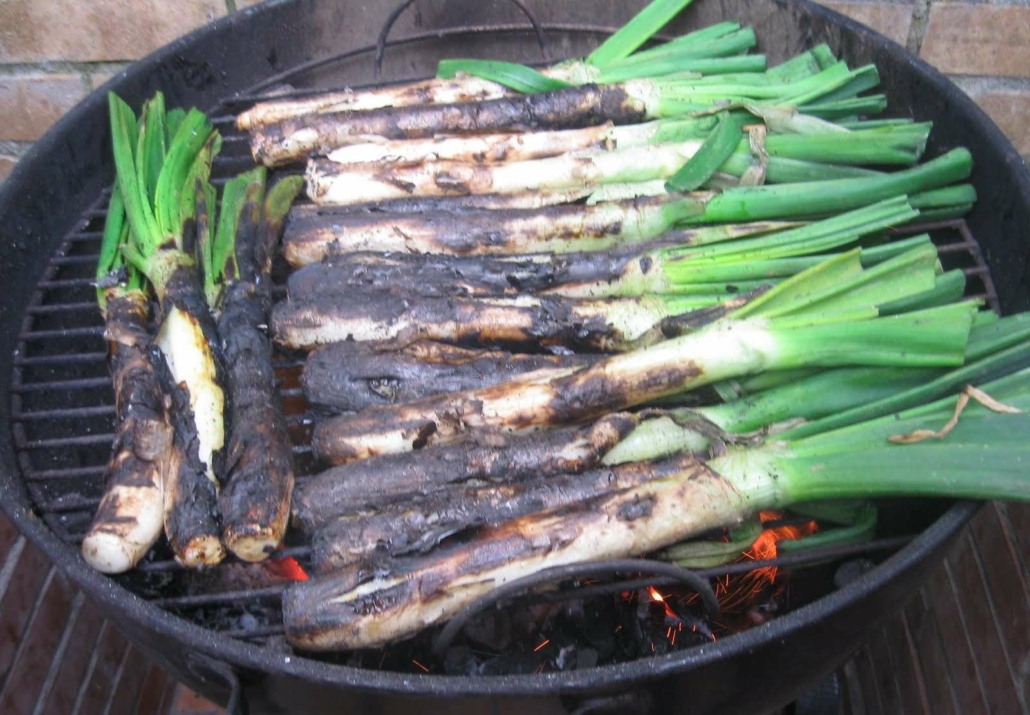 Winter in Northern Spain can be lovely!   This weekend it was so beautiful – yes, a little on the chilly side, but with the strong sun shining down on the whole garden, we decided that a traditional Spanish barbecue was in order, albeit we were definitely going to eat everything inside!
Well, that time is here again in Spain – Calçots time.   The glorious Calçot, one of the all time greatest Spanish foods,  is like a large spring onion, something like a leak – but different.  Now onto the rest of the barbecue.   The men wanted rabbit –  here in Spain rabbit is a very popular traditional Spanish food, low fat and thus a cholesterol friendly meat.   We also barbecued  lamb which is in season here at the moment – a small leg and shoulder make enough for us to share.
But back to the rabbit, which is so low in fat that it does not need much oiling,  stuff the insides with herbs – sometimes Rosemary – lots of it, still on the branch, or Sage – again lots of it.   Add half a dozen black peppercorns and a couple of good lumps of butter;  take a long pointed sate stick and seal the two sides of the stomach together with "stitches" – you may need two sticks – it depends really on the extent of the opening.
Now, take a mortar and throw in some mixed peppercorns, black, red and green, a good large teaspoonful of glorious Spanish Pimenton Dulce Ahumado (Smoked Sweet Pepper) some course salt, a scant teaspoon of Cumin and mix well together, stomping on the peppercorns with the pestle to break them down.   Add some Spanish Virgin Extra Olive Oil and then smother your rabbit in the luscious and colourful mixture.   If you have time, do leave it to "marinade" for an hour or so – if not, well, it isn't the end of the world.
For the baby lamb – we use part of a super recipe Rick Stein has in his recent book of recipes on Spain –originally a recipe for cooking goat, Rick says he has done this with lamb in the UK, but did not mention whether the lamb was as young as that which we get in Spain.  A good handful of rosemary leaves, a good handful of parsley leaves, course salt, grated rind of a non-waxed lemon , three cloves of garlic.   You need to "smunch" this for quite a while to achieve a really good gooey mass before adding some lovely Spanish Virgin Extra Olive Oil – not too much, just enough to make it maleable. Take a small roasting tin – add 250ml (or thereabouts) of dry white wine , pop the lamb on top and then smother the top of the lamb with the gloriously green mixture. Again, if you have time to let it marinade, do so, if not – it will still be great!
Turn your oven on to 180ºC. and when it is hot, pop your lamb in and the timing is up to you – half an hour for very pink, 40/45 minutes for not so pink – its delicious well cooked and crispy on the outside, so leave it, albeit at a lower heat, for 1.5 hours -and then to see if the men have got the barbecue going well……it is time for the Calçots.
If you live here in Spain you will buy your Calçots in a large bundle.   No need to clean them, they will be well cleaned by the heat of the barbecue flames – because flame it must to cook the Calçots properly.   Place them in a row on the fire and turn them when they are blackened on one side – in fact turn them until they are black all over apart from the green stalk.   The Calçot is ready when a little juice starts to spurt from the side.   Whip them into your living room on a large platter – they are ready to eat.   Did you say sauce with them?   Yes, you need sauce –  if you feel adventurous,then have a look at our recipe for Salsa Romesco– it´s a delicious with the Calcots!
Now- if the Calçot is cooked properly the root and the blackened outside of the onion will shed itself in one go and there you have it – a deliciously sweet white morsel – dip it in the sauce – raise it above your head like asparagus – open your mouth wide and pop it in…..words cannot describe……they are just gorgeous!
Towards the end of the cooking time of the Calçots your barbecue will be starting to whiten off beautifully and now is the time for your rabbit.   Keep an eye on it and turn it frequently – brushing with the oil left on its original platter.   It will need a good half an hour to 40 minutes – maybe even an hour, it really depends on the size, but you can tell when it is cooked through – push the legs apart, in the same way in which you might check a chicken to see if it is cooked – if they start to break apart it is done.
Back to the lamb- when it is ready to your liking, take it out of the oven and place it on a warmed plate.   Cover with silver foil and then a couple of thick tea towels and give it a good 20 minutes to half an hour to rest.
This meal is just great served with a vegetable rice – make it like a paella, but with no seafood, meat or chicken – it is the perfect accompaniment. Enjoy!
If you would like to learn how to cook all kinds of traditional Spanish foods then we offer a Private Cooking Tour in Northern Spain – which gives you the opportunity to indulge in all kinds of local Spanish flavours and a chance to experience Gourmet cooking classes with professional local chefs- in true Catalan style!
https://www.gourmandbreaks.com/wp-content/uploads/calçots.jpg
1111
1600
admin
https://www.gourmandbreaks.com/wp-content/uploads/GourmandBreaks_v12.png
admin
2013-02-18 07:40:54
2020-11-17 15:49:43
Traditional Spanish Style Calçots