The History of Spanish Tapas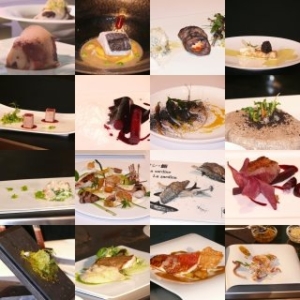 Originally from Andalucia, but now adopted all over Spain, Las Tapas  were designed to be eaten between main meals as food that allows the body to survive until lunch or dinnertime.   The story goes that Spanish tapas were born when, due to illness, the Spanish King Alfonso the 10th, the Wise, had to take small bites of food with some wine between meals. Once recovered from the disease, the  king decreed that no wine was to be served in any of the inns in the land of Castile, unless accompanied by something to eat. This was a wise precaution to counteract the adverse effects of alcohol on those people who, through lack of money to buy a nourishing meal, drank alcohol on an empty stomach.
Apart from the story of the royal disease a further theory should be considered, that the Spanish tapas first appeared because of the need of farmers and other workers to take a small amount of food during their working time, which allowed them to carry on working until time for the main meal.  This main meal, rich in fat, was so heavy to digest that a "siesta" had to be taken for a couple of hours before going back to the fields or to the workshop. Longer working hours in the morning meant an easier workload after the meal.
Wine was the natural accompaniment to the Spanish tapas, as it induced a mellow mood and increased strength, while in winter it warmed the body as protection against very cold days in the fields and in the workshops of the Middle Ages. In summer, the drink taken in the South was "gazpacho" (cold tomato soup), instead of wine.
Spanish Tapas are called "alifara" in northern Spain , Aragón and Navarra; and later, in the Basque Country, they began to be called "poteo", because the wine had to be drunk in "potes" (jars).   Once the "botillerias" (bottle-shops) and "tabernas" (taverns) became established throughout Spain , the wise King's decree remained in place. For that reason, the glass or jar of wine was served covered with a slice of either smoked ham or cheese, for two reasons: first to prevent insects or other impurities falling into the jar and secondly, for the guests to soak up the alcohol they had drunk with something solid, as King Alfonso had advised. This was the origin and is the history of the Spanish tapas, a solid food that covered the wineglass and a word rooted in Spanish tradition.  And so the tradition of the Spanish tapas spread throughout Spain and continues right up to the present day. Many other countries have adopted the tapas, serving it in many different ways.
In Andalucia tapas tend to be of the fried variety;  in Galicia & the Basque Country the tapas are served on a slice of bread and are called Pintxos, whilst in Catalonia tapas are normally small portions of the most typical dishes.
Some of the most famous  Spanish Tapas are:
Tapa de Tortilla de Patatas – a thick cake of omelette containing eggs and potatoes, but which can also contain onions, spinach, asparagus or green beans and is normally served warm in a wedge
Tapa de Patatas Bravas con alioli – potatoes cut into small pieces, fried and then smothered in a spicy sauce of fresh tomatoes, garlic and hot red pepper.
Tapa de Buñuelos de bacalao – which is in effect a bacalao and potato fritter, salt cod and potatoes mashed into a béchamel sauce and then rolled into balls and fried until Golden and crisp.
Tapa de Gambas al ajillo – fresh uncooked quite large prawns, de-headed peeled and de-veined and fried in virgin olive oil with crushed garlic, a finely chopped hot pepper and parsley.
Not to be forgotten is the famous Pan Tomate – a thick slice of bread, normally toasted, upon which is rubbed a clove of garlic and the flesh of half of a tomato prior to sprinkling it with olive oil and salt.
But the list is endless and suffice to say a meal of good Spanish tapas with a glass of fine wine is a meal to be remembered!
There is nowhere better to experience the Spanish tapas culture first hand than in Andalusia-did you know that in Granada they still give you a free tapas when you buy a drink?! Part of our Highlights of Spain Luxury Tour includes private guided tapas tours around magnificent cities such as Seville and Granada so you can experience the best and most authentic tapas in Spain!
https://www.gourmandbreaks.com/wp-content/uploads/GourmandBreaks_v12.png
0
0
admin
https://www.gourmandbreaks.com/wp-content/uploads/GourmandBreaks_v12.png
admin
2011-01-13 05:47:17
2020-11-17 15:06:32
The History of Spanish Tapas