Traditional Spanish Calçots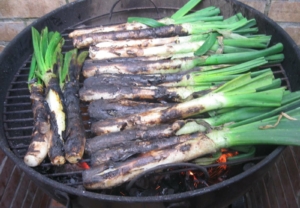 Around about a decade ago, when I first came to live in Catalunia, Spain, I was driving along the main road towards Pals when I saw a banner across the street – slowing down a little I read the letters Calçotada and as a translation of the ongoing words, "fresh Calçots (Catalan Barbecued Onions) on the barbecue.    Wondering what it was all about I suggested to my friends we went along and that is just what we did!
Nowadays it is a yearly ritual – whether it be a to Calçotada in a local village or one of the more salubrious masia-type restaurants that frequent the roads here in Catalunia.
The Calçotada, now one of the typical Catalan dishes, became a family feast celebration in the first few decades of the twentieth century, but it wasn´t until 1983 that a small town in Catalunia, Valls, undertook the first communal Calçotada to which all are invited to attend.   Other areas in Catalonia produce Calçots or Catalan BBQ Spring Onions, but Valls proudly lays claim to its role as founder of the Calçot tradition.   The Calçots are normally cooked on a barbecue and turned and turned until entirely blackened outside and soft and sweet within, but in Vals they are cooked on burning vines, which adds just a little certain something flavour to this typical Catalan food.   On the streets of Valls you can stand at a long table and grasp a fire-blackened Calçot in your hands (don´t worry about getting your fingers dirty, it is all part of the fun) before peeling off the burned outer skin;  dipping it into a Romesco sauce made from red pepper, almonds, garlic and oil and thrusting it speedily into your mouth before it drips,   Traditionally, sausages or lamb are served up after the Calçots, followed by Crema Catalana.
So, last week, off we went – a gaggle of six girls of varying ages to yet again enjoy our yearly Calçot feast.   Arriving at one of our favourite masia (old farmhouse) restaurants, we were ceremoniously led to our table by the owner of the restaurant, who on hearing that we wanted Calçots beamed and said, "Leave it to me…..I will get everything ready".  And so he did – returning to the table with bibs which he neatly tied around each lady's neck prior to lying a little pair of gloves on each attendee's side plate.
We decided on a full-bodied Emporda wine from the prestigious Peralada Winery – perhaps a little heavy for lunchtime, but a perfect match for the Calçots and after a wait of a little over 10 minutes, during which time bowls of orange tinted Romesco sauce were placed before us the moment arrived.   Jordi and Juan entered the dining room from the kitchen area with arms akimbo – carrying high the promised Calçots, blackened and piled in a roof tile, as is the custom for this typical Catalan dish.
Words cannot describe this delicious treat – I didn´t even bother to don the gloves in my impatience to peel and insert the first juicy Calçot into my mouth, having previously loaded it with the Romesco sauce……what devine sweetness, what luscious richness …….well, as I said before, words cannot describe …
I think we would all have enjoyed more, but as we grinned at each other with blackened witchey teeth, decided that enough was enough and waited patiently for our second course and the inevitable Crema Catalana to conclude our meal.   Nothing could be better – one can´t stand on ceremony – hands and faces are blackened and smudged – it is all part of the fun and we probably, just possibly may not wait until next year until we have our second helping!
Join us for a Luxury Tour of Northern Spain  to experience such typical Catalan dishes and other Spanish culinary delights!
https://www.gourmandbreaks.com/wp-content/uploads/GourmandBreaks_v12.png
0
0
admin
https://www.gourmandbreaks.com/wp-content/uploads/GourmandBreaks_v12.png
admin
2011-02-07 04:23:29
2020-11-17 15:47:49
Traditional Spanish Calçots