Michelin Starred Restaurants in Spain 2012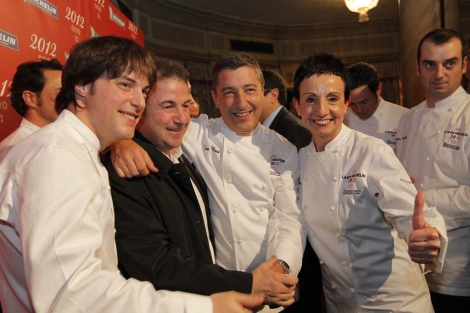 See NEW Michelin Starred restaurants for 2013
Barcelona was chosen to celebrate the presentation party of the new Spain Michelin Guide 2012, which took place last night at the Palace in all its splendor.  As expected, there is no new 3 star restaurant in Spain and Raco de Can Fabes in Sant Celoni has lost its 3rd star following the sad death of Spanish Chef Santi Santamaria this year.  Together with the retirement of El Bulli from the Guide, which closed its doors last July, this leaves Michelin Guide Spain 2012 with  5 three starred restaurants for the coming year, three in San Sebastian – Arzak, Akelare and Martin Berasategui and two in Catalonia – Celler de Can Roca and Sant Pau.  Xavier Pellicer, who is the leading chef at Can Fabes said that "the stars always belong to the chef and we are proud that we still have 2 stars and will work hard to recover the third star next year."
Everything wasn't bad news at the Michelin stars Spain 2012 announcement  – the very young Spanish chef Jordi Cruz (the youngest to obtain a Michelin star) has recovered the second star for Abac in Barcelona (lost last year after Xavier Pellicer left for Can Fabes);  the chef Quim Casellas of our beloved Restaurant Casamar in Llafranc has obtained his first star for the establishment which he runs together with his sister in their family hotel and which offers creative cuisine based on products from the immediate region.
Another of our favourite restaurants, Nerua in Bilbao at the Guggenheim Museum has gained their first Michelin star as well.  It's a bit of a Michelin paradox, though,  that Spanish Chef Josean Martinez Alija, of Nerua, who has been one of the most revered avant garde chefs in the world for quite some years, only now has received his first star in the Michelin Guide Spain 2012. Some of the ever present candidates for a third star, Quique Dacosta ( of a restaurant of the same name in Denia)  y Andoni Luis Aduriz ( of Mugaritz restaurant at  Errenteria, the Basque Country)  are still waiting, whilst they receive the recognition of gastronomes all over the world, who place them in the highest position.
The list of Michelin starred restaurants in Spain for 2012 is as follows:
Michelin 3 star Spain 2012:
Sant Pau (Carme Ruscalleda, Sant Pol de Mar, El Maresme, Barcelona)
Arzak (Juan Mari Arzak, San Sebastian, Gipuzkoa)
Akelarre (Pedro Subijana, San Sebastián, Gipuzkoa)
Martin Berasategui (Martin Berasategui, Lasarte, Gipuzkoa)
El Celler de Can Roca (Joan Roca, Girona)
Michelin 2 star Spain 2012: :
Newly granted:
Abac (Jordi Cruz, Barcelona)
Club Allard (Diego Guerrero, Madrid)
Diverxo (David Muñoz, Madrid)
Existing:
Mugaritz (Andoni Luis Aduriz, Renteria, Gipuzkoa)
Quique Dacosta (Quique Dacosta, Denia, Alicante)
Miramar (Paco Perez, Llança, Girona)
Azurmendi (Eneko Atxa, Larrabetzu, Vizcaya)
Freixa Ramon (Ramon Freixa, Madrid)
Calima (Dani Garcia, Marbella, Málaga)
Casa Marcial (Ignacio Manzano, Arriondas, Asturias)
Lasarte (Martin Berasategui, Barcelona)
Atrio (Cáceres)
Sant Celoni (Oscar Velasco, Madrid)
Sergi Arola Gastro (Sergi Arola, Madrid)
La Terraza del Casino (Paco Roncero, Madrid)
Les Cols (Olot, Girona)
Michelin 1 star Spain 2012: :
Newly granted:
Casamar (Quim Casellas, Llafranc)
Nerua – Guggenheim Bilbao (Josean Martínez Alija, Bilbao)
Maralba (Almansa)
Rodrigo de la Calle (Rodrigo de la Calle, Aranjuez)
Choco (Cordoba)
Marqués de Riscal (Francis Paniego, Elciego)
Lillas Pastia (Carmelo Bosque, Huesca)
Es Fum (Thomas Kahl, Palmanova)
Jardin (Macarena de Castro. Port d'Alcudia)
Annua (Oscar Calleja, San Vicente de la Barquera)
Solana (Ignacio Solana, Ampuero)
Casa Marcelo (Marcelo Tejedor, Santiago de Compostela)
Silabario (Alberto Gonzalez, Tui)
For us at Gourmand breaks,  some of the greatest foodie experiences aren´t necessarily limited to dining at Michelin starred restaurants,  but instead are the memorable places you can discover for yourself- try our Gourmet Day Tour  in Barcelona which includes an expert private guide who can take you to all the local foodie hotspots in the city so you can find your very own special favourite!
https://www.gourmandbreaks.com/wp-content/uploads/GourmandBreaks_v12.png
0
0
admin
https://www.gourmandbreaks.com/wp-content/uploads/GourmandBreaks_v12.png
admin
2011-11-25 04:45:25
2020-11-18 17:06:23
Michelin Starred Restaurants in Spain 2012