Local Catalan Recipe- Suquet Fish Stew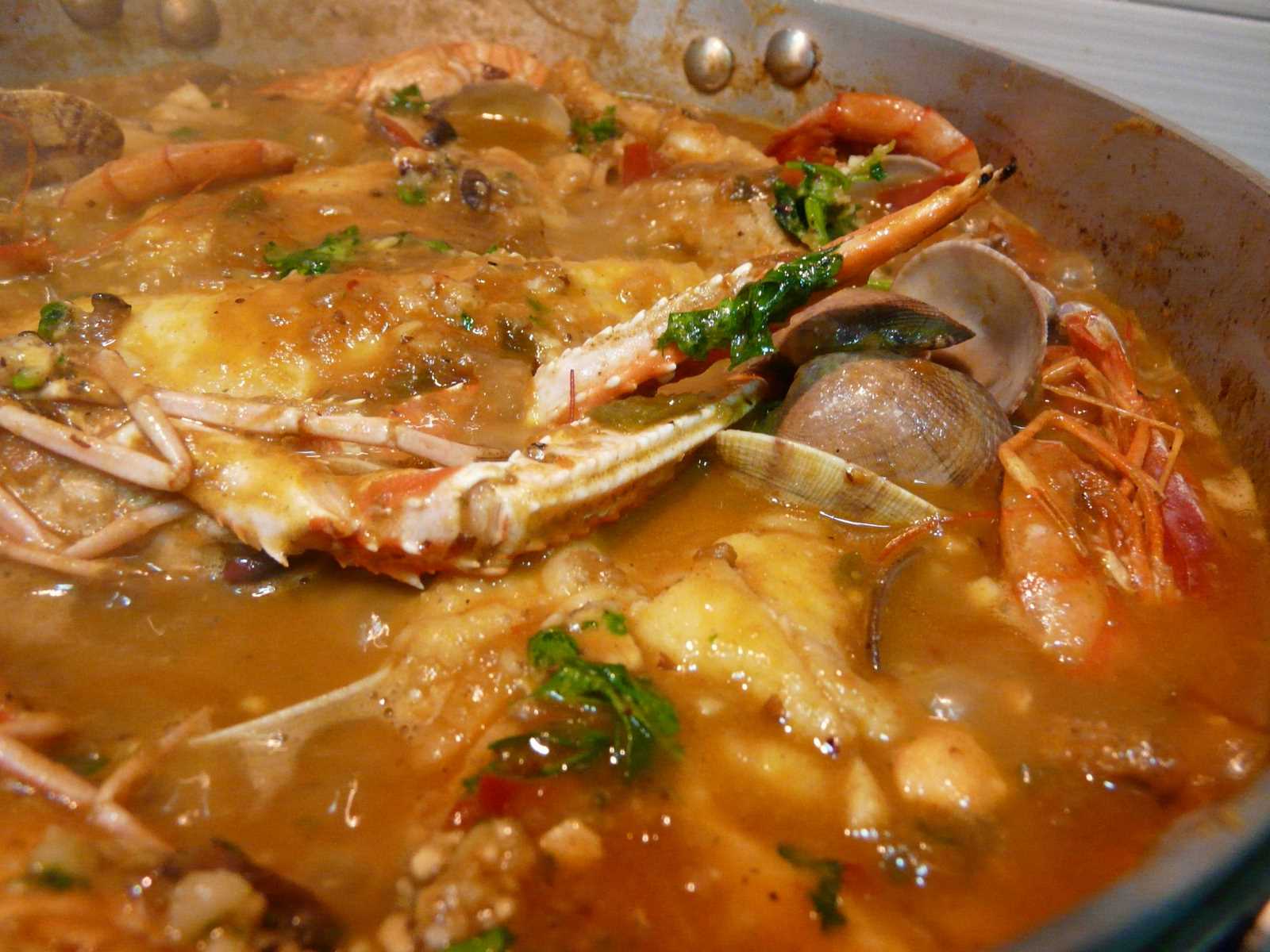 The weather is warming up and what better than a delicious Suquet- Catalan fish stew when the sun is starting to shine but the wind is still a little bitter!   This recipe is delicious and you need serve it only with a green salad and some crispy bread – perfect for lunch or dinner and even better with a delicious glass of Spanish Wine – perhaps something from Emporda DO?
Tradition Spanish Suquet Fish Stew Recipe:
Ingredients for traditional Spanish Suquet for 6 people: 
6 Crayfish
12 Prawns
30 Mussels – cleaned
6 small squid – cleaned
12 centre slices of two different types of firm white fish – sea bass, haddock
½ a cup of Virgin Olive Oil
1 medium Onion – minced
¾ cup of Tinned Tomatoes – forced through a sieve
4 dzn Toasted Hazelnuts – peeled
3 small Garlic cloves – peeled
3 sprigs of fresh Parsley
10 dashes or drops of Pernod, Pastis or Anis
1 ½ cups of water – you may need a little more
½ teaspn freshly ground Black Pepper (or White pepper if the colour is preferable to you)
Method for Traditional Spanish Suquet :
Cut squid in rings.
Open mussels by shaking them in a pan over moderate heat.
Strain juice through a kitchen towel for use in sauce.
Wash crayfish and prawns, but do not peel.
Sweat onions slowly in olive oil. Increase heat, add tomato and let cook for 1 minute. Season with pepper.
Add slices of fish with squid cut in rings. Spoon sauce over them and let them cook over a rather hot fire. In a mortar, crush the hazelnuts with the garlic and parsley to a smooth paste (or mix in an electric blender with 1/2 cup water).
When the fish has been cooking 4 to 5 minutes, turn it over. Season with salt.
Two minutes later, add the strained juice from the mussels, 1 cup cold water, and the prawns and crayfish. Cook 2 minutes more. Add cooked mussels.
Dilute contents of mortar with 1/2 cup water. Add to sauce in pan and stir. Add water if necessary to prevent sauce from sticking to bottom of pan.
When the slices of fish are tender, remove them to a warmed serving dish. Sprinkle liqueur over the sauce, stir it well over heat and pour the contents over the fish in the serving dish.
Note that this dish should be served at once
Some of the most delicious fresh fish in Spain can be found on the coast of Costa Brava and we at Gourmand Breaks have tirelessly tried and tested all the best and most authentic fish restaurants in the area so you can enjoy a Luxury Mediterranean Cuisine Tour safe in the knowledge that you are dining at some of the best fish restaurants in Spain!
https://www.gourmandbreaks.com/wp-content/uploads/suquet.jpg
1200
1600
admin
https://www.gourmandbreaks.com/wp-content/uploads/GourmandBreaks_v12.png
admin
2012-05-16 08:10:38
2023-06-07 10:25:18
Local Catalan Recipe- Suquet Fish Stew