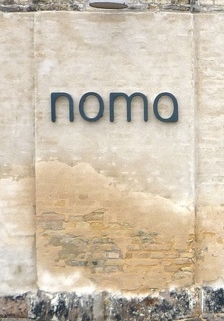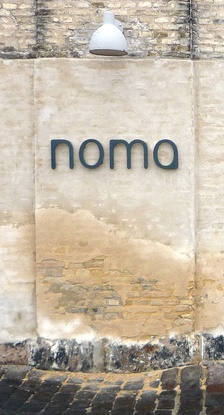 BREAKING NEWS Live from London: Danish Michelin 2* Restaurant, Noma, has knocked Spanish Michelin 3* Restaurant El Celler de Can Roca,  off the top, thus reclaiming its status at the head of the World's 50 Best Restaurants List (full 2014 list below)!
At the much anticipated World's 50 Best Restaurants Awards 2014, held earlier tonight, Monday 28th of April at the historic Guildhall in the City of London, Noma was confirmed, as THE No 1 Restaurant in the World! 
René Redzepi , in the company of the world's finest chefs, international media and the world's most influential restaurateurs was on hand to accept the coveted title for 2014.
Noma was first awarded the Nº 1 spot in 2010, after stealing the crown that El Bulli had held for the previous 4 years.  2011 and 2012 saw René Redzepi winning the award yet again, but in 2013 Noma lost  first place position to El Celler de Can Roca in Girona, Spain, which became the new World's Number 1 Restaurant!
With the newly announced World's 50 Best Restaurants Awards 2014 (full list below), Spain still remains host to a number of the world's most famous restaurants including:
El Celler de Can Roca – Girona –  at Nº 2
Mugaritz – Errenteria, Gipuzkoa – falls to nº 6 in 2014 from its 2013 position of  nº 4
Arzak – San Sebastián – holds on to position nº 8 on the list
Azurmendi – Larrabetzu – is a new entry at nº 26
Asador Etxebarri – Atxondo –  climbs 10 places from last years  nº 44 to this years nº 34
Martin Berasategui – Lasarte – is a re-entry at nº 35
Quique Dacosta – Dénia –  falls to nº 41 from last years position of nº 26
The World's 50 Best Restaurants Awards and List is organised and compiled by Restaurant magazine and sponsored by S Pellegrino & Acqua Panna. It is an annual recollection of the opinions and experiences of over 900 international restaurant industry experts.
Congratulations to our great Spanish Superchefs for their fantastic World rated restaurants!
COMPLETE LIST of the World's 50 Best Restaurants 2014:
1. Noma. Copenhagen, Denmark.
2. El Celler de Can Roca. Girona, Spain.
3. Osteria Francescana. Modena, Italy.
4. Eleven Madison Park. New York, USA.
5. Dinner. London, UK.
6. Mugaritz. Errenteria, Spain.
7. D.O.M. São Paulo, Brazil.
8. Arzak. San Sebastián, Spain.
9. Alinea. Chicago, USA.
10. Ledbury. London, UK.
11. Mirazur. France.
12. VendômeBergisch. Gladbach, Germany.
13. Nahm. Bangkok, Tailand.
14. Narisawa. Tokyo, Japan.
15. Central. Lima, Perú.
16. Steirereck. Austria.
17. Gaggan. Bangkok, Tailand.
18. Astrid&Gastón. Lima, Perú.
19. Faviken. Sweden.
20. Pujol. México DF.
21. Le Bernardin. New York, USA.
22. Vila Joya. Portugal.
23. Frantzen. Sweden.
24. Amber. Hong Kong.
25. L'Arpege. France.
26. Azurmendi. Larrabetzu, Spain.
27. Le Chateaubriand. París, France.
28. Acqua. Germany.
29. De Librije. Holland.
30. Per Se. New York, USA.
31. L'Atelier Saint-Germain. France.
32. Attica. Melbourne. Australia.
33. Nihonryori RyuGin. Tokyo, Japan.
34. Asador Etxebarri. Atxondo, Spain.
35. Martín Berasategui. Lasarte, Spain.
36. Mani. Sao Paulo, Brazil.
37. Andre. Singapore.
38. L'Astrance. París, France.
39. Piazza Duomo. Alba, Italy.
40. Daniel. New York, USA
41. Quique Dacosta. Denia, Spain.
42. Geranium. Copenhagen, Dienmark.
43. Schloss Schauenstein. Switzerland.
44. The French Laundry. Napa Valley, USA.
45. Hof Van Cleve. Belgium.
46. Le Calandre. Rubano, Italy.
47. The Fat Duck. London, UK.
48. The Test Kitchen. Cape Town, South Africa.
49. Coi Restaurant. San Francisco, USA.
50. Waku Ghin. Singapore.
If you would like to experience some of the best restaurants Spain has on offer, then our Ultimate Gourmet Tour   is perfect for sophisticated diners who are looking to experience the best of Spanish cuisine.
https://www.gourmandbreaks.com/wp-content/uploads/Noma-Nº-1-restaurant-2014.jpg
415
224
admin
https://www.gourmandbreaks.com/wp-content/uploads/GourmandBreaks_v12.png
admin
2014-04-28 20:21:25
2020-11-17 15:17:52
NOMA – Nº 1 Restaurant in the World