Traditional Spanish Ratafia Fair – Santa Coloma de Farners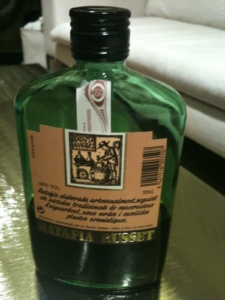 The Festival of Ratafia in Santa Coloma de Farners, near Girona, is celebrated on the second weekend of November each year, 2010 being its 26th year of celebration. Visitors can try different brands of Ratafia and taste dishes made with the spirit by local restaurateurs, while villagers are encouraged to enter competitions for the best home-made liqueur, Ratafia plays a huge part in the Spanish culture here.  The day is rounded off with some traditional Sardana dancing.
Collecting the ingredients for Ratafia, the Catalonia region's traditional liqueur, a heady concoction of around 50 aromatic herbs, flowers, fruits and spices, is, to say the least, no mean task!   Plants with names such as horse´s tail and lion´s tooth; aromatic herbs like rosemary, thyme, sage and oregano as well as various types of ferns, leaves, pine cones and stinging nettles.
But the most important ingredient for Ratafia is unripe walnuts. The tender green nuts, picked before their shells have hardened, form the base of the liqueur. They are steeped in alcohol along with the rest of the herbs and spices for a minimum of 40 days before being filtered straight into bottles or decanted into wooden containers to age for three months.   Traditionally, the herbs are gathered on the eve of the midsummer Spanish  festival of Sant Joan when they are said to be imbued with magical qualities.
This "Witchey" brew also needs coffee beans, lemon and orange peel, cinnamon sticks, freshly ground nutmeg and anise. The final ingredient is the liquorice-flavoured liqueur Anisette, in which all the plants are left to soak.
While many Spanish liqueurs, such as Patxaran, the sloe-flavoured liqueur from Navarra and Orujo, the transparent spirit popular in Galicia, Castilla-León and Cantabria, have become easily purchasable in supermarkets, Ratafia is still very much a local product.
Although small distilleries, such as Cal Russet in Olot and the Distribucions Portet based outside Lleida, produce Ratafia commercially, the practice of making it at home is still widespread.
Each family has its own recipe – a closely guarded secret that is passed down through the generations – and their own way of making the liqueur. For this reason it is said there are as many different types of Ratafia as there are people who brew it.
Full of tannins, Ratafia was traditionally drunk after a meal to aid digestion. Nowadays, it is also drunk with, or in, coffee, "on the rocks" or with crushed ice.
In Catalunya, where such high regard is placed on food, Ratafia has also found its way into the kitchen and is used in everything from starters and main courses to desserts.
Enjoy authentic Ratafia, as well as many local foods and wines on a Private Tour like our Costa Brava Tour; Indulge in Local Food & Wine where you can experience and taste delicious local produce and wines first hand.
https://www.gourmandbreaks.com/wp-content/uploads/GourmandBreaks_v12.png
0
0
admin
https://www.gourmandbreaks.com/wp-content/uploads/GourmandBreaks_v12.png
admin
2012-11-03 04:16:21
2020-10-21 09:13:06
Traditional Spanish Ratafia Fair – Santa Coloma de Farners