The best local cheeses from Catalonia, Spain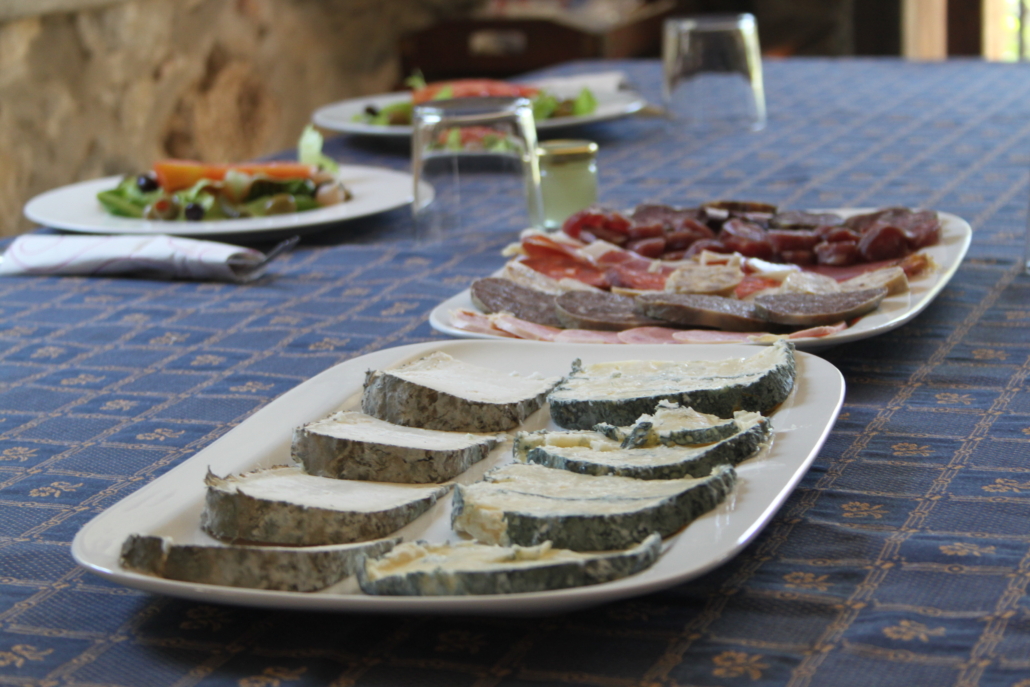 Catalonia and the Catalan Pyrenees in Spain are a perfect place for raising livestock.   Cows, sheep and goats are raised here to produce Spanish cheeses that are very much considered to be a delicacy throughout Spain and are now slowly becoming more recognized in the United States, United Kingdom and all over Europe.
Promotion of these artisan made Spanish cheeses has been a slow process but Catalonia has already become the Spanish region with the most cheese shops in the country:
Tupi Catalan Cheese
The tradition of Tupi cheese is still maintained – Tupi in Catalan is the name for a clay jar where the cheese is stored.  The Tupi cheese is made with pasteurized milk from the cow, sheep or goat and cazalla (aniseed)  liquor that is fermented in these clay jars.  This Catalan cheese has aggressive bold flavors. The mix of cazalla liquor comes through in the fruity finishing notes. Tupi cheese is piquant and very flavorful.
Mato de Montserrat Catalan Cheese
Mato de Montserrat is a fresh typicail Catalan cheese which is only a few days old.   Mato de Montserrat is made with milk from the cow or goat or even a mix of milk from both animals.   The Mato de Montserrat cheese does not contain salt and is normally eaten as a dessert, topped with jam or honey.
Tou del Tillers Catalan Cheese
In the province of Lleida in the town of Sort, production of  Tou del Tillers cheese is prominent.   This local Catalan cheese is made from raw cow's milk with a little salt, the end-result is similar to Brie with a creamy centre.
Costa Negra Catalan Cheese
The Pyrenees mountain area is home to Costa Negra, a Catalan cheese with a complex flavour which is a mix of sweet and sour or tart.   The outside rind of Costa Negra cheese is black and inside, the cheese has an elastic consistency.
Drap Catalan Cheese
Drap is a buttery almost sweet typical local Catalan cheese, also from the Pyrenees and made of raw cow's milk;  two varieties, fresh without a rind and white with a yellow rind.
Alt Urgell-Cerdanya Catalan Cheese
Alt Urgell-Cerdanya is a cheese type which has reached the level of having its own DO (Denomination or Origin) – the Alt Urgell-Cerdanya – the first Catalan cheese to be recognized in this manner.   Alt Urgell -Cerdanya cheese is made from pasteurized cow's milk and fermented lactose products and is creamy, soft with a sweet and very smooth flavour.
New forms of local Catalan cheese preparation (preserved in oil, wrapped in herbs, etc) are on the up. The world of gastronomy, with chefs to the forefront, is giving them very special attention. The Pyrenean Craft Cheese Fair, which is held as part of the Sant Ermengol Fair in La Seu d'Urgell on the penultimate weekend in October, attracts craft cheese makers from all along the Pyrenees (Catalonia, Aragon, the Basque Country and Navarre). More than a hundred different kinds of Spanish cheeses can be tried at the show. The main event at the Fair is the craft cheese contest that is organised by types. Each type makes up a section: mató, fresh cheese, cow cheese, sheep cheese, goat cheese and Tupi cheese.
Have an interest in Spanish cheeses? Us too. Which is why we created our authentic Taste of Catalonia  tours for those of you who want to experience local Catalan produce and discover what real fresh local cheese tastes like. Part of the tour includes a visit  to a medieval village where you will meet Nuri – a charming local lady who makes some of the most wonderful fresh cheese in Spain-an unforgettable authentic experience !
https://www.gourmandbreaks.com/wp-content/uploads/IMG_2317-2-scaled.jpg
1707
2560
admin
https://www.gourmandbreaks.com/wp-content/uploads/GourmandBreaks_v12.png
admin
2012-09-22 03:42:44
2020-11-17 15:34:44
The best local cheeses from Catalonia, Spain