Eating in Spain: Molecular Gastronomy or Homestyle Cooking?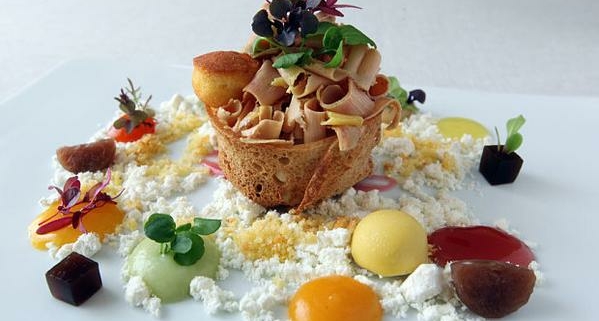 Are you a food obsessive? One of those people who are interested in new restaurants, trying new and different foods or even creating innovative dishes in your own kitchen? If you are, then you have probably heard of molecular gastronomy and how it has shaped the dishes at many Michelin starred restaurants in Spain. But what do you know of Spanish homestyle cooking? This often underrated Spanish cuisine is making a comeback in many of Spain's hottest restaurants. Which trend do you prefer? On a gourmet food & culinary tour with us, you will be able to experience both Spanish molecular gastronomy restaurants, as well those which are bringing back Spanish homestyle cooking.
What is Spanish molecular gastronomy?
The idea behind molecular gastronomy is further workings on nouvelle cuisine. In Spain, due to the creative forces in kitchens both in Catalonia and the Basque Country, nouvelle cuisine was a culinary movement which gained momentum during the 1970s; moving away from 'Spanish home style cooking' to something more sophisticated and curated when presented on the plate. Molecular gastronomy takes this even further. Molecular gastronomy uses precise science when cooking so that cooking is done with minute scientific precision. Methods used are: focussing on precise temperatures to bring out the best flavour of a food, using liquid nitrogen and enzymes to play with the texture of a food, as well as the sous-vide method; that of sealing food in a plastic-vacuumed bag to ensure perfectly even cooking. As the birth of this style of cooking happened in Spain, it is often known as Spanish molecular gastronomy.
Where did Spanish molecular gastronomy begin?
We cannot discuss molecular gastronomy without talking about the Father of Spanish Molecular Gastronomy; Ferran Adrià. Having started work experience at Catalan restaurant elBulli in the 1980s, Adrià became enamored with restaurant life, and was taken on as a chef de partie. Through hard graft, experiences at other fine-dining restaurants and the desire of the staff at elBulli to push their own creativity; six years after Adrià joined the restaurant, elBulli earned its second Michelin star in 1990. Forging ahead with a desire to be creative and inspired, Adrià's team at elBulli did away with recipe books of any sort, and focussed on creating their own methods and style of cooking. So Spanish molecular gastronomy was born.
The resurgence of Spanish Homestyle cooking
Before the tidal wave of Spanish molecular restaurants began, there was always Spanish homestyle cooking, known to Spaniards as cocina castiza. This way of cooking has always looked at feeding people broadly, seasonally and generally cheaply, as it is more how grandmothers cook. Spanish homestyle cooking tends to focus on local products, prepared in a hearty and simple flavorful way – think of tripe stew, or battered fish, patatas bravas with a special salsa – those sorts of dishes. It is only fair that after more than twenty years of perfecting molecular cuisine, that Spanish chefs are now looking to include aspects of Spanish homestyle cooking aspects back into their kitchens. Michelin-starred chef Dani Garcia is recently quoted to have said that "It's time to feed people by the thousands, instead of by the hundreds". Now we are seeing a resurgence of Spanish homestyle cooking with a modern Spanish gastronomy spin.
In which restaurant kitchens can one find Spanish Molecular Gastronomy?
Though elBulli was the first restaurant to showcase molecular gastronomy, other Spanish molecular cuisine chefs include Basque Juan Mari Arzak (of the eponymous Spanish contemporary cuisine restaurant now run by himself and his daughter, Elena), Martín Berasategui, also of Basque origin, and the three Roca brothers behind El Cellar de Can Roca, in Catalonia. Incredibly, when Martín Berasategui began working in his parents' restaurant in 1976, the Basque Country held no Michelin stars. Eight years later, his parents' restaurant received the first Michelin star; and today Spanish contemporary cuisine chef Martin Berasategui holds 12 Michelin stars among his seven restaurants.
Interestingly, all of the Spanish molecular gastronomy chefs above, were born into families who owned restaurants. It is worth noting that from cocina castiza, Spanish molecular gastronomy was born. Like Martin Berasategui, Juan Mari Arzak took over his parents' restaurant in 1966 and reinvented the generations of family recipes, turning Spanish homestyle cooking gems into the contemporary cuisine for which he and his daughter are celebrated today.
The Roca brothers too, started in their parents' traditional neighbourhood eatery before having their restaurant become the best in the world in 2013.
Top restaurants which are bringing Spanish homestyle cooking back into the limelight
It is almost always the Basque Country which leads the way with updating Spanish cuisine, and chef at Mugaritz, Andoni Luis Aduriz, has opened Topa Sukalderia in San Sebastian, which meshes Basque cuisine with Mexican; bringing traditional cooking (albeit with a modern twist) back to the table.
In Valencia Quique Dacosta has opened Llisa Negra which celebrates Spanish homestyle cooking by using an open hearth to create his delicious dishes, bringing a more relaxed and familial atmosphere to this new venture.
No matter in which direction your stomach pulls you, whether it's intrigued at what Spanish molecular gastronomy tastes and looks like, or wanting to experience the hearty and simple flavours of Spanish homestyle cooking; do not hesitate to get in touch and see what kind of Spanish Gastronomy Tour we can create for you! Otherwise we could help you create a gourmet tour of contrasts – glamorous dining at one of the best restaurants in the world one day, and a casual local fare lunch at one of our best hidden spots the next? If you'd prefer a more hands-on food vacation experience, you might like to include a local cooking class, or visit artisan producers of cheese or olive oil, tasting directly on the farm. Whatever type of food tour you are after, we have got it covered for your next customized Spain, Portugal, Italy or France vacation!
If you want to know the current travel situation in Europe, we are here to offer travel advice, always keeping your best interests in mind. Just drop us a line: [email protected] and we will provide all the pertinent information.
https://www.gourmandbreaks.com/wp-content/uploads/CMH8oNEWcAArzMb.jpg
374
599
admin
https://www.gourmandbreaks.com/wp-content/uploads/GourmandBreaks_v12.png
admin
2021-05-18 13:16:35
2022-01-12 14:05:07
Eating in Spain: Molecular Gastronomy or Homestyle Cooking?