Ferran Adria Wired Speech Published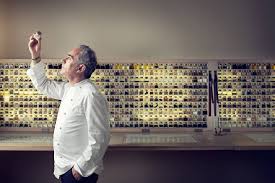 Last October, the world famous Spanish chef,  Ferran Adria, graced the cover of Wired magazine and was invited to speak at the Wired 2012 event in London. Now, his full lecture is available to the public for the first time- you can even view it at the bottom of this page!
It is wonderful to watch Ferran Adria's passionate speech about innovation and creativity. The Nº 1 Spanish Chef went into great detail explaining how Spanish restaurant, elBulli, operated. He provides a wonderful incite into how this legendary and groundbreaking restaurant was run and the video includes some fascinating behind the scenes footage!
Then Ferran Adria  goes on the discuss how he created the BulliPedia – an online culinary bible and gastro-search engine he hopes revolutionizes cooking for decades to come.
The lecture features a stunning three-minute video depicting the artistic creations of elBulli, which Adria introduced with these words: "Every year we tried to create a new revolution. Feeding people was the final result but it wasn't the motive behind what we did. The motive behind what we did was all about creativity."
We should note his speech is in Spanish but the chef is assisted by a translator. It's a must-see lecture from one of the world's most respected and innovative chefs!
WATCH Ferran Adria Wired Lecture HERE
Ferran Adria´s new restaurant , Tickets, is run with his brother, Albert Adrià.  The restaurant, which is a bustling, bright, colorful, humorously furnished place — part Vaudeville, part Vegas, part seaside amusement park — it is possible to have superlative jamón, anchovies, and other straightforward tapas, but then there is such Adriana as eggs fried in duck fat with black truffles and potato cream, oysters with a seawater pearl, avocado "canelón" with crabmeat and romesco sauce, and black sesame stones with white chocolate
If you would like to visit the Adria gastronomic sensation, Tickets, in Barcelona, why not enjoy it as part of our Barcelona Food and Wine  Tour which includes a private guided tour of the City, visits to some of the Barcelona´s top secret ´foodie spots´ and luxury accommodation right in the heart of the city.
https://www.gourmandbreaks.com/wp-content/uploads/download.jpg
183
275
admin
https://www.gourmandbreaks.com/wp-content/uploads/GourmandBreaks_v12.png
admin
2013-01-07 12:01:15
2020-11-17 14:52:43
Ferran Adria Wired Speech Published