Flamenquin – Traditional Spanish Recipe from Cordoba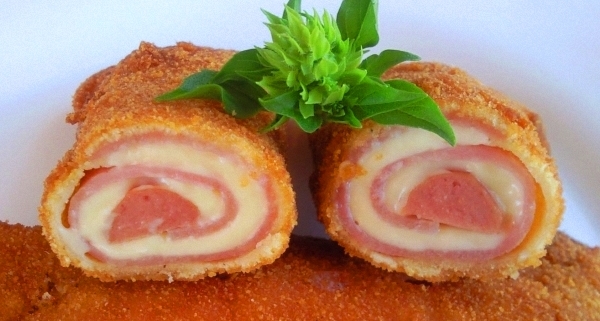 A Cordovan specialty, Flamenquin, literally translates as "small flamenco dancer" but, this typical dish from Cordoba is, basically, a fried meat, ham and cheese roll.  Flamenquin can be served with salad, fries or even as a tasty Tapa bite to eat.  For this recipe we have chosen a delicious Home-made Tomato Sauce so here's a traditional Spanish Flamenquin Recipe for you to try at home – Enjoy!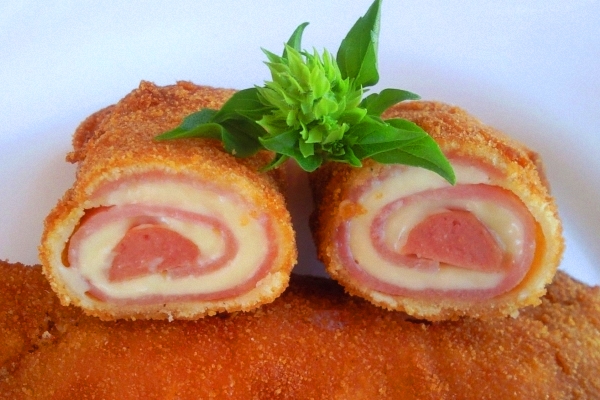 Ingredients for Traditional Flamenquin Recipe:
4 x150g veal or pork escalopes
8 thin slices of Serrano ham
100g Queso de Grazalema or Gruyère cheese, cut into 8 long sticks about 1cm thick
Olive oil, for shallow-frying
Plain flour, for coating
2 large free-range eggs, beaten
100g white breadcrumbs
And,  for the Home-Made Tomato Sauce Recipe:
100ml olive oil
1 large onion, finely chopped
4 garlic cloves, finely chopped
400g skinned, chopped tomatoes, fresh or canned
150ml chicken stock
3 bay leaves
1 tablespoon chopped oregano or marjoram
2 tablespoons small capers, rinsed and drained
25g pitted black olives, cut lengthways into strips
Sugar, salt and freshly ground black pepper
Method for Traditional Flamenquin Recipe:
Starting with the home-made tomato sauce, heat the olive oil in a medium pan.
Add the onion and garlic, cover and cook gently for 10 minutes until soft and lightly golden.
Add the tomatoes, chicken stock and bay leaves and simmer, uncovered, for 30-40 minutes, stirring now and then, until the sauce has reduced and thickened to a good consistency.
Meanwhile, flatten the meat escalopes by placing each one, in turn, between two sheets of cling film and with a rolling pin, gently flatten until uniformly thin.
Out of the cling film, cut each flattened meat escalope in half and season lightly on both sides.
Cover the pieces of meat with a slice of Serrano ham.
Lay the lengths of cheese across one short edge of each escalope and neatly roll them up to finally secure the rolls in place with a wooden cocktail stick.
Remove the bay leaves from the tomato sauce and discard, spoon half of the sauce into a mini food processor and blend until smooth, then stir it back into the pan with the oregano or marjoram, capers, olives and some sugar, salt and pepper to taste and leave to simmer for a further 5 minutes. Keep hot.
Meanwhile, pour 2.5 cm of olive oil in a deep saute pan or wide-based saucepan and heat to 170°C (use a cooking thermometer).
Dip the rolls first into the flour, then the beaten eggs and finally the breadcrumbs, ensuring they are well coated.
Add the rolls to the hot oil and fry for 5-7 minutes, turning them over frequently, until they are golden brown and cooked through.
Drain briefly on kitchen paper, carefully remove the cocktail sticks and serve with the tomato sauce.
Join us on a personalized private tour of Spain to taste Flamenquin in it's home land and to enjoy the sights and delights of Cordoba.  Our Majestic Madrid and Authentic Andalusia Tour, lets you experience Southern Spain with the orange scented patios of Seville, Romantic Ronda, Grand Granada and Curios Cordoba, as well as Spain's Majestic Capital!
https://www.gourmandbreaks.com/wp-content/uploads/flamenquin.jpg
400
600
admin
https://www.gourmandbreaks.com/wp-content/uploads/GourmandBreaks_v12.png
admin
2014-06-27 13:59:17
2020-11-17 14:54:14
Flamenquin – Traditional Spanish Recipe from Cordoba