Escalivada Traditional Spanish Recipe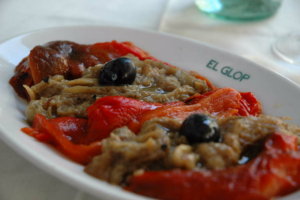 Since the name of this dish comes from the Catalan word escalivar, meaning "to roast over ashes or embers," it is traditional to cook this over a real flame. If you can't though, you can bake the traditional Spanish Escalivada in the oven with good results as well.
Ingredients for traditional Spanish Escalivada
4 small eggplants
4 spring onions or large scallions
4 red bell peppers
3 tomatoes
Extra virgin olive oil or brushing, plus 1/3 cup
2 cloves garlic, thinly sliced
Salt and peper to taste
Method for traditional Spanish Escalivada
Prepare a hot fire in a charcoal grill or preheat the oven to 500ºF. Brush the eggplants, onions, bell peppers and tomatoes with olive oil. If using a grill, place the vegetables directly over the fire and grill, turning frequently, for 15 to 30 minutes, or until the skins blacken and the vegetables are tender. The variation in timing depends on the heat of the fire, and some vegetables, such as the tomatoes, may be ready before the others. If using an oven, arrange the vegetables on a rimmed baking sheet or in a roasting pan and roast, turning every 10 minutes, for 30 minutes, or until the skins blacken and the vegetables are tender. Remove the vegetables from the grill or oven, wrap in foil and let cool for about 1 hour.
Unwrap the vegetables. Peel the eggplants, peppers, and tomatoes, and peel away the outer layer of the onions. Split the bell peppers in half, discard the seeds and stems, and cut lengthwise into strips about 1 1/2 inches wide. Transfer to a bowl. Trim the stems from the eggplants and core the tomatoes, and then cut them into strips of the same size as the pepper strips and add to the bowl. Trim the onions, cut into rings, and add to the bowl along with the garlic.
Add the 1/3 cup olive oil, season with salt, and toss to mix well. Serve your delicious Spanish Escalivada at room temperature.
On a Cooking Class Day Tour in Barcelona, our clients frequently prepare this dish as a first course or as an accompaniment to a main course and it always goes down a treat! The day long tour includes a visit to the city's most talked about marketplace, La Boqueria as well as tastings at all the top ´foodie´spots in the city.
https://www.gourmandbreaks.com/wp-content/uploads/GourmandBreaks_v12.png
0
0
admin
https://www.gourmandbreaks.com/wp-content/uploads/GourmandBreaks_v12.png
admin
2008-08-24 07:42:54
2020-11-17 14:51:04
Escalivada Traditional Spanish Recipe