Fuet – Traditional Catalan Sausage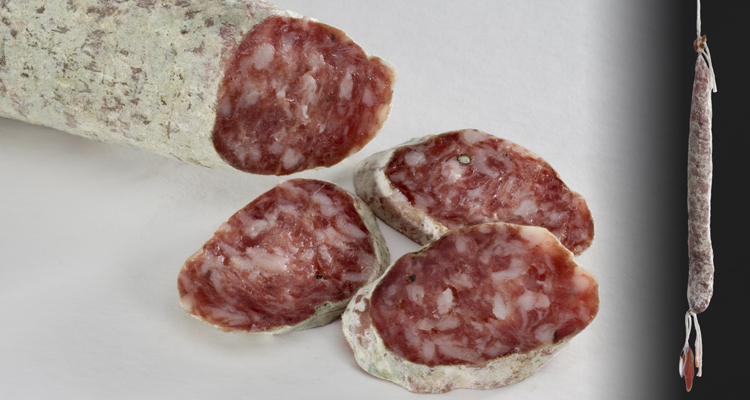 Fuet is Catalan sausage, in other words, from the Catalan region of Spain, a wonderful and versatile a thin, dry cured, sausage of pork meat in a pork gut.  It can be added to a variety of dishes, eaten on bread, or often it is served on a cutting board on the dinner table.
It is perhaps most delicious when served in this traditional manner. Just slice it with a sharp knife and eat it. Many Spanish chefs and cooking enthusiasts like to add Fuet to soups and casseroles or grill it and serve it on warm bread. Another wonderful idea is to add it to a stuffing. The most famous Fuet is made in the comarca of Osona and is also known as Vic Fuet after the City of Vic, capital of Osona.  Fuet is often seen hung by an attached rope or string used in the curing process and the outside of the casing sometimes has a powdery white layer to it.
It is rather long and narrow in appearance and resembles a dry Salami in both appearance and consistency. The spiciness and overall flavor of the meat varies depending on the spices used, but all are considered very delicious It is truly a must have ingredient for the gourmet chef. The name fuet means "whip" in the Catalan language.
Our Secret Barcelona Gourmet Day Tour includes a private guided tour to Spain´s most legendary food market, La Boqueria, where you can find (and sample) some of Spain´s best fuet sausage as well as private tastings of Spanish cheeses with wine and, of course, a guided tour of Barcelona´s very own Gaudi architecture.
https://www.gourmandbreaks.com/wp-content/uploads/GourmandBreaks_v12.png
0
0
admin
https://www.gourmandbreaks.com/wp-content/uploads/GourmandBreaks_v12.png
admin
2010-11-24 10:32:00
2020-11-17 14:55:24
Fuet – Traditional Catalan Sausage