Michelin Stars Spain 2015 – MIRAMAR & ENOTECA Restaurants by Paco Pérez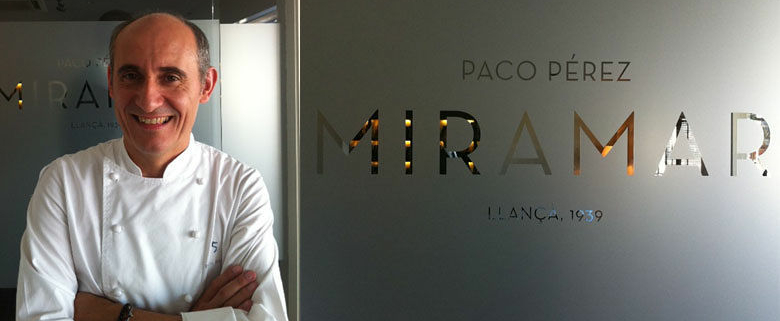 The Michelin Guide to Spain and Portugal 2015 is fast approaching and we'll keep you updated with the results of the Michelin Starred Restaurants in Spain for 2015! In the meantime, over the next few days we'll be showcasing some of the Best Michelin starred Chefs in Spain, if not the World, with our own Pre-Michelin Guide Spain 2015 SuperChef Series by Gourmand Breaks – An insight into the world of some of the current Michelin 3 star and Michelin 2 star chefs in Spain! First off, and in no particular order, a chef shooting for that 3rd Michelin star in 2015 with 2 contenders:
Paco Pérez – Recognized with five Michelin stars (two at Enoteca restaurant in Barcelona, two at Miramar in Llançà and one at restaurant "5"  in Berlin), his innovative cuisine reflects the essence of the Mediterranean Sea with cooking based on tradition and high quality local Spanish produce.  To be enjoyed on one of our Private Food, Wine and Cultural Tours :)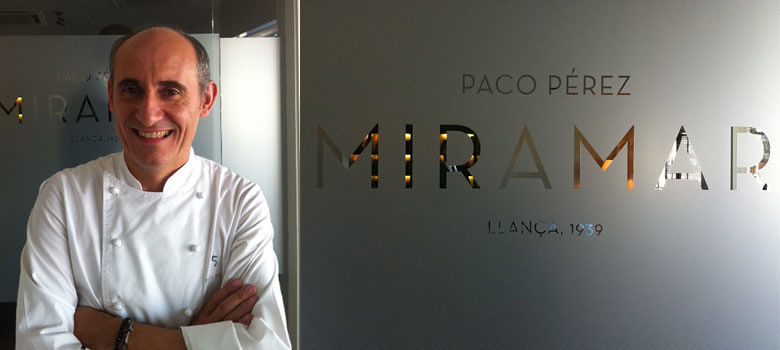 Paco Pérez was born in Huelva but at just 6 months old his family moved to Llançà in Girona, a small fishing village on the Spanish North Costa Brava coast, where he subsequently grew up.
At age 12, Paco Pérez discovered his passion for cooking when he started helping out, at weekends and in the holidays, at the tapas bar owned by his family in Llançà. He then combined his studies with summer jobs in various local restaurants.
After finishing his studies Paco Pérez worked in diverse local restaurants and even went to France to train alongside one of the founders of "nouvelle cuisine" Michel Guèrard. But what most probably set Paco Pérez on the culinary Superchef path was when he returned to Catalonia and joined Ferran Adrià at El Bulli in 1993.  Here, and over 5 years, he took various courses and placements and acquired much of his philosophy of pioneering techno-emotional cuisine.
In 1997 Paco Pérez married Montse Serra, daughter of the owners of the Miramar Hotel-Restaurant on the seafront promenade of Llançà, Girona, Spain and together, keeping it in the family, they embraced the development of the Miramar. After three years of producing modern Catalan cuisine, during just the summer season, they decided to up the stakes and open all year round in the hope of turning this place into a landmark restaurant in the world of pioneering cuisine.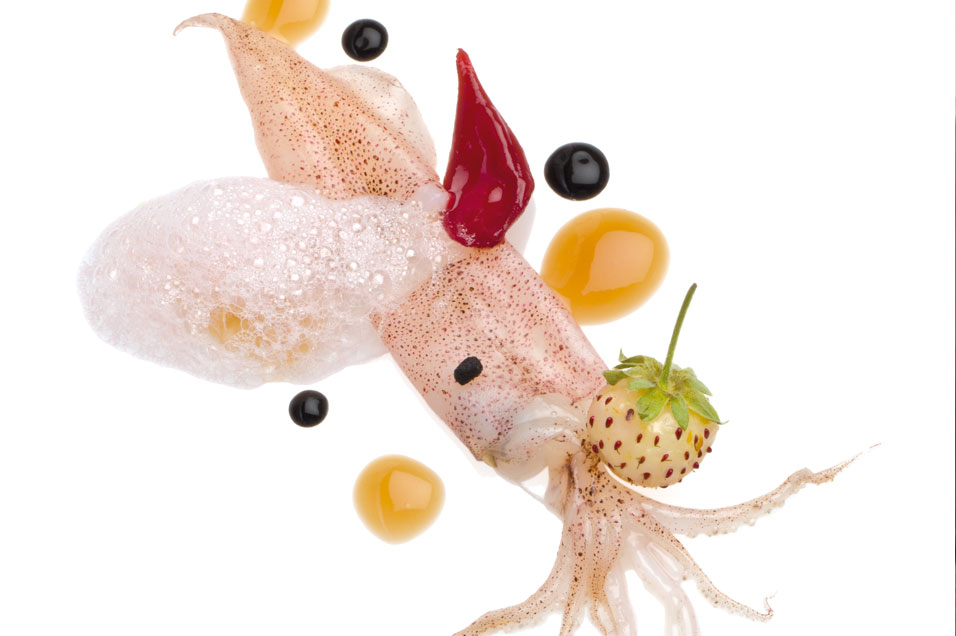 Paco Pérez, together with his wife, managed to gradually convert the Miramar from the past traditional restaurant of a hostal, first opened in 1939, into the avant-garde cuisine restaurant that it is today. Betting on traditional and local cooking using high quality products from an ideal environment Paco Pérez's talent, technique and innovative twists on traditional seafood dishes have earned the Miramar its current two Michelin stars (2006 and 2010).
Also for Paco Pérez in the Michelin 2* Restaurants List for Spain 2014 is:
Enoteca Restaurant in Barcelona

Paco Pérez spreads the heart and soul of contemporary Mediterranean cuisine by bringing the essence of the Miramar and its culinary philosophy, with an emphasis on fish and seafood, to the luxurious 5* Hotel Arts in Barcelona. His guidance at Enoteca, for contemporary cuisine with a traditional base, top quality ingredients and excellent attention to detail,  has led to it receiving two Michelin stars since the 2013 Michelin Guide.
Michelin 2 star restaurant Enoteca offers a contemporary classic Mediterranean cuisine with outstanding quality and imagination and a wine cellar that features more than 500 types of wine.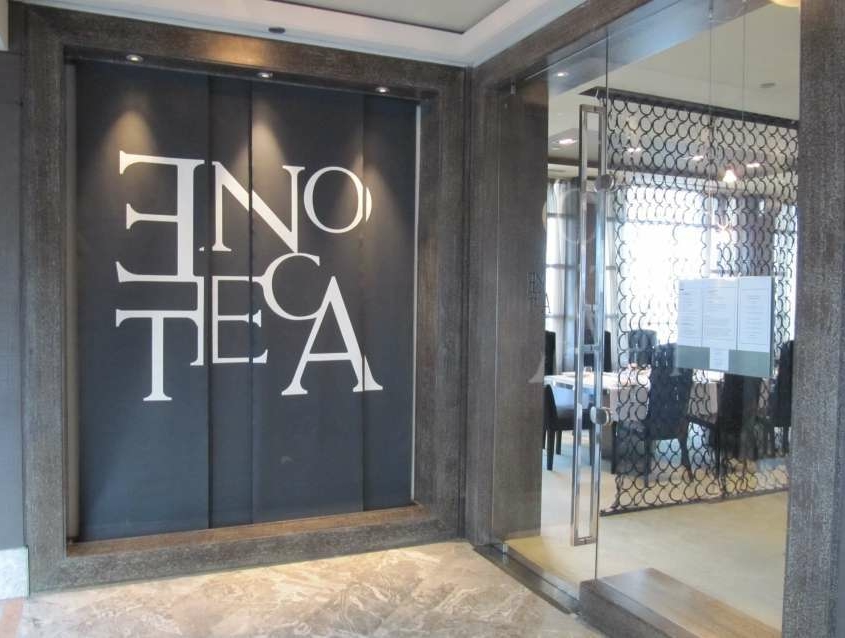 Paco Pérez is not the only Superchef with a restaurant at the Hotel Arts in Barcelona. Sergi Arola, of Michelin 2* Restaurant Sergi Arola Gastro (Madrid) fame, showcases innovative tapas style traditional Mediterranean cuisine at "Arola".  Sergi is a disciple of Ferran Adrià and Pierre Gagnaire.
Also by PACO PÉREZ:
Restaurant 5 – Das Stue 5* Hotel (Berlin)
This Michelin 1 star restaurant is the extension of the Miramar Restaurant into Germany. It is named after Paco Pérez's focus on the five senses, and also a reference to the five fingers of the hand, because the kitchen produces pioneering works of culinary art.
Mirror Restaurant – The Mirror Hotel (Barcelona)
One of the best restaurants in Spain for luxury rice and seafood dishes,  in the heart of Barcelona.
L'EGGS Restaurant by Paco Pérez – Passeig de Gràcia (Barcelona)
The first gastronomic themed restaurant in Barcelona featuring eggs as the star dish. A fun and casual restaurant offering eggs in all their formats.
La Royale Restaurant – Uptown Barcelona
Upscale hamburgers in uptown Barcelona.  La Royale presents a revolution of the concept of a hamburger in the city, with signature ideas and the best refreshing gin and tonics.
Black Restaurant – Uptown Barcelona
The cosmopolitan Manhattan-esque cocktail lounge at La Royale. Offering the signature Burgers of La Royale as well as the best vodka & tonics and a great champagne collection.
With Spanish Chefs taking the World by storm, now is the time to visit Spain, home to 10% of the World's Best Restaurants and numerous Michelin starred Restaurants!  On one of our Private Food, Wine and Cultural Tours you can indulge in the Best Michelin Starred Restaurants in Spain.  Contact us for your personalized quote.
https://www.gourmandbreaks.com/wp-content/uploads/Paco-Pèrez-Miramar.jpg
350
780
admin
https://www.gourmandbreaks.com/wp-content/uploads/GourmandBreaks_v12.png
admin
2014-11-07 10:27:08
2020-10-23 07:00:54
Michelin Stars Spain 2015 – MIRAMAR & ENOTECA Restaurants by Paco Pérez