The best Pintxos from San Sebastian – Our favourite recipes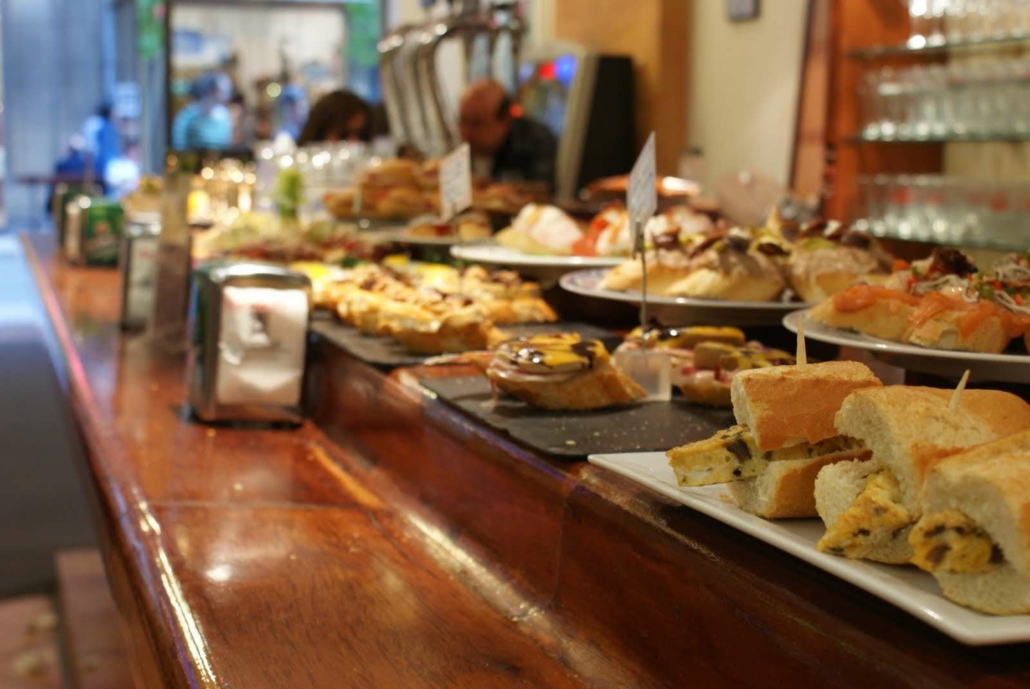 First things first- it is a pintxo not a tapa. The Basques are very particular about this. The main difference being that pintxos are usually 'spiked' with a skewer or toothpick, often onto a piece of bread, and, like tapas, are best enjoyed with an ice cold cerveza propped up at a Spanish bar. As a result pintxos have a strong socializing component, and are usually regarded as a cornerstone of Basque culture and society . Because of this, the Basque country has turned the simple idea of bread on a toothpick into mini masterpieces.  Enjoy your own taste of the Basque country with some of the most popular pintxos in San Sebastian:
We recommend:
1)      The Gilda – San Sebastians most famous pintxo! You will find that most bars in San Sebastian adorn this sophisticated creation .The classic combination of anchovy, guindilla green pepper and olive go so well together.  Named after Rita Hayworth in the film Gilda, this sophisticated pintxo will go down a treat at your next dinner party…This traditional recipe is:   two salted anchovies, three pickled green peppers, and two olives… Stick them on a toothpick and voila!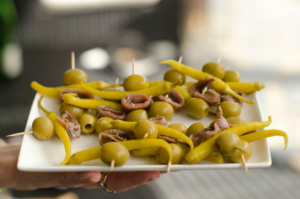 2) Gambas Ajillo – Another prawn dish but this ones hot and packed full of the rich flavours of garlic, olive oil and a hint of brandy. Finished off with a dusting of freshly chopped parsely, there is nothing more appealing as a plate of these to share amongst friends.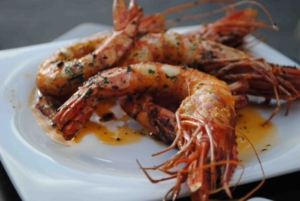 Ingredients for pintxos : 1/2 kilo prawns,4 cloves of garlic, minced, 1 tsp sweet Spanish paprika, 1 tsp red pepper ¬akes, 2-3 oz of cognac or sherry, 1/4 cup virgin olive oil, lemon
Recipe: Peel prawns, leaving the heads on. Heat olive oil over medium heat. Saute garlic and red pepper for about one minute. Raise the heat to high and add the shrimp, lemon juice, cognac and paprika. Stir well, then sauté, stirring briskly until the shrimp turn pink and curl – about 3 minutes.Remove from heat and transfer shrimp with oil and sauce to a warm plate or serve right from the pan. Season to taste with salt and freshly ground black pepper. Sprinkle with parsley. Serve with fresh bread
3)      Gamba con Huevo – A simple combination of prawn and egg is hard to beat.  You will find almost all the traditional pintxos bars in San Sebastian displaying this delicious, satisfying and visually appealing pintxo.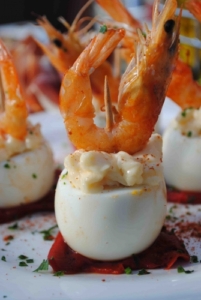 Ingredients for pintxos : Eggs, prawns, mayonnaise, parsley
Recipe: Boil one egg and fry and flambé one king prawn per serving with cognac or brandy. Cut a slice out  of the bottom of the egg so that it has a base to stand on.  Put a little dash of mayonnaise on top of the egg. Skewer the prawn with a toothpick and gently stick the toothpick through the standing egg with the prawn on the very top of the egg. Sprinkle some chopped up parsley over the pintxo.
If you would like to learn to how to cook pintxos like the professionals in San Sebastian then we offer private luxury tours to the Basque country, where you can customize your experience with cooking lessons from professional chefs, local wine tastings and beautiful beach front hotels on La Cocha bay, San Sebastian.
https://www.gourmandbreaks.com/wp-content/uploads/GourmandBreaks_v12.png
0
0
admin
https://www.gourmandbreaks.com/wp-content/uploads/GourmandBreaks_v12.png
admin
2012-11-25 06:57:03
2020-11-17 15:20:06
The best Pintxos from San Sebastian – Our favourite recipes