Spanish "Cannelloni" Canelones – A Traditional Recipe

This very popular Cannelloni dish appears all year round in Spain but "Canelones", as they are called in Castellano Spanish, may well appear as a starter on special occasions, like Christmas Eve, when they may boast a more luxurious filling of prawns or lobster.   Not to be confused with the Italian Cannelloni which is made with minced meat, and resembles a bolognese sauce,  Spanish Canelones are most frequently enjoyed as the star dish on Boxing Day in Catalonia when they are normally stuffed with the roasted meat leftovers from the previous day.
Here's a traditional recipe, for an all-round dish,  Spanish Canelones: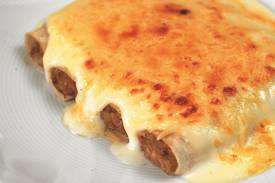 Ingredients for traditional Spanish Canelones recipe:

Approx. 20 squares of cannelloni pasta
2 tablespoons salted butter
¼ lb ground veal
½ lb ground pork
3 oz. Jamon Serrano or prosciutto, finely chopped
1 cup whole milk
1 tablespoon flour
½ cup grated parmesan cheese plus ¼ cup for topping
½ oz. black truffle, very finely chopped
Pinch of salt
Dash of pepper
Pinch of nutmeg
1 egg, beaten
Béchamel sauce ingredients:
4 cups of milk
5 tablespoons butter
4 tablespoons flour
½ tsp. nutmeg
2 tsp. kosher salt
Method for traditional Spanish Canelones recipe:

Preheat the oven to 350 degrees.
Bring a large pot of water to the boil.  Add salt , and one by one add the pasta to the water, cooking until al dente, about 12-14 minutes. Drain the water, and move the pasta to a cheese cloth to cool off. Set aside.
In a large pan, heat the butter on a high flame until it melts and becomes foamy. Add the veal and pork and cook on high until it is completely browned. Add the jamon, cooking until it softens. Drain the fat from the pan. Add the milk, flour and parmesan, combine well. Add the truffles, salt, pepper, nutmeg, combine and bring to a simmer. Cook for 10-12 minutes, stirring often. Take the pan off the heat, and let it cool. Stir in the egg.
Once the meat is cool enough to handle, evenly divide the mixture between the pasta. Put the mixture at one end, and roll the pasta up. (If you are using the pasta tubes, simply stuff them with the mixture.) Place the rolls in a 9 inch square baking dish, in a single layer. Cover with the Béchamel sauce (method below), and top with the remaining parmesan cheese. Bake for 25 minutes, until bubbling and the cheese is crispy and golden brown.
Béchamel sauce method for traditional Spanish Canelones recipe:
Heat the milk in a medium pan until almost boiling, being careful not to scorch the bottom.
Melt the butter in another medium saucepan.
Add the flour slowly, stirring out any lumps, until it is smooth.
Cook until it is a light golden color, about 5-6 minutes.
Add the hot milk to the butter pan, very slowly, rapidly whisking until smooth.
Add the salt pepper and nutmeg, continuing to whisk until it comes to a boil. Remove from the heat.
Serve with fresh crusty bread.  Note that this pasta is also quite versatile with it's filling, spinach and ricotta cheese being another favourite combination seen worldwide.
If you would like to learn how to cook traditional and authentic Spanish recipes with a professional Spanish chef, our private Cooking Tour in Northern Spain will introduce you to the best of Spanish cuisine as well as a range of culinary delights such as Michelin starred dining, exquisite wine tastings and authentic gourmet tapas tours.
https://www.gourmandbreaks.com/wp-content/uploads/dsc09300-scaled.jpg
1702
2560
admin
https://www.gourmandbreaks.com/wp-content/uploads/GourmandBreaks_v12.png
admin
2013-11-25 14:17:42
2021-01-22 16:02:19
Spanish "Cannelloni" Canelones – A Traditional Recipe