Seasonal Spanish Recipe – Scrambled Eggs with Mushrooms

Traditional Spanish Recipe – Scrambled Eggs with Wild Mushrooms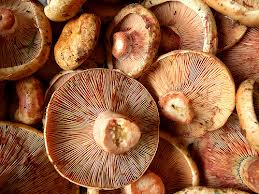 As mushroom season hits Spain once again, wild mushrooms are in fashion!  Following on from our recent blog post  Mushroom Hunting In Spain, here is a traditional Spanish recipe for a very simple and tasty breakfast or starter dish.
The proportions below serve two for breakfast, with a side-by-side presentation featuring the mushrooms (we are using Rovellons) and eggs as separate flavors.  However, this traditional Spanish recipe is really quite versatile and can include any edible wild mushroom type and be assembled as scrambled eggs,  "remenat de bolets" in Catalan,  or as an omelet.  What's more, with more cream or half-and-half and by doubling the quantities, it can also be converted into a quiche filling or a frittata.  Here is the basic recipe, the interpretation of it is up to you.  Enjoy!
Ingredients for traditional Spanish Scrambled Eggs with Mushrooms recipe:
2 cups Rovellons (Lactarius deliciosus) cleaned and coarsely chopped
1 small clove of garlic, minced
1 small onion, chopped
4 T. olive oil
2 T. flat leaf parsley, chopped
2 T. good dry sherry
4 eggs
2 T. cream or half-and-half
salt and pepper to taste
fresh parsley to decorate, chopped
Method for traditional Spanish Scrambled Eggs with Mushrooms recipe:
Beat egg, cream, and salt and pepper. Set aside. Heat 2 T. of olive oil in skillet and saute mushrooms, onions, and garlic over a medium-low heat until the mushrooms are cooked and the liquid has evaporated. Add sherry, salt and pepper to taste, and continue cooking and stirring until liquid has condensed into a sauce.  Remove mushroom mixture and keep warm. Clean and reheat skillet. Add and heat remaining oil, then pour beaten eggs into skillet. Stir with wooden spoon periodically until the eggs are cooked soft. Place the scrambled eggs on one side of a serving platter and place the mushroom mixture on the other side. Sprinkle parsley over all and serve.
Presentation ideas: for traditional Spanish Scrambled Eggs with Mushrooms recipe:
Perhaps you would like to learn how to cook delicious Spanish delicacies, such as this, on one of our Private Customized Culinary Tours.
If you are in Barcelona on one of our tours we can include a private guided visit to the wonderful La Boqueria Market to see the infinite selection of Spanish mushrooms available!  On our autumn visits here we stop at the famous Llorenç Pelras stall to buy rovellons.
Alternatively,  hunt for your own wild mushrooms on our Mushroom Hunting Getaway Tour.
https://www.gourmandbreaks.com/wp-content/uploads/remenatbolets2.jpg
581
900
admin
https://www.gourmandbreaks.com/wp-content/uploads/GourmandBreaks_v12.png
admin
2013-10-11 16:00:03
2020-11-17 15:30:06
Seasonal Spanish Recipe – Scrambled Eggs with Mushrooms