Prawn Croquettes Traditional Spanish Recipe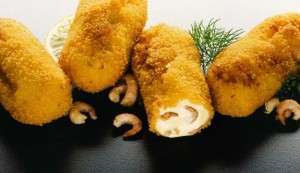 Croquetas are ubiquitous in Spain, although they most likely originate from the French 'croquettes'. Their beauty lies in the bechamel base which is then mixed with your particular ingredient of choice to give it a characteristic flavour. The possibilities are almost endless – in this recipe we have used prawns.
Ingredients for approximately 30 Traditional Spanish Prawn Croquettes – Croquetas de Gambas
3 1/2 oz butter
4 oz plain flour
1 1/4 pints cold milk
salt and pepper
14 oz cooked peeled prawns, diced
2 teaspoons tomato puree
5 or 6 tablespoons fine breadcrumbs
2 large eggs, beaten
olive oil for deep-frying
Preparation of Traditional Spanish Prawn Croquettes
Melt the butter in a medium sized saucepan with a good heavy bottom.   Add the flour, stirring continuously and then let the flour cook in the butter for a couple of minutes, continuing to stir rapidly.
Add the cold milk little by little, stirring all the time until you have a thick, smooth sauce. Add the prawns, season well and stir in the tomato puree. Continue to cook for 7 or 8 minutes over a low heat and stirring frequently; the end result should be quite thick. Let the mixture cool completely – the best way is to leave it overnight if time allows.
Take a small tablespoon of the mixture and form into a Croqueta typically a 1 1/2 – 2 inch cylinder. Roll the Croqueta in the breadcrumbs, coat in the beaten egg, then roll in the breadcrumbs again. Make sure the breadcrumbs are always dry to ensure an even coating.  Put in the refrigerator for half an hour.
Heat the oil for deep-frying in a large, heavy-based pan until a cube of bread turns golden brown in 20-30 seconds. Fry in batches of no more than 3 or 4 for about 5 minutes until golden brown. Remove with a slatted spoon, drain on kitchen paper and serve immediately.
Spanish Prawn Croquettes (Croquetas de Gambas) –are perfect with a pre-dinner drink or as a Tapa and a great tip – children love them!
Fancy brushing up on your cooking skills?  our private Food and Wine Tours  introduce you to the best of Spanish cuisine as well as a range of culinary delights such as Michelin starred dining, exquisite wine tastings and authentic gourmet tapas tours.
https://www.gourmandbreaks.com/wp-content/uploads/GourmandBreaks_v12.png
0
0
admin
https://www.gourmandbreaks.com/wp-content/uploads/GourmandBreaks_v12.png
admin
2011-01-27 05:10:30
2020-10-21 08:34:04
Prawn Croquettes Traditional Spanish Recipe