The best tapas bars in Seville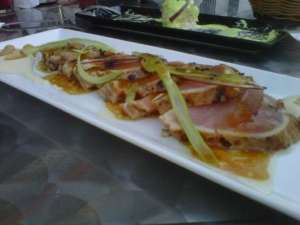 To eat and drink your way around some of Seville´s best tapas bars or to ´tapear´is considered a Sevillianos´ night well spent. However, being faced with a choice of one of the 3,000 dusty, jamon filled tapas bars in Seville can be a daunting prospect, even for the most discerning diner. If you're  keen to try a tapas crawl but unsure where to start then book one of Gourmand Breaks´ excellent local English speaking guides to take you off the beaten track and into a world of culinary discovery….
Without giving too much away, here are just four of some of our favorite food and watering holes in our Seville Best Tapas Bars Tour:
El Riconcillo:A tapas crawl around Seville wouldn´t be complete without a lengthly stop off at El Riconcillo for a slice (or two) of one of the many delectable Jamon Ibericos (Iberian hams) hanging above the bar, washed down with an ice cold glass of fino sherry. Prop yourself up at the bar in true Sevillianos style and soak up the atmosphere. Not only the oldest tapas bar in the world (dating back to 1670)  but this little gem is still a firm favourite of the Sevillianos´s  themselves, and, as such, retains a true authentic feel.  Where better to try some of Seville´s finest local delicacies such as espinacas con garbanzos (Spinach and Chickpeas) and carrilladas ( Pigs Cheeks).
Puratasca:Fancy free and modest, this one gets full marks for it´s experimental take on the traditional tapas. What is lacking in elegance here is made up for by the exceptional quality of food. Dishes to be taken seriously here are the mini raviolis stuffed with stewed bull´s tail, creamy Arroz with mushrooms and quail and the octopus and artichoke brochette with sweet potato puree.
Azotea: Choose from any of their three tapas joints and you're in for a night of culinary heaven. It's often difficult to get the balance right between style and authenticity with the just the right amount of atmosphere on the side, but, like their food, Azotea seem to have got it spot on. Original and mouth-watering specials are added and rotated daily. Service starts at 9.00 and by 9.05 you'll be hard pushed to find a table-however, like any of the best tapas bars in Seville, you'll be rewarded for your patience…. Kick start the night with a media ration of buttery clams with garlic and artichoke hearts and then indulge in all the menu has to offer. You can be sure of attentive and exceptionally friendly service here, and wine recommendations to pair with food choices are an added bonus.  You won't want to eat anywhere else in Seville.
El Panduro : Brand new but none-the-less special, this modern and trendy little hangout churns out innovative and creative tapas giving the place more of a fine dining experience than your traditional tapas joint, but at no extra cost. In contrast to a most eateries in Seville, the quantity of fresh fruit and vegetables are plentiful and most appreciated after one too many croquetas in El Riconcillo. Highlights here are the gazpacho con gambones (chilled Spanish soup with langoustines) and the pez espada (grilled swordfish with a crispy citric crust and pistachios).  The bar also offers a delicious and varied range of wines.
Although you may be forgiven for thinking that the only thing to do in Seville is eat and drink, this extravagant city  is home to such delights as   flamenco, palaces and never ending fiestas. Why not discover our Highlights of Spain Luxury Tour which combines a tour of Seville with other magnificent Andalusian cities such as Cordoba and Grenada in an unforgettable Spanish experience.
https://www.gourmandbreaks.com/wp-content/uploads/GourmandBreaks_v12.png
0
0
admin
https://www.gourmandbreaks.com/wp-content/uploads/GourmandBreaks_v12.png
admin
2012-10-23 05:21:58
2020-11-17 15:41:54
The best tapas bars in Seville