Traditional Spanish Recipe for Panellets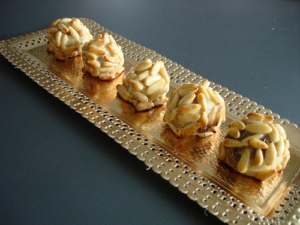 Panellets, Catalan for "little breads," is a traditional dessert served in Catalonia, Spain,  on the All Saints Day, which takes place on November 1. To serve in traditional Catalan style, drink some Spanish cava (Spanish champagne) or moscatel with them.
Ingredients for traditional Spanish style Panellets:
1 lb. ground almonds
2 1/2 cups granulated sugar
1/2 -1 cup water
1 small potato
grated peel of 1 lemon
3-4 drops lemon juice
Topping for traditional Spanish style Panellets:
pine nuts (and egg whites if using)
sweetened cocoa powder
candied fruit
Flavourings:
instant coffee powder
coconut flakes
cinnamon
Servings: 32
Blanch almonds, then grind in a food processor into a fine dust. Peel potatoes and cut into quarters. After boiling until cooked, drain the water and mash with a fork.
Place sugar in a medium saucepan with ½ cup of water over medium heat until sugar is dissolved (pour more water in if necessary). Then bring to a boil, stirring often. Add 3-4 drops of lemon juice. Lower heat and simmer until mixture is a thick syrup.
After removing the pan from heat, use a large wooden spoon to gradually stir in ground almonds, potato and grated lemon peel. Allow the mixture to cool to room temperature, then refrigerate overnight.
Pre-heat oven to 380 F degrees and grease cookie sheets. Spoon out dough with a teaspoon and roll into small balls with your palms. Then roll the balls in powdered cocoa or whole pine nuts. Before using pine nuts, brush each with a bit of egg white. Put on greased cookie sheet. You can add flavor the cookies if you want by separating a portion of the dough with your hands and working in a bit of instant coffee flakes, candied fruit or cinnamon. Then roll back up into individual balls.
Bake cookies just long enough to brown the pine nuts, usually about 4 minutes. Remove immediately using a spatula before cookies cool and stick to the cookie sheet.
These warm, squishy sweets are especially comforting during the cold and crisp days of fall – that's why we always stop to try some in our favorite Barcelona pastry shops on our Barcelona Food and Wine Tours. 
https://www.gourmandbreaks.com/wp-content/uploads/panellets-1.jpg
977
1598
admin
https://www.gourmandbreaks.com/wp-content/uploads/GourmandBreaks_v12.png
admin
2010-10-15 05:39:08
2020-11-17 15:51:23
Traditional Spanish Recipe for Panellets