Adiós Paella – Hello Traditional Spanish Fideua

Some people are just not into rice, so eating Paella in Spain can be a bit of a chore.  Don't lose heart, there's a new kid on the block, and in the constant meal ordering table battle of "Paella or Fideua?" this noodle sister is climbing up the ranking.   Try it out with this easy step-by-step Spanish Fideua recipe, to see for yourself why the long reigning Paella throne may need to be shared.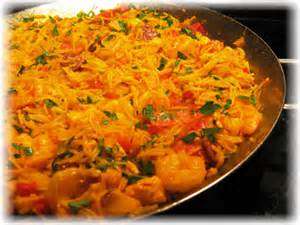 Ingredients for traditional Spanish Fideua Recipe:
10 oz. fideos (or angel hair broken into 2″ pieces)
2 tbsp olive oil 1 medium-size onion, finely chopped
2 cloves of garlic, minced
3 large ripe tomatoes, peeled, seeded and finely chopped
1 tsp sweet paprika
12 small clams or mussels, scrubbed under cold water
6 oz shrimp, peeled and deveined
6 oz scallops (large ones cut into quarters, small ones cut in half or left whole)
8 oz monkfish or other firm white fish, cut on the diagonal into 1/2-inch slices
(up to) 3 cups fish or chicken stock or bottled clam broth, or as needed
1/4 tsp saffron threads
salt, freshly ground black pepper
2 tbsp chopped fresh parsley (for garnish)
Method for traditional Spanish Fideua Recipe:
Scrub the clams under running water to remove grit and sand. Place in a bowl; cover with salted water; soak for 30 minutes. Drain, rinse, and set aside.
Break the pasta into 2-inch pieces and set aside.
Toast saffron in a small skillet over medium heat for 1 minute, then set aside, ready to crumble into the fideua later.
Heat the oil in a paella pan or large 14″ skillet.  Add the onion and garlic and cook over a medium heat until soft and translucent but not brown, for about 4 minutes.
Add the tomatoes and paprika and cook until all the liquid has evaporated, about 5 minutes. Stir in the clams, shrimp, scallops and monkfish and sautée for 1 minute. Add 2 1/2 cups of fish stock with crumbled saffron and bring to the boil. Stir in the pasta and return to the boil.
Reduce the heat and cook, without stirring, over medium heat until the noodles are tender, about 20-25 minutes (discard any mussels or clams that do not open).
Preheat broiler. Brown the fideua briefly under the broiler, then cool for 5 minutes. Sprinkle parsley over it, then serve your traditional Spanish Fideua directly from the pan at table.
Serves 4.
Ideally serve with Allioli (pure garlic mayonnaise) and a chilled Spanish White  Albariño, Verdejo de Rueda, or Chardonnay, or maybe even a Brut Reserva Cava or a fresh Rosé.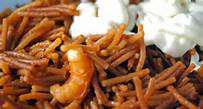 On a Gourmand Breaks Private Culinary Tour we frequently prepare traditional Spanish Fideua, and other delicious local dishes, as an original alternative to the well-known Paella.
Spanish chefs, in the last few years, have brought Spanish cuisine up to the mark with an abundance of Michelin stars flying around.  So, if you would like to learn how to cook like a professional then Spain is your destination, with all it's wonderfully fresh and diverse ingredients, it's the best place to learn! Contact us  for more information and to request a quote!
https://www.gourmandbreaks.com/wp-content/uploads/FIDEUA-FACIL-9-scaled.jpg
1920
2560
admin
https://www.gourmandbreaks.com/wp-content/uploads/GourmandBreaks_v12.png
admin
2013-11-13 17:23:16
2021-01-22 16:41:54
Adiós Paella – Hello Traditional Spanish Fideua