Things to see in Carcassonne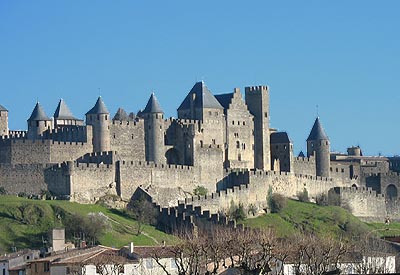 Where are Gourmand Breaks' clients today?   Having just spent a few heady days in San Sebastian, they are on their way to the Emporda Region in Northern Catalonia, but are stopping overnight in the ancient walled City of Carcassonne in France. 
Set high up on a hill, Carcassonne's fairytale collection of drawbridges, towers and atmospheric cobbled streets could be straight out of Walt Disney's Sleeping Beauty! Carcassonne is, in reality, two cities in one and apart from the pretty-as-a-picture walled city, there is a low-key, lower town that dates back to the Middle Ages. Known as the Bastide Saint Louis, it features typically French bars, shops, cafés and restaurants
The citadel of the upper town is Carcassonne's major sight and is surrounded by a double wall – the area in-between is known as the lices or "lists" where medieval knights once did their thing. Whilst the outer wall is the work of Louis IX, parts of the inner wall date back to Roman times.
And so to food – the real French food that everyone has been waiting to sample and perhaps the wonderful Cassoulet sums this up to perfection.   The origin of Cassoulet (see separate Blog item for Recipe) is a little obscure. Some say it is an Arab dish, others says it was created in Castelnaudary in the 14th and 15th centuries during the Hundred Years' war. But whatever its origin, it's one of the most delicious and satisfying of all French provincial dishes. It is a slow simmered casserole made primarily of white (haricot) beans, beans, pork, garlic sausage, vegetables and preserved (confit) duck or goose.   What better place to sample this speciality than French restaurant, Brasserie du Donjon, 2, Porte d'Aude,  in the heart of La Cité, where the owner and staff will, without doubt, treat you as one of the family. Another really good French restaurant worthwhile trying is Auberge de Madam Carcas, at No 3 Place du Chateau, where the Cassoulet and indeed everything is reassuringly inexpensive and the food delicious.
After enjoying local French food why not have a wander around the Place du Château.This wonderful old-fashioned store is stuffed with regional specialties such as cassoulet (in a glass) and olives aux herbes. If you're particular passion is cakes and pastry, it's also the place to stock up on grés de la cité, a Carcassonne favourite that features a heavenly mix of almonds and vanilla wrapped in puff pastry.
Later, take an opportunity to stroll through the streets of the lower town, savour the atmosphere and enjoy this authentically gallic experience, as this part of Carcassonne is home to a handful of charming boutiques.  While not exactly a shopper's paradise, Carcassonne's lower town has some eye-catching boutiques that are a good source for take-home treats and self-indulgent souvenir purchases. They are all concentrated in the grid-system of streets leading off from the Place Carnot (home to the weekly food market) and the newly-refurbished Les Halles (Carcassonne's covered food market) – a must for foodies.
La Ferme, on the corner of rue Verdun/rue Chartron (just off Place Carnot) is what the French call an "épicerie fine" – a fine food emporium, packed full of the most enticing goodies and accessories for foodies and wine-lovers. From luxury items like foie gras and caviar to fancy flatware and truffle slicers, via state-of-the-art corkscrews and champagne buckets.
Exploring both Spain and France together in our Northern Spain & France Food and Wine Tour allows people the best of both worlds- visiting wineries in both countries, appreciating the unique culture of each and delighting in gourmet food on both sides of the border- a perfect combination!
https://www.gourmandbreaks.com/wp-content/uploads/GourmandBreaks_v12.png
0
0
admin
https://www.gourmandbreaks.com/wp-content/uploads/GourmandBreaks_v12.png
admin
2012-03-20 09:20:50
2020-11-17 15:45:50
Things to see in Carcassonne