Spanish and French chefs united at the San Sebastian Gastronomika Festival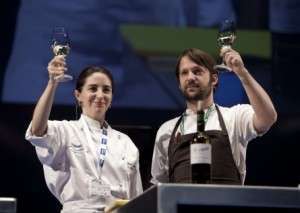 The legacy of French cuisine is being honored at a major gastronomy festival in San Sebastian, Spain this week, where some of the top chefs from France have been invited to represent the past, present and future of their country's culinary heritage.
As Hilario Arbelaitz said at this years San Sebastian Gastronomika Festival "Basque Cuisine has changed with the influence of French Cuisine. France is an example to all of us!"
At this year's San Sebastian Gastronomika festival, chefs pay tribute to the country which Spanish chef Juan Arzak described as "the mother of all cuisines who taught most of the world how to cook".

It's an homage that comes from a region that itself is considered a cradle of modern gastronomy, as San Sebastian is home to Spanish chefs such as Arzak, Ferran Adrià, and Andoni Luis Aduriz.
The league of invited French chefs includes top names like Alain Senderens and Jacques Maximin, founders of Nouvelle Cuisine; "modern legends" Pierre Gagnaire and Michel Bras; culinary greats Anne-Sophie Pic and Michel Troisgros; and Emmanuel Renaut, the latest chef to receive three Michelin stars for his Alpine cooking.
Along with cooking demos, workshops and discussions led by the French chefs, Gastronomika will also be staging a "friendly" competition in which participants will rate their favorite cheese from among 12 Spanish cheeses and 12 French cheese varieties. Other event highlights include a grilling competition, the search for the best sommelier in Spain, and a "live" tasting room: over three days, the venue auditorium will be turned into a giant restaurant where participants will be served 18,000 tastings.
It´s no surprise the festival is hosted in San Sebastian- currently  home to some of greatest gastronomy in the world. If you would like to explore the culinary world of San Sebastian , whether it be eating and drinking your way around one of the infinite number of tapas bars or dining in one of the many Michelin starred restaurants, we offer unforgettable private guided tours of San Sebastian and the Basque country 
https://www.gourmandbreaks.com/wp-content/uploads/GourmandBreaks_v12.png
0
0
admin
https://www.gourmandbreaks.com/wp-content/uploads/GourmandBreaks_v12.png
admin
2012-10-11 07:30:48
2020-11-17 15:36:10
Spanish and French chefs united at the San Sebastian Gastronomika Festival