TOP 10 Spanish Revelation Wines of 2018

In October, every year, the Peñin Guide stages the much anticipated El Salón de los Mejores Vinos de España (Salon of the Best Wines in Spain)  in Madrid.  Last year was the 18th edition and over 300 wineries with 1,300 wines from sixty-eight Spanish wine producing regions were united. The wines are divided into categories by points: Vinos del Podio/Podium Wines (95 to 100 points), Vinos Únicos/Unique Wines (93 and 94 points) and Vinos Excelentes/Excellent Wines (90 to 92 points).  This year, organic wines, which have been on the rise in recent years, were also integrated into the selection for the very first time.
One of the most anticipated events every year is the naming of the Guía Peñín "Best Revelation" wine.
A revelation wine is considered as such as it has somehow imposes a change, either in the conception of the variety, the vintage or the processing. It often creates a new category in the market or even dislocates the philosophy of the region somehow. In already consolidated producing areas a revelation wine may have revealed itself through its excellent quality, where to excel in its first appearance in the guide is much more complicated and exceptional.
Whichever road a wine takes to be considered a revelation wine what they all have in common is quality, balance and their native representativeness. What's more a revelation wine will always awake an interest and provoke surprise in the official Peñín Guide tasters.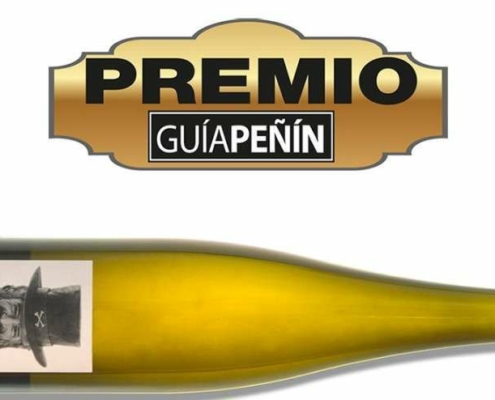 WINNER of the Guía Peñín "Best Revelation" wine for 2018: PIRATA 2014
Pirata 2014 is the product of a collaboration between two well-known enologists in the Spanish wine world, Benjamín Romeo (Bodega Contador) and Ismael Gozalo (MicroBio Wines and the co-creator of Ossian).
Benjamín and Ismael join their knowledge and experience to bottle together the La Rioja and Castilian Leon landscapes and the product? Pirata 2014.  Ismael contributes 50% of prefloxeric verdejo from sandy soils with clay accumulated from different soils while Benjamín contributes the other 50% through a blend of three native La Rioja varieties: white grenache, viura and malvasia from common clay-calcareous soils.
Pirata 2014 is an exceptional white wine of a curious blend of coupage, grapes, soils and climates and with less than a thousand bottles being produced in magnum format it is both a revelation and a rarity.
The TOP 10 Spanish wines to watch:
Here are all ten nominees considered for the Guía Peñín "Best Revelation" wines for 2018 with their corresponding Peñín Guide points. Wines to watch, if you will, representing a wide range of styles and Spanish wine producing regions:
A Coroa 200 Cestos 2015 (D.O. Valdeorras) from Adega A Coroa – 93 points
Amador Medrano Graciano 2016 (D.O.Ca. Rioja) from Bodegas Medrano Irazu – 93 points
El Buen Alfarero 2016 (D.O. Ribera del Duero) from Bodegas Pradorey – 93 points
Eulogio Pomares 2015 (D.O. Rías Baixas) from Fento Wines – 93 points
Fondillón 1996 Fondillón GR (D.O. Alicante) from Bodegas Monóvar – 94 points
La Pujada 2014 (D.O.Ca. Priorat) from Saó del Coster – 93 points
Pirata 2014 (Vino de Mesa) from Benjamín Romeo and Ismael Gozalo – 96 points
Telm Colet 2006 Barrica (D.O. Penedès) from Colet – 93 points
UBE Carrascal 2015 (V.T. Cádiz) from Cota 45 – 93 points
VO "Cal" 2015 (D.O. Bierzo) from Verónica Ortega – 92 points
Join us on a Private Wine Tour to include some of the great Wine Regions of Spain like our Wine Lovers Tour of Spain of Portugal to explore the Ribera del Duero, La Rioja, Priorat and Penedes Wine Regions of Spain and enjoy expert  guided visits to some fantastic wineries and taste some great Spanish wines.
https://www.gourmandbreaks.com/wp-content/uploads/top-10-spanish-revelation-wines-2018.jpg
494
1024
admin
https://www.gourmandbreaks.com/wp-content/uploads/GourmandBreaks_v12.png
admin
2018-02-07 09:52:31
2021-01-22 12:15:34
TOP 10 Spanish Revelation Wines of 2018