Gastronomy in Andalusia is very location-specific – everyone knows that the best strawberries and jamon come from Huelva; sardines from Malaga; tuna from Barbate; mangoes from Granada; cucumbers and tomatoes from Almeria…..
Andalusia is the largest agricultural producer in Spain.  It leads the national production of table olives and the world's largest producer of olive oil.  Jaen will say that they make the best olive oil, although in Cordoba, Granada and Seville they will dispute this.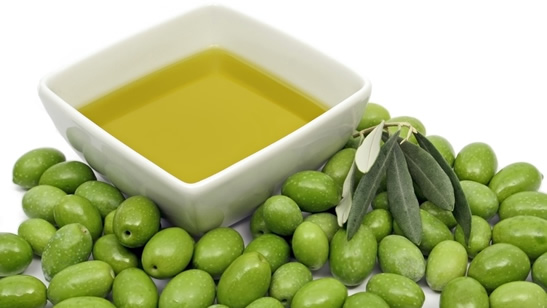 Similar to Spanish wine, Spanish Olive Oils have strict standards and seals provided by the different "Denominaciones de Origen", Designation of Origin, to ensure their unique taste and high quality.  The richness and variety of Andalusian oils is reflected in the recognition of 12 Protected Designation of Origin "PDO" areas, each with its own characteristics.The ratio by province is as follows: Cádiz,  (Sierra de Cádiz PDO); Córdoba (Baena PDO; Montoro-Adamuz PDO; Priego de Córdoba PDO and Aceite de Lucena PDO); Granada (Poniente de Granada PDO and Montes de Granada PDO); Jaén (Sierra de Cazorla PDO; Sierra Mágina PDO and Sierra de Segura PDO);  Málaga (Antequera PDO); and Seville (Estepa PDO).
Greenhouse cultivation predominates in Almería, producing noteworthy amounts of vegetables. Huelva and Granada are leaders in fruit production, cultivating strawberries and tropical fruit respectively.
Pigs are bred primarily in the mountains of Cádiz, Córdoba, Huelva, Málaga and Seville, where large herds of Ibérico pigs are raised.
Fishing is a chief industry in Cádiz, Huelva and Málaga, where fishermen specialise in catching tuna, prawns and sardines. The Andalusian fishing fleet consists of over 1,575 vessels and the captures reach 41,528 tons per year (2013).
Wine production is centered in the regions around Jerez (the area with the oldest and longest wine exporting tradition in Spain), Montilla-Moriles, Málaga and Huelva.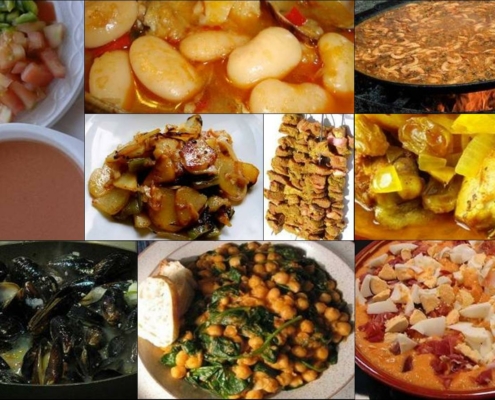 Andalusian gastronomy has deep roots within the Arabic cuisine of Al-Andalus (711-1492). Its refinement, unknown in Europe, transformed a wide range of customs. It was the andalusíes themselves who invented the dining room and the current order in which we eat dishes during a meal.
Gazpacho (a cold soup made of tomato, bread, onions, peppers, cucumbers, garlic, oil, vinegar and salt) is the typical Andalusian dish par excellence.
Tapas (small cold or hot dishes served in bars as aperitifs) attain their maximum expression in Andalusia (Cádiz, Málaga, Jerez…), where they are always served along with a glass of wine or beer.
Tapas hopping is part of Andalusian life and  Seville, for example, boasts around 4,000 tapas bars – roughly 1 for every 200 locals so you know they know what they're talking about!  Plate after plate of hot and cold food comes freshly out of the kitchen to appear on the bar to tempt your palate. Try cold roasted pepper salad or anchovies in vinegar, a hot dish of meatballs in sauce or a slice of Potato Omelet ….. the choice is yours.  Of course, as is customary, accompany your mouth watering bites with a glass of dry Spanish Sherry, wine or draft beer.
Traditional Andalusian desserts are characterized by clear Arabic influence, like torta real de Motril, tocinos de cielo de Guadix, torrijas de Semana Santa or piononos de Santa Fe, exquisite sweet fillings cream. Other desserts  collect a long tradition of Andalusian cuisine convents, which is reflected in the famous St. Ursula yolks.
Here are just some of the typical Andalusian dishes you may like to try while you're staying in Andalusia: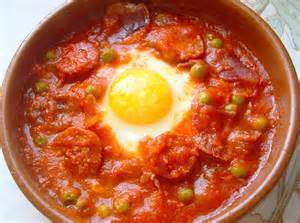 Join us on a personalized private tour of Spain, like the Majestic Madrid and Authentic Andalusia Tour, to experience the sights and delights of Andalusia in Southern Spain with the orange scented patios of Seville, Romantic Ronda, Grand Granada and Curios Cordoba!
https://www.gourmandbreaks.com/wp-content/uploads/gazpacho.jpg
801
1200
admin
https://www.gourmandbreaks.com/wp-content/uploads/GourmandBreaks_v12.png
admin
2015-03-11 13:20:36
2020-10-27 14:37:48
Andalusian Gastronomy