Basque Chicken Traditional Spanish Recipe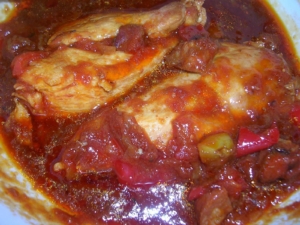 Ingredients for Basque Chicken – typical Spanish recipe:
8 Chicken joints to include all parts of the chicken or Joint a 1.70 kg chicken yourself into 8 pieces
150 Spicey Chorizo Sausage, cut into 1cm slices and skinned
2 good sized Red Peppers
1 Large Onion
50g of Sundried Tomatoes in oil (or dried and soak for half an hour in hot water)
3 good sized Cloves of Garlic or more if you wish
1 Tablespoon of Tomato Puree
200 g Paella or preferably "Bomba" rice
50 g Black Olives – preferably stoned –  if you leave the stone in it adds to the flavour, but you have to watch your teeth!
275 ml of Chicken Stock, either fresh or made up from a cube
150 ml of dry White Wine
1 large tspn of freshly chopped thyme
1 tspn Pimenton (smoked Pimento)
Method for Traditional Basque Chicken
To commence making your Basque Chicken, season the chicken well with salt and freshly milled black pepper. Then, slice the stalk end of the pepper off with the point of a sharp knife, which will remove the seeds.   Slice the pepper into good thick strips. Peel the onion and slice thickly. Cut your dried tomatoes, whether they be in oil or freshly re-hydrated, into small pieces.
Now heat 3 tablespoons olive oil in a good sized casserole pot and add the chicken pieces, not all at once, but two or three first and brown them well on both sides. Have a plate lined with kitchen paper ready and as the chicken  pieces brown remove them and place them on the plate to drain.  Add the onion and peppers to your pot now and let them soften, moving them around for some minutes on a medium heat.
Then, add the garlic, chorizo and sun-dried tomatoes and stir well, turning the contents over and over until the chorizo has a little colour. Add the rice and and stir well turning and turning to ensure that the rice has a really good coating of oil.   Now add the tomato puree, pimenton, thyme, stock and wine.   Season with salt and freshly ground pepper and bring up to simmering point.  Add the olives and then place your chicken pieces on the top of everything.   Cover with foil and then a lid, as tightly as you can and cook on a really low heat for up to an hour – but check from time to time after about 45 minutes that the rice is cooked, but still al dente.    If you wish, you may place your casserole in the oven at 180C or 160C for a fan oven, for one hour, but do check at 45 minute stage that the rice is cooked.
Serve your Basque Chicken with a mixed green salad, baquette bread and a super Priorat wine!
Learn how to cook Basque style with the professionals in the culinary capital of Spain, San Sebastian, on our Luxury Tour in Northern Spain where you will be introduced to true Basque cooking, dine in Michelin starred restaurants and experience private guided tours of some of the most prestigious wineries in the area-what more could you ask for!
https://www.gourmandbreaks.com/wp-content/uploads/GourmandBreaks_v12.png
0
0
admin
https://www.gourmandbreaks.com/wp-content/uploads/GourmandBreaks_v12.png
admin
2011-04-13 04:16:07
2020-11-18 17:03:53
Basque Chicken Traditional Spanish Recipe