Traditional Spanish Recipe for Ceviche- Marinated Raw Fish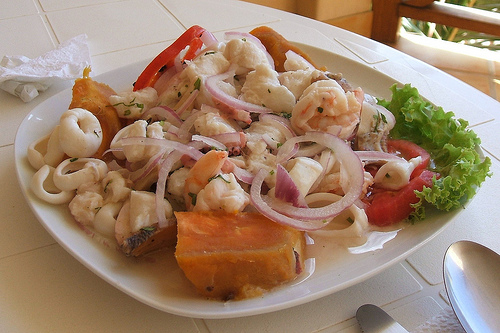 You can use almost any firm-fleshed fish for this Spanish dish, just as long as it is really very fresh indeed. The fish is effectively 'cooked' by the action of the acidic lime juice. I suggest you adjust the amount of chilli according to your taste and whether you like a hint or massive hit of heat with your Ceviche (Marinated Raw Fish) !Ingredients to serve 6
1 1/2 lb of skinned halibut, turbot, sea bass or salmon fillets, optionally, a handful of finely cut rings of calamari and some peeled shrimp or prawns – not entirely necessary, but a nice addition.
Juice of 3 limes
1-2 fresh red chillies, seeded and very finely chopped (according to your taste)
1 tablespoon olive oil
Salt
For the salad garnish
4 large firm tomatoes, peeled, seeded and diced
1 ripe advocado, peeled and diced
Half a large Spanish Onion, very finely sliced
1 tablespoon lemon juice
2 tablespoon olive oil
2 tablespoon fresh coriander leaves
Preparation of Ceviche (Marinated Raw Fish)
Cut the fish into strips of about 2 inches long.   Put the strips of fish into a  shallow dish and pour over the lime juice, turning the fish strips to coat them all over in the juice. Cover with a clear film (plastic wrap) and leave for 1 hour.
Mix all the salad garnish ingredients, except the coriander, together.  Put on one side.
Season your now marinated raw fish with salt and scatter over the chillies and drizzle with the oil, tossing the fish in the mixture. Replace the cling film cover and leave to marinate in the fridge for 15-30 minutes more.   Note:   Do not leave for yoo much longer or for overnight – it will be ruined!
I like to place the salad garnish around the edge of a large serving dish and then put the marinated fish into the middle of the dish and sprinkle with the chopped coriander leaves.   But it is entirely up to you and you can of course serve the salad and the ceviche in separate bowls.   However, do serve your Ceviche immediately with loads of fresh bread to mop up the delicious juices and of course, a good Spanish Wine of your choice!
Some of the most wonderful places to try Ceviche are located in Barcelona- the diverse restaurant scene here means there is something for everyone of all tastes and flavors! If you would like to the culinary scene in Barcelona, our private Barcelona Food and Wine Tours will take you to all the top foodie spots in the city-and can be customized to include visits to some of Barcelona´s best Ceviche restaurants.
https://www.gourmandbreaks.com/wp-content/uploads/GourmandBreaks_v12.png
0
0
admin
https://www.gourmandbreaks.com/wp-content/uploads/GourmandBreaks_v12.png
admin
2011-01-24 09:20:47
2020-11-17 15:53:34
Traditional Spanish Recipe for Ceviche- Marinated Raw Fish