COMPLETE FULL LIST -MICHELIN STARRED RESTAURANTS SPAIN AND PORTUGAL 2016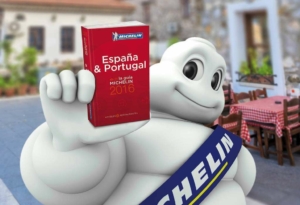 The NEW Michelin Guide Spain and Portugal 2016 was presented from Santiago de Compostela on November 25th. There are no new Michelin 3 star restaurants for 2016.
In Spain 2 restaurants were promoted to Michelin 2 Star status and 14 restaurants were awarded with a Michelin 1 star.
In Portugal just 1 restaurant was awarded a Michelin 1 star.
Here is the COMPLETE FULL LIST OF MICHELIN STARRED RESTAURANTS SPAIN AND PORTUGAL 2016:
Michelin 3 Star Restaurants in Spain 2016:
Akelare (San Sebastián – Guipúzcoa)
Arzak (San Sebastián – Guipúzcoa)
Azurmendi (Larrabetzu – Vizcaya)
DiverXO (Madrid)
El Celler de Can Roca (Girona)
Martín Berasategui (Lasarte – Oria – Guipúzcoa)
Quique Dacosta (Dénia – Alicante)
Sant Pau (Sant Pol de Mar – Barcelona)
Michelin 2 Star Restaurants in Spain 2016:
Àbac  (Barcelona)
Aponiente  (El Puerto de Santa María – Cádiz)
Atrio  (Cáceres)
Casa Marcial  (Arriondas)
Coque (Humanes  – Madrid) NEW
Dani García (Marbella – Málaga)
El Club Allard  (Madrid)
El Portal (Ezcaray – La Rioja)
Enoteca (Barcelona)
La Terraza del Casino  (Madrid)
Lasarte  (Barcelona)
Les Cols  (Olot – Girona)
M.B. de Martín Berasategui (Tenerife / Guía de Isora)
Miramar  (Llançà – Girona)
Moments (Barcelona)
Mugaritz (Errenteria – Guipúzcoa)
Ramón Freixa  (Madrid)
Santceloni  (Madrid)
Sergi Arola  (Madrid) UPDATE: CLOSED in September 2016
Zaranda (Es Capdellà – Mallorca) NEW
Michelin 1 Star Restaurants in Spain 2016:
Andalucía
Abantal (Sevilla)
Acanthum (Huelva) NEW
Alejandro (Roquetas de Mar)
Choco (Córdoba)
El Lago (Marbella)
José Carlos García (Málaga)
Kabuki Raw del Hotel Finca Cortesin (Casares) NEW
La Costa (El Ejido)
Messina (Marbella) NEW
Skina (Marbella)
Sollo (Fuengirola) NEW
Aragón
Hospedería El Batán (Tramacastilla)
La Prensa (Zaragoza)
Las Torres (Huesca)
Lillas Pastia (Huesca)
Tatau Bistro (Huesca)
Asturias
Arbidel (Ribadesella)
Auga (Gijón)
Casa Gerardo (Prendes)
El Corral del Indianu (Arriondas)
El Retiro (Llanes / Pancar)
La Salgar (Gijón)
Real Balneario (Salinas)
Baleares (Islas)
Andreu Genestra (Mallorca / Capdepera)
Can Dani (Formentera / Sant Ferrán de ses Roques)
Es Fum (Mallorca / Palmanova)
Es Molí d'En Bou (Mallorca / Sa Coma)
Es Racó d'Es Tix (Mallorca / Deià)
Jardín (Mallorca / Port d'Alcudia)
Simply Fosh (Mallorca / Palma)
Canarias (Islas)
El Rincón de Juan Carlos (Los Gigantes / Tenerife) NEW
Kabuki (Tenerife / Guía de Isora)
Kazan (Tenerife / Santa Cruz de Tenerife)
Cantabria
Annua (San Vicente de la Barquera)
Cenador de Amós (Villaverde de Pontones)
El Nuevo Molino (Puente Arce)
El Serbal (Santander)
Solana (Ampuero / La Bien Aparecida)
Castilla-La Mancha
El Bohío (Illescas)
El Carmen de Montesión (Toledo)
Las Rejas (Las Pedroñeras)
Maralba (Almansa)
Tierra (Torrico / Valdepalacios)
Castilla y León
Cocinandos (León)
El Ermitaño (Benavente, Zamora) NEW
La Botica (Matapozuelos)
La Lobita (Navaleno)
Refectorio (Sardón de Duero)
Víctor Gutiérrez (Salamanca)
Villena (Segovia) NEW
Cataluña
Alkimia (Barcelona)
Angle (Barcelona)
Bo.Tic (Corçà)
Ca l'Enric (La Vall de Bianya)
Caelis (Barcelona)
Can Bosch (Cambrils)
Can Jubany (Calldetenes)
Capritx (Terrassa)
Casamar (Llafranc)
Cinc Sentits (Barcelona)
Disfrutar (Barcelona) NEW
Dos Cielos (Barcelona)
Dos Palillos (Barcelona)
Els Brancs (Roses / Playa de Canyelles Petites)
Els Casals (Sagàs)
Els Tinars (Llagostera)
Emporium (Castelló d'Empúries) NEW
Estany Clar (Cercs)
Fogony (Sort)
Gaig (Barcelona)
Hisop (Barcelona)
Hofmann (Barcelona)
Hoja Santa (Barcelona) NEW
Koy Shunka (Barcelona)
L'Ó (Sant Fruitós de Bages)
La Cuina de Can Simon (Tossa de Mar)
La Fonda Xesc (Gombrèn)
Les Magnòlies (Arbúcies)
Les Moles (Ulldecona)
Lluerna (Santa Coloma de Gramenet)
Malena (Gimenells)
Massana (Girona)
Nectari (Barcelona)
Pakta (Barcelona)
Rincón de Diego (Cambrils)
Roca Moo (Barcelona)
Sala (Olost)
Saüc (Barcelona)
Tickets (Barcelona)
Tresmacarrons (El Masnou – Barcelona) NEW
Vía Veneto (Barcelona)
Villa Retiro (Xerta)
Galicia
A Estación (Cambre)
Alborada (A Coruña)
Árbore da Veira (A Coruña)
As Garzas (Malpica de Bergantiños / Porto Barizo)
Casa Marcelo (Santiago de Compostela) NEW
Culler de Pau (O Grove / Reboredo)
Maruja Limón (Vigo)
Nova (Ourense)
Pepe Vieira (Raxo)
Retiro da Costiña (Santa Comba)
Silabario (Tui)
Solla (Pontevedra / San Salvador de Poio)
Yayo Daporta (Cambados)
Madrid (Comunidad)
Álbora (Madrid)
Casa José (Aranjuez)
Chirón (Valdemoro)
DSTAgE (Madrid)
Kabuki (Madrid)
Kabuki Wellington (Madrid)
La Cabra (Madrid)
Lúa (Madrid)  NEW
Montia (San Lorenzo de El Escorial)
Punto MX (Madrid)
Murcia (Región)

La Cabaña de la Finca Buenavista (Murcia / El Palmar)
Navarra
El Molino de Urdániz (Urdaitz)
Europa (Iruña)
Rodero (Iruña)
País Vasco
Alameda (Hondarribia)
Andra Mari (Galdakao)
Boroa (Amorebieta / Boroa)
Elkano (Getaria)
Etxanobe (Bilbao)
Etxebarri (Axpe)
Kokotxa (Donostia)
Marqués de Riscal (Elciego)
Mina (Bilbao)
Mirador de Ulía (Donostia)
Nerua (Bilbao)
Zaldiarán (Vitoria)
Zarate (Bilbao) NEW
Zortziko (Bilbao)
Zuberoa (Oiartzun)
La Rioja
Venta Moncalvillo (Daroca de Rioja)
Valencia (Comunidad)
BonAmb (Xàbia)
Cal Paradís (Vall d'Alba)
Casa Manolo (Daimús)
Casa Pepa (Ondara)
El Poblet (Valencia)
L'Escaleta (Cocentaina)
La Finca (Elche)
La Sucursal (Valencia)
Monastrell (Alicante)
Ricard Camarena (Valencia)
Riff (Valencia)
Spanish restaurants that LOST THEIR MICHELIN ONE STAR STATUS
Aizian (Bilbao)
Ca L' Arpa (Banyoles, Girona)
Casa Alfonso (Dehesa de Campoamor, Alicante)
Comerç 24 (Barcelona) – due to closure
La Casa del Carmen (Olías del Rey, Toledo)
Manairó (Barcelona)
Miramón Arbelaitz (San Sebastián) – due to closure
Neichel (Barcelona) – due to closure
Vertical (H.C. Aqua 4) (Valencia)
Michelin 2 Star Restaurants in Portugal 2016:
Belcanto (Lisboa)
Ocean (Armação de Pêra)
Vila Joya (Albufeira)
Michelin 1 Star Restaurants in Portugal 2016:
Bon Bon (Carvoeiro – Faro)  NEW
Casa da Calçada (Amarante)
Eleven (Lisboa)
Feitoria (Lisboa)
Fortaleza do Guincho (Cascais)
Henrique Leis (Almancil)
Il Gallo d'Oro (Funchal)
Pedro Lemos (Porto)
São Gabriel (Almancil)
Willie's (Vilamoura)
Yeatman (Vila Nova de Gaia)
Portuguese Restaurant that LOST ITS MICHELIN ONE STAR STATUS:
L'And Vineyards (Montemor-o-Novo)
Resuming:
Spain received NO NEW Michelin 3 Star restaurant for 2016, but did gain TWO NEW Michelin 2 Star restaurants. 14 NEW Michelin 1 Star Restaurants were presented for the 2016 Michelin Guide for Spain and Portugal but 9 Michelin 1 Star restaurants from 2015 LOST their Michelin Star Status.
Portugal still has NO Michelin 3 star Restaurant but does hold on to the THREE Michelin 2 Star Restaurants from last year's Michelin Spain and Portugal Guide.  In the Michelin 1 star Restaurant category Portugal lost one Restaurant for 2016 but gained one NEW Michelin 1 Star Restaurant.
Experience Michelin starred Restaurant dining opportunities! On one of our Private Food, Wine and Cultural Tours you can indulge in the Best Michelin Starred Restaurants in Spain and Portugal.  Contact us for your personalized quote.
https://www.gourmandbreaks.com/wp-content/uploads/1528125923.jpg
630
1297
admin
https://www.gourmandbreaks.com/wp-content/uploads/GourmandBreaks_v12.png
admin
2015-11-26 09:43:43
2021-01-22 13:09:26
COMPLETE FULL LIST -MICHELIN STARRED RESTAURANTS SPAIN AND PORTUGAL 2016