What to see in Granada, Spain? – The Alhambra!

The Alhambra – gardens, fortifications and sumptuous palaces – was home to many Arab Sultans who ruled the whole province over the years.  Stretched along the top of the hill known as La Sabika, the Alhambra is the stuff of fairy tales.  From outside, its red fortress towers and walls appear plain, yet imposing, as they rise from cypress and elm woods, with the Sierra Nevada forming a magnificent backdrop.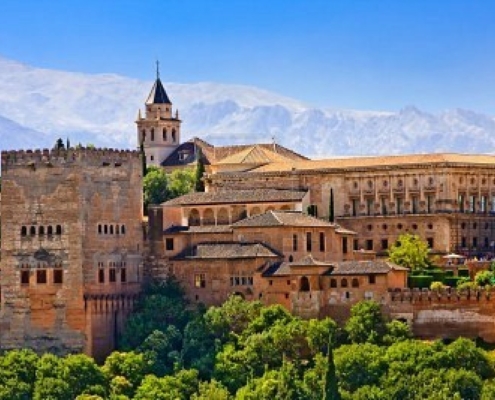 The Alhambra was originally constructed as a small fortress in 889 AD and was then largely ignored until its ruins were renovated and rebuilt in the mid-11th century by Moorish king Mohammed ben Al-Ahmar who built the current palace and walls.
Later, in 1333, it was converted into a royal palace by Yusuf I, Sultan of Granada and in 1527 Charles V, demolished part of the architectural complex to build the palace which bears his name. With each new section that was added the consistent theme of "paradise on earth" was followed. Column arcades, fountains with running water, and reflecting pools were used to add to the aesthetic and functional intricacy. In each case, the exterior was left plain and austere.
After being allowed to fall into disrepair for centuries, the Alhambra was rediscovered in the 19th century by European scholars and travelers, with restorations commencing.
Today, the Alhambra is one of Spain's major tourist attractions, exhibiting the country's most significant and well known Islamic architecture, together with 16th-century, and later Christian, building and garden interventions.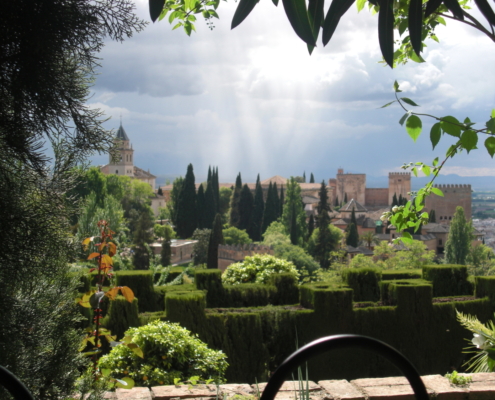 The Generalifepalace and gardens were built during the 14th century. Originally the palace was linked to the Alhambra by a covered walkway across the ravine that now divides them.  The garden areabecame a place of recreation and rest for the Muslim kings when they wanted to flee the tedium of official Palace life and is one of the oldest surviving Moorish gardens.
In 1984, the Alhambra and the Generalife were declared UNESCO World Heritage Sites.
In 2007, the Alhambra was a finalist to be included as one the NEW 7 Wonders of the World
Join us on a Private Cultural Tour of Spain like our Majestic Madrid and Authentic Andalucia to fully appreciate the splendor of the Great Granada Alhambra , as well as Madrid, Ronda, Cordoba and Toledo.
https://www.gourmandbreaks.com/wp-content/uploads/alhambra-granada-espana.jpg
801
1203
admin
https://www.gourmandbreaks.com/wp-content/uploads/GourmandBreaks_v12.png
admin
2014-07-18 15:28:45
2020-11-17 15:58:34
What to see in Granada, Spain? – The Alhambra!