Entry requirements for travel to Europe in 2022 are not just about Covid

Are you planning a trip to Europe in 2022? You are probably aware that as a citizen of the USA, Canada and Australia there are Covid entry requirements for Europe. Now the EU will also require an electronic travel authorization for international visitors to enter Europe (the Schengen Zone),  starting late 2022/early 2023.
At the moment, Americans, Canadians and Australians are permitted to travel visa-free to the 26 Schengen Area countries in Europe, but as of the end of 2022, the European Union will require citizens of these countries to apply for an ETIAS. Our wine, food and cultural tours cover Spain, Portugal, France & Italy and we will happily assist you with all the pertinent travel information required. For more info regarding ETIAS, please read on.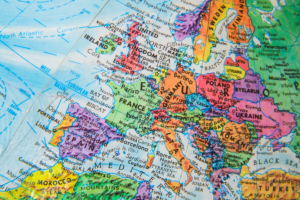 What is ETIAS travel authorization for Europe?
ETIAS stands for the European Travel Authorization and Information System and is an electronic permit to keep track of visitors from countries who do not require a visa to enter the Schengen Zone.
The Schengen Zone includes: Austria, Belgium, Czech Republic, Denmark, Estonia, Finland, France, Germany, Greece, Hungary, Iceland, Italy, Latvia, Liechtenstein, Lithuania, Luxembourg, Malta, Netherlands, Norway, Poland, Portugal, Slovakia, Slovenia, Spain, Sweden, and Switzerland.
The ETIAS travel requirement to enter Europe has been implemented to prevent security threats, health threats and migratory risks.
How to get an ETIAS travel authorization for Europe?
To apply for an ETIAS will be fairly straightforward, all able to be done via an online application process, for a fee of 7 Euros. The authorization will be valid for unlimited entries within a three-year period so travelers who frequent Europe won't need to apply every time. Without a visa (ETIAS is not a visa), U.S. citizens will still need to limit their travel to 90 days within any 180-day period (the current limit).  ETIAS will only be available for Australians as of 2023.
For how long is the ETIAS travel authorization for Europe valid?
The ETIAS is a multiple-entry travel authorization for Europe valid for a total of 3 years from the moment of approval. During the 3-year validity of the ETIAS, it is possible to enter any of the Schengen Zone European countries which apply to the travel authorisation as many times as necessary.
The implementation of ETIAS will not affect stays for international tourists when they visit Europe. The amount of visitable days within the Schengen Zone will remain at 90 days or less. At the moment citizens of Australia, Canada and the USA are only allowed to stay within the Schengen Zone for periods of less than 90 days within every 180-day period. To stay for longer periods of time or other purposes, Canadian, Australian and American citizens are required to apply for a Schengen visa from an embassy or consulate.
We would love to welcome you on a private wine, food and/or cultural tour of Spain, Portugal, Italy or France in 2022. If you would like to learn more about Covid entry requirements for Europe, please read our previous blogs about travelling to Spain during Covid, travel requirements for Portugal during Covid, travel entry documents required for Italy and France, with all the info about the Covid vaccination proofs required for each European county, where to take PCR tests if required etc.
If you want to know the current travel situation in Europe, we are here to offer travel advice, always keeping your best interests in mind. Just drop us a line: [email protected] and we will provide all the pertinent information.
Useful links:
https://www.etiasvisa.com/etias-requirements/americans
https://etias.com/etias-requirements/etias-for-australian-citizens
https://www.etiasvisa.com/etias-requirements/canadians
https://www.gourmandbreaks.com/wp-content/uploads/Amended_travel-scaled.jpeg
813
2560
admin
https://www.gourmandbreaks.com/wp-content/uploads/GourmandBreaks_v12.png
admin
2021-10-18 14:22:28
2022-01-12 14:07:51
Entry requirements for travel to Europe in 2022 are not just about Covid