GAZPACHO ANDALUS, a traditional Spanish recipe

As temperatures are souring this summer,  cool down with a delicious chilled Gazpacho soup. This quick and easy traditional Gazpacho recipe is not only refreshing it's packed full of vitamins too! Olé!!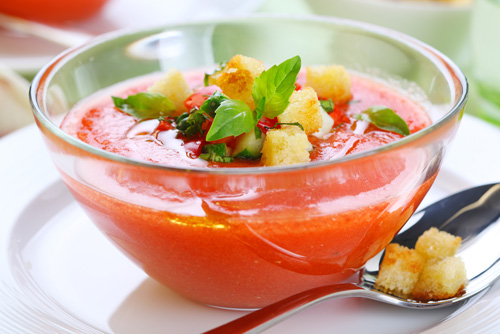 INGREDIENTS for Traditional Gazpacho recipe:
75 g stale bread (Spanish loaf, not packaged bread), crusts removed
1 kg ripe tomatoes (see note below ABOUT TOMATOES), peeled and seeded
3 cloves garlic
2 tsp salt and pepper
6 tbsp olive oil
5 tbsp vinegar
about 300 ml water
GARNISH for Traditional Gazpacho recipe:
100 g green peppers, finely chopped
100 g cucumber, peeled and finely chopped
1 small onion, finely chopped
1 small tomato, finely chopped
2 slices bread, toasted and diced like croutons
METHOD for Traditional Gazpacho recipe:
Put the bread to soak in enough water to cover it for around 10 minutes.
Squeeze out the excess water and put the bread in a blender or processor.
Cut the peeled tomatoes into chunks and add to the blender with the garlic, salt and pepper.
Blend until puréed and with the motor running add the oil in a slow stream, followed by the vinegar.  The mixture will thicken and change color as the oil blends in.
Add a little water and transfer to a serving bowl or pitcher. Stir in the water to the desired consistency and chill until serving time.
For the garnish:
Place the chopped peppers, cucumbers, onion, tomato and croutons in individual small bowls or in a divided dish and serve them as accompaniments.
Gazpacho may also be served in glasses or mugs for sipping but without the garnishes.
Note ABOUT TOMATOES: vine-ripened tomatoes are one of Spain's treats.  If possible, buy the big, beefy ones.  Even if they are slightly green, they will ripen in a few days. Avoid the all-of-a-size and color long-life tomatoes. They're bred for shipping long distances and don't have the flavor of the local varieties. Tomatoes can be skinned before making the gazpacho by dipping them in boiling water or try running the blunt edge of a knife across the skin, then pulling it off.  Otherwise, crush the tomatoes, and then sieve them to remove the skin and seeds.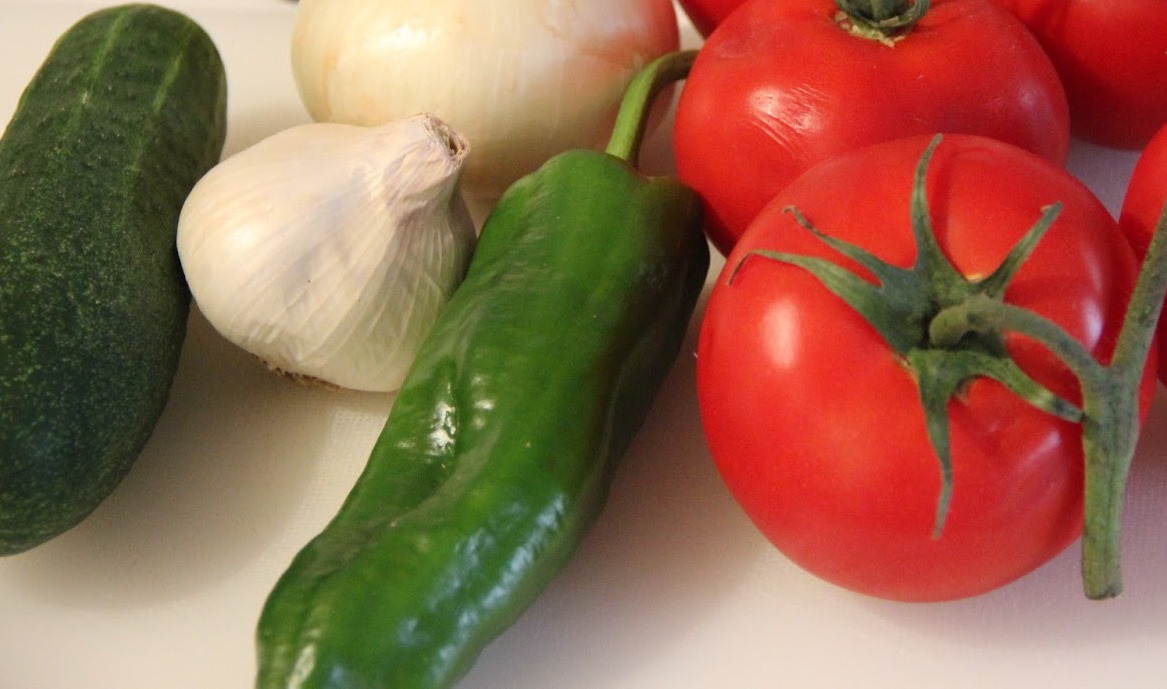 Learn to cook tasty local Spanish dishes with an excellent in situ chef as part of your Private Luxury Food, Wine and Cultural Tour in Spain.  Our  wonderful Spanish Cooking and Wine Tour takes you into the world of Spanish Cuisine, and Spanish Wine, the best way to learn about Spain!
https://www.gourmandbreaks.com/wp-content/uploads/Gazpacho-Ingredients.jpg
689
1167
admin
https://www.gourmandbreaks.com/wp-content/uploads/GourmandBreaks_v12.png
admin
2015-07-08 09:37:40
2020-11-17 14:59:29
GAZPACHO ANDALUS, a traditional Spanish recipe