I Need Spain – "The Embassy of the Tapa of Ferran Adria"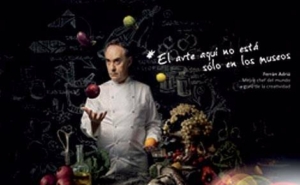 "To make a Tapa Flag", this is the idea launched by Spanish Chef Ferran Adria in his presentation in New York as the Ambassador of Spanish Tourism.   The man considered by many as the best chef in the world and of whom a biography has just been published in the US, said that "Tapa is a great gastronomical revolution".  According to this visionary of cuisine "Tapa is a way of life and lifestyle and a style of cooking very American."
Spanish chef, Ferran Adriá said that one of the objectives of his incorporation into the campaign, "I Need Spain", is to attract more American visitors, as American visitors are well known in general to have a curiosity that goes much further than just the sun and the beach.
'I Need Spain' is the new slogan which the Spanish Tourist Board hopes will bring more people to Spain in the coming years.  The new advertising campa ign, led by Ferrán Adriá, who juggling fruit on a poster says "Art here is not only in the museums". Other personalities to take part are Gisela Pulido, six times Kitesurfing World Champion, the Spanish Basketball team, the Spanish MotoGP motorbike riders, and Spanish football players.
The Spanish lifestyle, personality and way of life are at the centre of the campaign which plans to improve the image of Spain all over the world.   The Government hopes that the new campaign will be seen by 400 million people in more than 40 countries around the world.  The plan is to show the spots around the major events of the year and time has been purchased on CNN, Fox, National Geographic and Eurosport. A simultaneous campaign will take place on the Internet.
https://www.gourmandbreaks.com/wp-content/uploads/GourmandBreaks_v12.png
0
0
admin
https://www.gourmandbreaks.com/wp-content/uploads/GourmandBreaks_v12.png
admin
2010-10-18 04:53:04
2010-10-18 04:53:04
I Need Spain – "The Embassy of the Tapa of Ferran Adria"