Michelin Stars Spain 2015 – MARTIN BERASATEGUI restaurant

The Michelin Guide to Spain and Portugal 2015 is fast approaching and we'll keep you updated with the results of the Michelin Starred Restaurants in Spain for 2015! In the meantime, over the next few days we'll be showcasing some of the Best Michelin starred Chefs in Spain, if not the World, with our own Pre-Michelin Guide Restaurants 2015 SuperChef Series by Gourmand Breaks- An insight into the world of some of the current Michelin 3 star and Michelin 2 star chefs in Spain!
Previously, we showcased Michelin 3 star chefs Carme Ruscalleda,  Quique Dacosta and David Muñoz  as well as Michelin 2 star chefs Paco Pérez, Andoni Luis Aduritz  and Jordi Cruz.  In no particular order, today a Michelin 3 Starred Basque country chef with various national and international restaurants:
Martín Berasategui– Proudly heads Michelin 3 star restaurant that takes his name and a holds a total of 7 Michelin stars.  To be enjoyed on one of our Private Food, Wine and Cultural Tours :)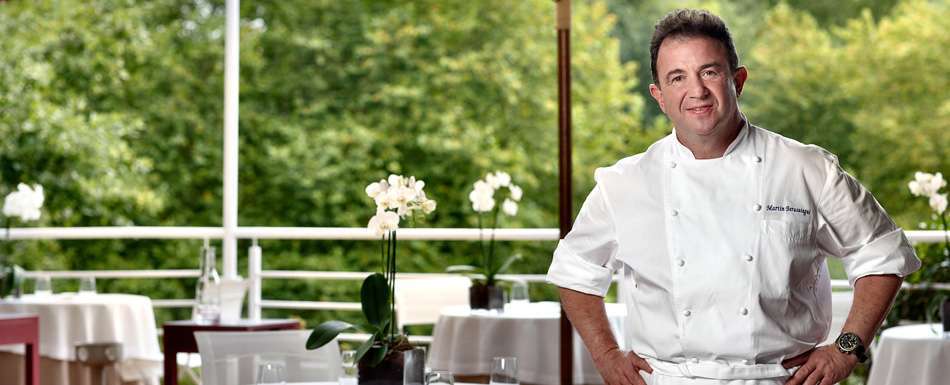 Martín Berasategui was born in 1960 in San Sebastián. He studied in Navarra and was introduced to the culinary world, at just 13 years of age, through his mother and aunt.  Martín Berasategui trained at cookery school in France in 1977, working over the next few years in several prestigious kitchens, including those of Michel Guerard and Alain Ducasse in Monaco.
He began working in the family business, Bodegón Alejandro, where he subsequently took charge at age 21. He received his first Michelin star just 5 years later. In 1993, and along with his wife, Martín Berasategui opted for a solitary project and opened his first restaurant in Lasarte, which 6 months later received it's first Michelin star, the star he recuperated from Bodegón Alejandro.  In 1996 the second Michelin star was awarded and in 2001 Martín Berasategui restaurant received it's Michelin 3 star status where it proudly holds it's place ever since.
In 2006 the Michelin 3 starred Martín Berasategui restaurant entered the World's Best 50 restaurants, the prestigious list presented by Restaurant Magazine, in 37th place. Going up and down on the Top 50 restaurants list, Martín Berasategui restaurant reached it's highest placing, 27th, in 2007.  Martín Berasategui is currently placed 35th in the acclaimed World's Best 50 Restaurants List, for 2014.
Also, in the recent World's Best Restaurants of 2014 – TripAdvisor Travelers' Choice Awards, Martín Berasategui, in Lasarte – San Sebastián – was ranked at Nº10. Martín Berasategui restaurant was not the only Spanish entry in the World Top Ten TripAdvisor list –  El Club Allard (Madrid) was ranked 6th and the unstoppable El Celler de Can Roca (Girona) tops the charts at Nº 1.
Michelin 3 star restaurant Martín Berasategui works like clockwork with Oneka, Martín's wife, as restaurant manager. In the kitchens some of the recent great names of Spanish cuisine have undertaken their formation, such as Dani García and Eneko Atxa.
Michelin 3 star restaurant in Spain Martín Berasategui restaurant is located in Lasarte and offers light, balanced and innovative cusine always true to traditional roots.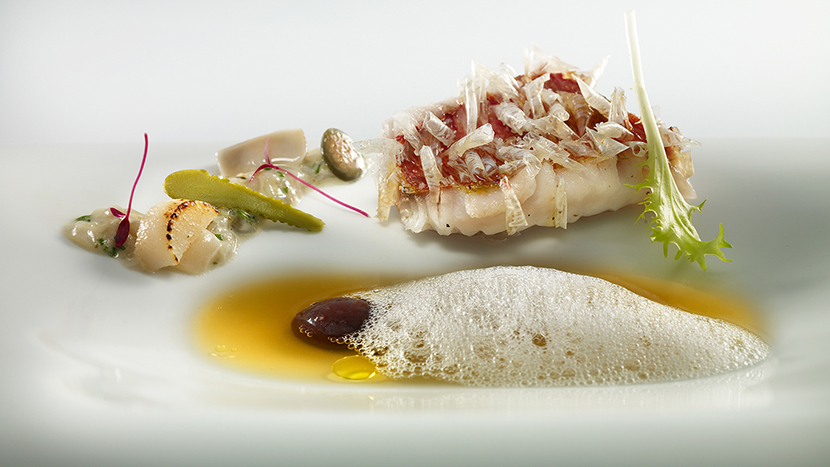 Also by Martín Berasategui, Restaurants in Spain:
Lasarte, Barcelona  – Michelin 2 star restaurant in Spain
Opened in 2006 and by 2009 was already awarded the 2nd Michelin star. This elegant and intimate fine dining restaurant takes it's name from the town where Martín Berasategui opened his first restaurant and is located in the Hotel Condes, Barcelona. The restaurant is currently undergoing renovations with plans to reopen next month, December 2014.
M.B, Tenerife – Michelin 2 star restaurant in Spain
M.B achieved it's first Michelin star in 2010 and, for the Michelin Guide for Spain and Portugal 2014, received it's second Michelin star. Tranquility and simplicity enlighten all the exquisite flavours that Martin's creative dishes have to offer. M.B is located on the Canary Isles at Abama Golf and Spa resort, Guía de Isora, Tenerife.
Loidi, Barcelona
Loidi is a highly contemporary and affordable Gastro-bistro in which Martín Berasategui offers his traditional cuisine. It is also located in the Hotel Condes where his Michelin 2 star restaurant Lasarte is also housed.
Fonda España, Barcelona
Martín Berasategui offers, in the modernist building occupied by Hotel España, just off La Rambla, a traditional cuisine with a modern touch.
Doma, Bilbao
Martín Berasategui has put his stamp on the restaurant within the 5* Hotel Silken Gran Domine in Bilbao. Doma restaurant has a privileged location right opposite the Guggenheim Museum.
Eme Be Garrote, San Sebastián
Once an old cider house Martín Berasategui has kept with the spitit of the "house" with it's decor and dishes reminding us that once upon a time it was fire that gave the dish it's flavor.
Internationally, Martín Berasategui has branched out with 2 firther restaurants in Mexico and another 2 in the Dominican Republic, all within the Mélia Hotels International  chain Paradisus Resorts.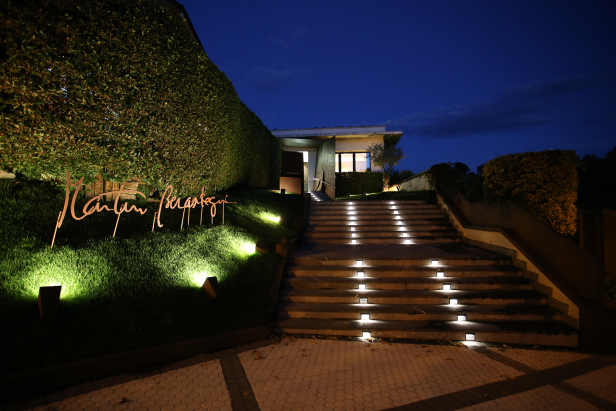 With Spanish Chefs taking the World by storm, now is the time to visit Spain, home to 10% of the World's Best Restaurants and numerous Michelin starred Restaurants!  On one of our Private Food, Wine and Cultural Tours you can indulge in the Best Michelin Starred Restaurants in Spain.  Contact us for your personalized quote.
https://www.gourmandbreaks.com/wp-content/uploads/Martin-Berasategui-1.jpg
385
950
admin
https://www.gourmandbreaks.com/wp-content/uploads/GourmandBreaks_v12.png
admin
2014-11-14 08:53:50
2021-01-22 15:24:16
Michelin Stars Spain 2015 – MARTIN BERASATEGUI restaurant