Marvelous Spain – Wes and Charles' Private Tour Review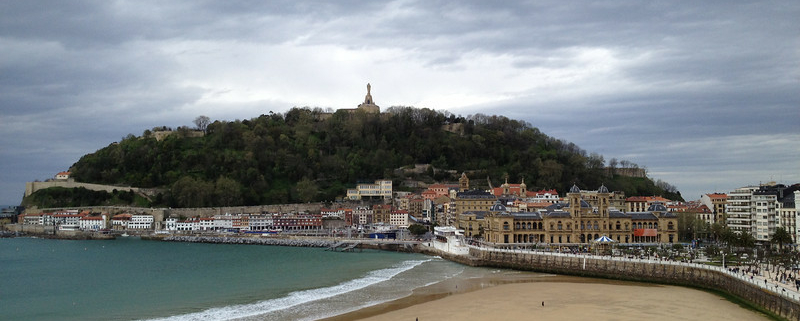 Wes Albinger and Charles Pierce joined us recently, from New York City, for a fantastic 22 day Customized Private Highlights of Spain Tour. We could tell you where they went, what they saw, where they ate etc but we'll leave that to them.
Travel with Wes and Charles all over Spain as you read their FULL review in their own words, with no censorship from us  – Bon Voyage :-):
After a reflective week or so, we'd like to share a few thoughts about our Gourmand Breaks journey through Spain. Top line: We loved it!  It was a pleasure to meet you on that first day in Barcelona. The printed booklet you presented us with was helpful. We referred to it often and having the blank pages did, in fact, inspire us to keep a journal.
Barcelona was a great place to begin. Our guide gave us a real understanding of Catalonia as well as a wonderful tour of the Sagrada Famillia — the first of many marvels we saw on our trip. It was astounding, enhanced by our guide's intimate knowledge. Thanks for recommending Ten's, as it was outstanding. Lasarte was an elegant, comfortable restaurant but frankly, we enjoyed Ten's more! (A waiter knocked a full glass of wine and a full glass of water over Wes during our meal at Lasarte …it was unfortunate and this may have colored our overall impression of the place. They upgraded our wine after the incident, but otherwise charged us the full amount, which was surprising). As you know, on the last day in Barcelona we suffered food poisoning. Luckily, the malaise didn't last long. When we got to Grenada, we found a place that served chicken soup and it was curative!
Grenada was delightful. Our expert guide maneuvered us gracefully through the crowds and took us on a memorable and knowledgeable tour of the Alhambra — the second marvel of our trip. Your suggested stop in Ronda was the perfect way to break up the drive. We loved the hotel in Seville. Our room was huge and the hotel manager was very attentive, welcoming us with a bottle of bubbly. Our guide, Paloma, was terrific. Her tour of the cathedral was excellent and we had such a good time with her afterwards. We loved the flamenco show and the manager made us feel welcome when he sought us out at the end of the performance to thank us for coming. And, of course, the scent of orange blossoms lingers in our memory. We tried a restaurant suggested in your booklet, Az-Zait, and it turned out to be a good choice. (The Iberian pork dish was delicious!).
Elena, our guide in Cordoba, was very good and clearly at home. Strolling through the old town with her made us feel like locals, as she knew many folks along the way. Her knowledge of the Mezquita was extraordinary and her commentary greatly enhanced our visit to this magnificent sight — the third marvel of our trip. When we told her afterwards that we'd prefer to have a proper lunch rather hopping around for tapas, she picked just the right place. She worked with the waiters to plan us a delectable meal and we were the only tourists in the place. It was great watching local families enjoying a long, leisurely Saturday lunch.
And then came Madrid. The many neighborhoods, museums, the vitality, Retiro Park and the oh-so-friendly people won us over. The hotel had a few issues…and perhaps not quite as special as the other hotels you chose for our journey but the location was great and the room was generous, quiet and comfortable. The staff was very helpful. Our guide, Olga, used a map to help us understand Madrid and it's charms before taking us on an informative and comprehensive tour of the city. The Prado art collection was yet another marvel and Olga's insight was impressive. We loved tapas-hopping with her afterwards and were particularly pleased with the places she picked. She left us feeling very satisfied at the Mercado de San Miguel. We visited the Royal Palace, saw a few other sights and, as Olga had suggested, had something eat in the food courts at El Cortes Inglés for dinner.
The Museo Thysson-Bornemisza museum was yet another marvel. It's a beautifully curated art collection where we spent hours and loved every minute of it. It was like taking an art history class!
Our two-star dinner at El Club Allard started out with a bang. The first five courses were good but the service was rushed and the final courses lacked finesse. Just the same, it's a beautiful place and they made us feel quite comfortable.
We loved our guide in Toledo. His English was excellent and he knew the city so well. (He even spotted, and helped coordinate, the arrest of two pickpockets by sending their photos instantly to the local police!). After our tour, he took us to a small but terrific local restaurant where we had a lunch menu for twelve euros, including a glass of wine!
Segovia was a great side trip, too. We arrived early enough to have a quick visit of the cathedral and to marvel at the Roman aqueduct. After that, we stopped to sample the ponche Segoviano, loving the sponge cake and marzipan confection. We wandered through the old town, visited the Alcázar and even went through a local history museum. But the highlight was lunch at José Maria where we had the famous "cochinillo." What a treat! The poor piglet couldn't have been more than six weeks old, just large enough to fit in a roasting pan, and it was fun to watch the waiters use ordinary serving plates to cut the pig into equal portions for serving. We loved it.
Then came San Sebastián. Wow! The train trip was a bit uncomfortable as we noted but San Sebastián was a perfect ending. We loved the hotel and the view from our room was mesmerizing. Once again, our guide was delightful, helping us appreciate the city's history and taking us to just the right places—a landmark pastry shop, a "grocery store" with the most amazing produce, the Hotel Maria Cristina and all along the waterfront. Then we had a spectacular "pinchos"- hopping jaunt with her that was a lot of fun.
Bilbao was another memorable day trip. A great driver in his very comfortable car took us to the market downtown and drove us around a bit before dropping us off at the museum. The building is fantastic — another marvel! And thanks again for our lunch at Nerua … one of the best meals we had on the trip. The chef greeted us and gave us a few amuse-gueules while he talked about the kitchen. Then we sat down and ate and drank our way though an excellent 9-course menu. It was delicious! The wine pairing was definitely the right thing to do as the sommelier picked some very interesting wines that perfectly matched the food. (We can't say enough good things about this place. It was better than both the two-star restaurants in Barcelona and Madrid!). The driver took us back to San Sebastián via the coast, stopping for a few minutes to let us have a look at the port in Getaria. It was a beautiful drive.
We had such a good time with our friends Stephanie and Paul, especially sharing two three-star restaurant meals back-to-back! Our dinner at Akelarre was disappointing. The location can't be beat (lovely sunset!) and while some of the dishes were playful, innovative and very tasty, there were some clunkers along the way. All in all, it didn't seem to be a three-star experience. We all came away thinking that it wasn't worth the exorbitant price.
On the other hand, lunch at Arzak was one of the best culinary experiences we can remember. From start to finish, it was three-star perfection. Juan Marie Arzak couldn't have been more charming and the entire staff was super-welcoming. (Thanks to our waiter's guidance, we were able to order multiple half-portions à la carte, creating our own ten course menu). It was superb and, interestingly, the bill was half as much as our bill at Akelarre!
We have to thank you. From beginning to end, our journey was very well-paced, encompassing and exciting on so many levels. In general, we loved traveling by fast train—and getting a feel for the topography of Spain along the way. The car and driver parts of our journey were top-notch and so comfortable. The guides were spot-on. Thank you for all your efforts on our behalf.
Un abrazo!
Wes and Charles
Thank you Wes and Charles for such a comprehensive insight into your experience with Gourmand Breaks. On behalf of us all at Gourmand Breaks – It was our pleasure to welcome you to Spain!
If you enjoyed your journey with Wes and Charles and would like to experience some great Food, Wine ad Cultural experiences in Spain, and/or Portugal, we'd be delighted to customize your perfect private itinerary. You'll find many sample itineraries to give you some ideas on our Gourmand Breaks website .
https://www.gourmandbreaks.com/wp-content/uploads/San-Sebastian-Rein..jpg
600
800
admin
https://www.gourmandbreaks.com/wp-content/uploads/GourmandBreaks_v12.png
admin
2016-05-10 14:47:47
2020-10-28 08:07:10
Marvelous Spain – Wes and Charles' Private Tour Review