New Year's Eve in Spain – A Great Grape Tradition

In Spain, New Year's Eve, or Nochevieja (translated as "Old Night" from Spanish), is quite an impressive spectacle.  In all the plazas of the country a similar scene is played out  and includes church bells and grapes.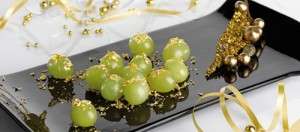 Spanish New Year's Eve celebrations usually begin with a family dinner, traditionally including prawns, and lamb or capon, and of course accompanied by a fine Spanish wine.  Spanish tradition also states that wearing new, red underwear on New Year's Eve brings good luck for the coming year.
When the clock strikes 12, the church bells chime 12 times, and at this moment all Spaniards eat 12 grapes, one on each toll of the bell.  The actual countdown is primarily followed from the clock on top of the Casa de Correos building in Puerta del Sol Square in Spain's capital city, Madrid.   This great grape tradition dates back to 1909, when grape growers in Alicante  thought of it as a way to cut down on the large production surplus they had had that year. Nowadays, the tradition is followed by almost every Spaniard, and the twelve grapes have become synonymous with the New Year in Spain.  The first grape, and the second, are easy but gradually as cheeks get filled to bursting, laughter usually interrupts the mission to eat all 12 grapes on time.   (A top tip to complete this mission is to buy small, seedless grapes.)  If all the 12 grapes are consumed as the last toll chimes, it is considered that one will have a lucky year.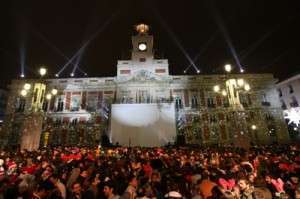 After the clock has finished striking twelve, people greet each other and toast with sparkling wine such as Spanish cava or champagne . This lively celebration will go on until the small hours of the morning either in homes at private parties or in pubs and clubs where hundreds of revellers celebrate the New Year.
Early the next morning, party attendees usually gather to have a traditional winter breakfast of hot chocolate and fried pastry "churros".
Many people also congregate to watch the first sunrise of the New Year.  If the sky is clear a fantastic vision can be enjoyed and a spectacular place for this is high on a hill looking out to sea.  One of our favorites is at the lighthouse in Llafranc, Girona, Spain where the all night partygoers mix with the early risers to enjoy hot chocolate by the rhythm of sardanes music and the light of the rising sun.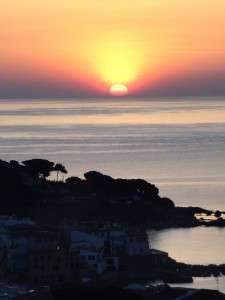 We, at Gourmand Breaks, wish you all a Happy and healthy New Year 2014, which ever tradition you follow and wherever you are in The World!! Cheers!!!
If you're looking for some inspiration for your 2014 travel plans, take a look at our fantastic private tours and treat yourself this New Year to a luxury gourmet, wine and cultural vacation tour of Spain, Portugal and /or SW France.
https://www.gourmandbreaks.com/wp-content/uploads/cava-glasses1.jpg
883
929
admin
https://www.gourmandbreaks.com/wp-content/uploads/GourmandBreaks_v12.png
admin
2013-12-30 14:52:25
2021-01-22 15:51:32
New Year's Eve in Spain – A Great Grape Tradition