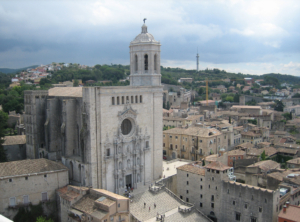 Rich in culture, charm, and beauty and located just an hour north of Barcelona, the city of Girona boasts narrow cobblestone walkways with something new to discover at every turn.  The combination of chic boutiques and modern interiors juxtaposed against the backdrop of an ancient medieval village give this city a striking contrast between old and new. And with such close proximity to the beaches of the Costa Brava as well as the backdrop of the Pyrenees Mountains, Girona is a destination that should not be missed.
Although first settled by the Iberians, it was not actually named until 218 BC, when the Romans arrived. Winding your way through the Gothic quarter of Girona, you can still see the remnants of the Roman walls built so many centuries ago. The true beacon of this town though is the Cathedral that looms overhead. It is visible from almost any vantage point and feels as if it is "keeping watch" over the town. While the Romans began constructing the iconic Cathedral in the 13th century, it was actually not completed until the 18th century, more than 500 years later. As a result, it features a medley of architectural styles including Romanesque, Gothic, and Baroque.
By the 9th century, a large Jewish population had established a semi-independent town within Girona and they were quickly becoming leaders in the area's development. It was here that the Jewish School of Mysticism was created, and where many texts for the Kabbalah were written. With the aid and protection of the Spanish Kings, the Jews prospered. However after an attack on their community in 1391 and 100 years of persecution following, the Jews, who refused to convert to Christianity, were forced to leave.
It wasn't until 1970 that their true heritage and influence on Girona was actually discovered. "The Call", as the area was named, was sealed off and the non-Jewish Gironians who remained built over and around the Jewish Quarter for centuries, nearly obliterating it from existence. The Moorish baths and history existed, but were never fully understood. As real estate market trends changed, a restaurateur named Jose Tarres bought a group of buildings near the Cathedral that still dominates the old city. During the excavation of those buildings, the story of the Jews began unfolding, and Gironians learned of a silent generation and what the Jewish heritage means for the history of their town.
So with its newly discovered Jewish heritage and roots, its trendy restaurants and cafes, quaint shops and streets, Girona is highly recommended by us at Gourmand Breaks! You will not regret making the drive to this historic town, and our private day tours are also a great way to explore this area. 
https://www.gourmandbreaks.com/wp-content/uploads/GourmandBreaks_v12.png
0
0
admin
https://www.gourmandbreaks.com/wp-content/uploads/GourmandBreaks_v12.png
admin
2010-09-02 04:58:29
2020-10-28 11:41:31
The Story of Girona