Top 100 Wines of the World includes 8 Spanish Wines

North American Wine specialist magazine "Wine Spectator " has included 8 Spanish Wines in their annual Top 100 Wines of the World List for 2014.

Wine Regions of Spain included in the Top 100 list include La Rioja, Ribera del Duero, Bierzo, Castilla La Mancha and a fortified wine from Andalusia:
Viña Ardanza Reserva 2005 (34th place)
Abadía Retuerta Viño de la Tierra de Castilla y León Sardon de Duero Selección Especial 2010 (50th place)
Viña Cumbrero Crianza 2010 (62nd place)
Cune Monopole Blanco 2014 (64th place)
Godelia Mencía 2010 (68th place)
Cabernet Sauvignon Dominio de Valdepusa 2010 (79th place)
Bodegas Marqués de Murrieta Rioja Castillo Ygay Gran Reserva Especial 2005 (84th place)
Antonio Barbadillo Manzanilla Sanlúcar (95th place)
Since 1988, each year, Wine Spectator magazine editors study the wines that have been reviewed over the previous 12 months and select their Top 100 Wines of the World list. This year, 8 Spanish Wines are included in the list. All the wines are classified on a scale from 85 to 100 points (pts) based on quality, value, availability and excitement. This annual list acknowledges successful wineries, wine regions and vintages from all around the world.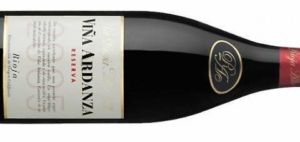 If you love Wine you can't miss the Wine Regions of Spain! Join us on a Private Wine Tour of Spain like our Wine Lovers Tour of Spain and Portugal to explore the Ribera del Duero, La Rioja, Priorat and Penedes Wine Regions of Spain and enjoy expert  guided visits to some fantastic wineries and taste some great Spanish Wine.
TOP 100 WINES FULL LIST :
Here's the complete Top 100 Wines of the World list, 2014, according to Wine Spectator Magazine, with their corresponding punctuation (Pts). The 8 Spanish Wines selected feature in bold text:
| | | | |
| --- | --- | --- | --- |
| # | Wine | Vtge | Pts |
| 1 | Dow's Vintage Port | 2011 | 99 |
| 2 | Mollydooker Shiraz McLaren Vale Carnival of Love | 2012 | 95 |
| 3 | Prats & Symington Douro Chryseia | 2011 | 97 |
| 4 | Quinta do Vale Meão Douro | 2011 | 97 |
| 5 | Leeuwin Chardonnay Margaret River Art Series | 2011 | 96 |
| 6 | Castello di Ama Chianti Classico San Lorenzo Gran Selezione | 2010 | 95 |
| 7 | Clos des Papes Châteauneuf-du-Pape | 2012 | 97 |
| 8 | Brewer-Clifton Pinot Noir Sta. Rita Hills | 2012 | 94 |
| 9 | Concha y Toro Cabernet Sauvignon Puente Alto Don Melchor | 2010 | 95 |
| 10 | Château Léoville Las Cases St.-Julien | 2011 | 95 |
| 11 | Mount Eden Vineyards Chardonnay Santa Cruz Mountains | 2011 | 95 |
| 12 | Château Guiraud Sauternes | 2011 | 97 |
| 13 | Fonseca Vintage Port | 2011 | 98 |
| 14 | Fontodi Colli della Toscana Centrale Flaccianello | 2011 | 95 |
| 15 | Bedrock The Bedrock Heritage Sonoma Valley | 2012 | 95 |
| 16 | Two Hands Shiraz Barossa Valley Bella's Garden | 2012 | 95 |
| 17 | Soter Pinot Noir Yamhill-Carlton District Mineral Springs Ranch | 2012 | 95 |
| 18 | Château Doisy-Védrines Barsac | 2011 | 95 |
| 19 | Luca Malbec Uco Valley | 2012 | 93 |
| 20 | Peter Michael Chardonnay Knights Valley Ma Belle-Fille | 2012 | 95 |
| 21 | Castello di Volpaia Chianti Classico Riserva | 2010 | 93 |
| 22 | Podere Sapaio Bolgheri Volpolo | 2011 | 93 |
| 23 | St.-Cosme Châteauneuf-du-Pape | 2010 | 96 |
| 24 | Massolino Barolo | 2009 | 95 |
| 25 | Bodegas y Viñedos O. Fournier Malbec Uco Valley Alfa Crux | 2010 | 94 |
| 26 | Emeritus Pinot Noir Russian River Valley Hallberg Ranch | 2011 | 93 |
| 27 | Quinta do Portal Douro Colheita | 2011 | 92 |
| 28 | Château de Beaucastel Châteauneuf-du-Pape | 2011 | 94 |
| 29 | Hamilton Russell Pinot Noir Hemel-en-Aarde Valley | 2012 | 93 |
| 30 | DuMOL Syrah Russian River Valley | 2012 | 94 |
| 31 | Tommasi Sangiovese-Cabernet Sauvignon Toscana Poggio al Tufo Rompicollo | 2011 | 92 |
| 32 | Hidden Ridge Cabernet Sauvignon Sonoma County 55% Slope | 2009 | 93 |
| 33 | Orin Swift Machete California | 2012 | 93 |
| 34 | La Rioja Alta Rioja Viña Ardanza Reserva | 2005 | 92 |
| 35 | Amavi Cabernet Sauvignon Walla Walla Valley | 2011 | 92 |
| 36 | Marcassin Pinot Noir Sonoma Coast Marcassin Vineyard | 2009 | 97 |
| 37 | Giuseppe Cortese Barbaresco Rabajà | 2010 | 94 |
| 38 | Aubert Chardonnay Russian River Valley Eastside | 2012 | 95 |
| 39 | Oddero Barolo | 2010 | 93 |
| 40 | Loosen Bros. Riesling QbA Mosel Dr. L | 2012 | 91 |
| 41 | Rombauer Chardonnay Carneros | 2012 | 92 |
| 42 | Lapostolle Clos Apalta Limited Release Colchagua Valley | 2010 | 94 |
| 43 | Charles Smith Riesling Columbia Valley Kung Fu Girl Evergreen | 2013 | 91 |
| 44 | Viña Cono Sur Cabernet Sauvignon-Carmenère Colchagua Valley | 2011 | 91 |
| 45 | Tikal Patriota Mendoza | 2012 | 91 |
| 46 | Turley Zinfandel California Juvenile | 2012 | 91 |
| 47 | Luce della Vite Toscana Luce | 2011 | 95 |
| 48 | Fincas Patagonicas Malbec Mendoza Zolo Reserve | 2012 | 91 |
| 49 | Trimbach Riesling Alsace | 2012 | 91 |
| 50 | Abadia Retuerta Viño de la Tierra de Castilla y León Sardon de Duero Selección Especial   | 2010 | 92 |
| 51 | Giuseppe Rinaldi Barolo Brunate | 2010 | 97 |
| 52 | Herman Story Grenache California On the Road | 2011 | 93 |
| 53 | Ponzi Pinot Noir Willamette Valley Tavola | 2012 | 91 |
| 54 | Mumm Napa Brut Napa Valley Prestige | NV | 91 |
| 55 | Veramonte Cabernet Sauvignon Colchagua Valley El Caballero | 2011 | 90 |
| 56 | João Portugal Ramos Alentejo Ramos Reserva | 2012 | 90 |
| 57 | Viña Bisquertt Syrah Colchagua Valley La Joya Gran Reserva | 2012 | 90 |
| 58 | TwentyFour Cabernet Sauvignon Napa Valley | 2010 | 93 |
| 59 | Peter Lehmann Clancy's Barossa | 2011 | 90 |
| 60 | St.-Urbans-Hof Riesling QbA Mosel Old Vines | 2012 | 90 |
| 61 | De Martino Cabernet Sauvignon Maipo Valley Legado Reserva | 2011 | 92 |
| 62 | Bodegas Montecillo Rioja Viña Cumbrero Crianza   | 2010 | 90 |
| 63 | Buitenverwachting Sauvignon Blanc Constantia Bayten | 2013 | 90 |
| 64 | Cune Rioja White Monopole   | 2013 | 90 |
| 65 | Ornellaia Bolgheri Superiore | 2011 | 96 |
| 66 | Fowles Shiraz Victoria Are You Game? | 2012 | 91 |
| 67 | Tohu Sauvignon Blanc Marlborough Single Vineyard | 2013 | 90 |
| 68 | Godelia Mencía Bierzo   | 2010 | 92 |
| 69 | Feudo di Santa Croce Primitivo di Manduria LXXIV | 2010 | 91 |
| 70 | D. Kourtakis Assyrtiko Santorini Greek Wine Cellars | 2012 | 90 |
| 71 | Roar Pinot Noir Santa Lucia Highlands Rosella's Vineyard | 2012 | 93 |
| 72 | Château Lilian Ladouys St.-Estèphe | 2011 | 90 |
| 73 | Gérard Bertrand Syrah-Grenache Languedoc | 2011 | 90 |
| 74 | di Majo Norante Molise Ramitello | 2011 | 90 |
| 75 | Disznókó´ Tokaji Aszú 5 Puttonyos | 2006 | 94 |
| 76 | Vietti Barbera d'Asti Tre Vigne | 2012 | 90 |
| 77 | E. Guigal Côte-Rôtie Château d'Ampuis | 2010 | 97 |
| 78 | Acrobat Pinot Noir Oregon | 2012 | 90 |
| 79 | Marqués de Griñon Cabernet Sauvignon Dominio de Valdepusa   | 2010 | 93 |
| 80 | Nino Negri Valtellina Superiore Quadrio | 2010 | 90 |
| 81 | Domaine de Triennes Vin de Pays du Var St.-Auguste | 2010 | 90 |
| 82 | Mulderbosch Faithful Hound Stellenbosch | 2011 | 91 |
| 83 | Round Pond Estate Sauvignon Blanc Rutherford | 2013 | 90 |
| 84 | Bodegas Marqués de Murrieta Rioja Castillo Ygay Gran Reserva Especial   | 2005 | 94 |
| 85 | Masciarelli Montepulciano d'Abruzzo Marina Cveti S. Martino Rosso | 2010 | 91 |
| 86 | Pali Wine Co. Pinot Noir Santa Barbara County Huntington | 2012 | 90 |
| 87 | Firriato Sicilia Santagostino Baglio Soria Red | 2011 | 91 |
| 88 | Christian Moreau Père & Fils Chablis | 2012 | 91 |
| 89 | Carol Shelton Zinfandel Mendocino County Wild Thing Old Vine | 2011 | 90 |
| 90 | Domäne Wachau Grüner Veltliner Federspiel Trocken Wachau Terrassen | 2012 | 90 |
| 91 | Domaine La Barroche Châteauneuf-du-Pape Pure | 2012 | 95 |
| 92 | Vecchia Cantina di Montepulciano Vino Nobile di Montepulciano Incanto | 2010 | 90 |
| 93 | Recanati Cabernet Sauvignon Galilee | 2012 | 90 |
| 94 | Château Lamartine Cahors | 2011 | 90 |
| 95 | Antonio Barbadillo Manzanilla Sanlúcar de Barrameda Solear   | NV | 90 |
| 96 | Domaine Gerovassiliou Epanomi White | 2013 | 90 |
| 97 | Tenuta delle Terre Nere Etna | 2012 | 90 |
| 98 | Domaine Terlato & Chapoutier Shiraz-Viognier Victoria | 2012 | 90 |
| 99 | Loimer Grüner Veltliner Qualitätswein Trocken Kamptal | 2012 | 91 |
| 100 | Saint Clair Pinot Noir Marlborough Pioneer Block 16 Awatere | 2012 | 92 |
https://www.gourmandbreaks.com/wp-content/uploads/Top-100-wines-1.jpg
227
695
admin
https://www.gourmandbreaks.com/wp-content/uploads/GourmandBreaks_v12.png
admin
2014-12-05 16:27:15
2021-01-22 15:25:52
Top 100 Wines of the World includes 8 Spanish Wines