Escudella Traditional Spanish Christmas Recipe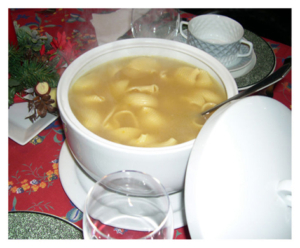 Ingredients for Traditional Spanish  Escudella
400 gr. chickpeas
1 piece beef bone
200 gr. bacon
1 pig ear
300 gr. beef
1 black sausage
10 garlics
1 cabbage
Celery
1 turnip
4 carrots
1 onion
Rice
Salt
Method for traditional Spanish Escudella
Leave the chickpeas to soak for 24 h.
In a large pot heat the chickpeas together with the bones, pig ear, bacon, unpealed garlics, carrots,  turnip, celery, onion and beaf meat.
Carefully add salt taking into account that some of the ingredients like bacon are salty.
Cover the pot and bring to a boil. Lower heat and allow to slowly cook for 2 hours.
Cook the black sausage on a separate pot for approximately 15 minutes. Once cooked add the cabbage and heat for 10 minutes.
Once the vegetables and meat are cooked, place in a container. Bring the soup to boil and add the rice. Cook for 10 minutes.
Serve all ingredients together for a wonderful  Traditional Spanish Escudella. 
Our Barcelona Cooking Class Day Tour is the best (and most fun!) way to introduce you to local and authentic Spanish recipes-this unforgettable day-long tour includes a visit to the city's most talked about marketplace, La Boqueria, a gourmet cooking class with a Spanish chef and a delicious 3-course meal.
https://www.gourmandbreaks.com/wp-content/uploads/GourmandBreaks_v12.png
0
0
admin
https://www.gourmandbreaks.com/wp-content/uploads/GourmandBreaks_v12.png
admin
2009-12-19 07:57:43
2020-11-17 15:50:45
Escudella Traditional Spanish Christmas Recipe