Traditional Spanish Recipe- Spanish Tortilla

U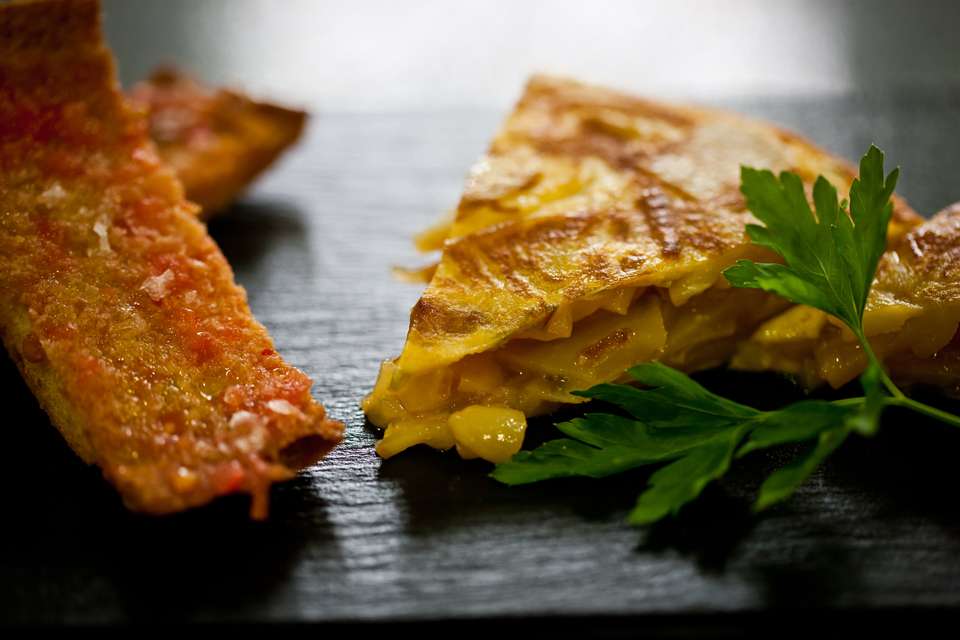 How many times have you visited Spain and sitting in a bar ordered Spanish Omelette/Tortilla  No doubt, like I did years ago, you arrived home eager to prepare this wonderful potato omelette, but once made, it didn´t somehow taste the same – well with this tried and tested recipe it will!
Ingredients for Traditional Spanish Omelette/Tortilla:
Half a kilo of very thinly sliced potatoes
Half a medium sized onion chopped finely
4 eggs
Virgin Olive Oil
Salt
Preparation of Traditional Spanish Omelette/ Tortilla:
Place your thinly sliced potatoes (slice them on a Mandolin if you have one) in a large bowl and sprinkle plenty of salt over them – turn and mix the potato slices until the salt is mixed throughout the bowl.
In a medium frying pan, preferably with a good thick bottom, heat about half a cm of Virgin Olive Oil and when it's hot add the potatoes from the bowl and start to fry them.  Be sure to keep stirring them so that they don't stick or start to brown.
After about 5 minutes add your finely chopped onion to the potatoes.   Stir the contents of the frying pan then cover it, but keep the heat down, not too high, so that the potatoes and onion do not brown.
Now break 4 large eggs into a bowl and beat them.
Keep an eye on your potatoes, stirring and turning them with a spatula or wooden spoon.As soon as the potatoes break easily they are ready.  Now add the potato/onion mix to the bowl of beaten eggs and away any excess oil that maybe left in the frying pan.
Mix the potato and egg mixtures together well whilst the frying pan gets hot with no extra oil in it.  Now add the mix to the frying pan and flatten it all over, keeping the heat at medium for several minutes. Put a plate over the tortilla and turn it over gently.  When you return it to the pan press down the sides which will create the classic shape of Spanish tortilla de patatas.
You will need to turn the tortilla several times and on each occasion it will get heavier.   Your Spanish Tortilla is ready when a skewer is inserted and comes out clean.
Fancy brushing up on your cooking skills?  our private Gourmet Cooking  Tours introduce you to the best of Spanish cuisine as well as a range of culinary delights such as Michelin starred dining, exquisite wine tastings and authentic gourmet tours.
Special thanks to Spanish Fiestas for this great recipe – http://www.spanish-fiestas.com/recipes/tortilla/
https://www.gourmandbreaks.com/wp-content/uploads/spanish-tortilla-recipe-small.jpg
640
960
admin
https://www.gourmandbreaks.com/wp-content/uploads/GourmandBreaks_v12.png
admin
2013-01-05 12:09:42
2023-06-07 10:27:34
Traditional Spanish Recipe- Spanish Tortilla