Traditional Spanish Seafood Paella Recipe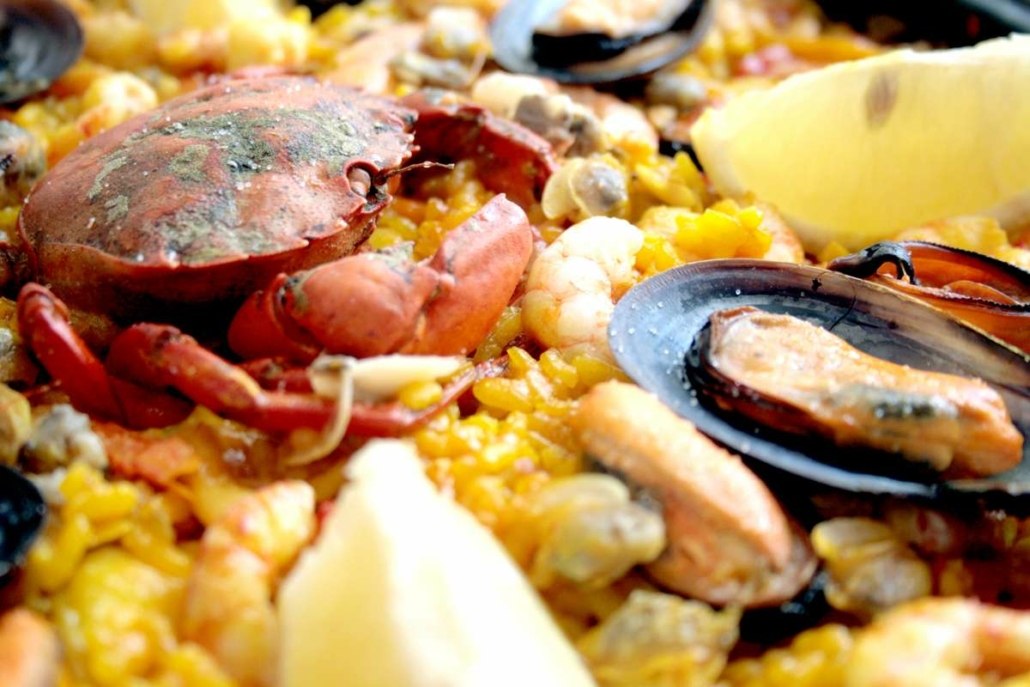 There really is no one recipe for traditional Spanish paella. In the same way pizzas are made with endless combinations of ingredients, paella can be made with various kinds of meats and vegetables. But, just in case you feel like experimenting sometime, we've helped you out by leaving an asterisk next to all the essential ingredients you should never leave out. Everything else can be left out or substituted as you wish.
Ingredients for traditional Spanish Paella
• ½ cup of oil*
• 3 cloves of garlic*
• 2 medium tomatoes*
• 1 tender chicken
• 3-4 oz. (100 g.) of jamón serrano
• 20 prawns
• 2 ¼ lb (1 kg.) of mussels
• 1lb. (500 g.) of clams
• ½ lb. (250 g.) of squid
• 5.5 oz. (150 g.) of octopus
• 4 artichokes
• 3-4 oz. (100 g.) of peas
• parsley
• 2 cups of rice*
• ¼ tsp. saffron or 2 saffron cubes
• 4 cups of broth*
• 1 hard boiled egg
• 1 red chili
• 2 lemons
(*)Essential ingredient
Serves 4 (or 2, depends on how good of a cook you are!)
Method for Traditional Spanish Seafood Paella 
First, make sure you prepare this dish in a typical paella pan or iron frying pan. For this recipe, the diameter of the pan should be about 8-9 inches (22 cm) in diameter and about 2-4 inches (5-10 cm) high, depending on how wide the pan is.
Cut the chicken into 8 pieces and the jamón serrano into small slices. Peel the tomatoes and 15 prawns, reserving the remaining ones for decoration. Wash the mussels and clams and put them in a pan with 3 tbsp. water until they open. Reserve the water and take off the shells with the exception of 12 mussels and some clams that will remain for decoration. Clean and empty the squid and the octopus. Boil them in water in order to take off their skins, then cut them into smaller pieces. Separate the hearts of the artichokes and quarter them. Chop the parsley. Wash the rice.
Once everything is ready, heat the oil on medium heat. Put in the garlic and chopped chili until the garlic is golden-brown. Then toss in the tomatoes. Add pieces of jamón serrano and chicken. Then add the octopus, squid, mussels, clams, prawns, artichokes and peas. After tossing everything together for a couple seconds, mix in the rice so it is fully coated in the oil for 3-4 minutes. After that, add the broth, mix well, boil then lower the temperature back to medium heat. Add the saffron and parsley, preferably after being ground together in a bowl.
As the rice cooks for another 10 minutes, arrange the prawns, clams, reserved mussels, the hard-boiled egg and lemon slices on the surface of the paella into a pleasing design. The rice should be dry along the edges, but if you think it needs more moisture, just add a little more broth. After cooking, let the paella rest for a few minutes, then serve.
Que aproveche!
Why not learn how to cook traditional Spanish paella and other typical Spanish dishes on one of our Cooking Class Tours in the heart of beautiful Barcelona where you will select only the freshest ingredients from La Boqueria Market and learn all the secrets of Spanish cooking with one of our professsional chefs.
https://www.gourmandbreaks.com/wp-content/uploads/paella.jpg
800
1200
admin
https://www.gourmandbreaks.com/wp-content/uploads/GourmandBreaks_v12.png
admin
2012-10-06 08:53:05
2020-11-17 15:55:44
Traditional Spanish Seafood Paella Recipe