A tasting Menu at Celler de Can Roca
The pilgrimage to Spain to visit the revolutionary Spanish restaurant, El Celler de Can Roca,  is a must for anyone seriously interested in gastronomy. There is little that hasn´t already been said ( and praised) about this place but we can safely say that after an afternoon here is is easy to understand the hype and to clarify that, unbelievably, the
restaurant had once again lived up to our expectations and more.
The restaurant is family run – three brothers Roca are involved: Joan the head chef, Jordi the pastry chef, and Josep the sommelier, between the three of them they have sucessfully elevated dining to a new art form- beyond anything we have ever experienced in any other restaurant.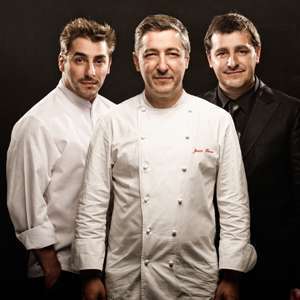 At Celler de Can Roca it´s not just about the presentation and the flavours, it's about awakening all the senses and arousing emotions through the sights, textures and flavours of the food. The compexity of flavours and the story that accompanied each dish took you to a different place and a different memory,- the savory taking us to a journey through the mediterranean cost and the sweet, to a frenzy of childhood memories.
We love how the cooking here masterfully combines traditional and modern techniques however nothing takes away from the focus of the flavour from the main ingredient—and the especially chosen wines along with each dish simply enhance it´s beauty.
Now- for the all important Menu!
The opening scene was set with a number of delightful apetizers :
The World: 4 taste inspirations  from when the Roca Brothers went around the world.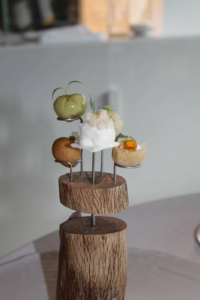 Mexico- guacamole, tomato seed, tomato water & corriander
Lap Land- yogurt ice cream, hot radish, dill and radish flower
Morocco- almond, rose, safron, ras el hanout, goat yogurt
Japan- Miso, cream dashi and nyinyonyaki tempura
Caramelized Olives:  we were presented a beautiful mini olive tree bearing caramelized olives stuffed with anchovies. The perfectly balanced flavours of sweet and salty harmonized beautifully
Crispy Fried Fish with Campari bonbon with grapefruit and black sesame-  The perfectly thin and crunchy casing was made with cocoa butter with a melting liquid filling of  elegant bitters.
Artichoke  Omlette
White Chocolate truffle & Brioche with white truffle
The menu now continues its journey through the landscape of Costa Brava with the Main courses:
Oysters with Augusti Torello cava, apple compote, ginger, pinapple, lemon confit and spices.
Crayfish parmentier with black trumpet mushrooms
Sole with olive oil, fennel, bergamot, orange, pine nuts and green olives
Salt Cod pot-au-few, potato gnocchi, cabbage and cod tripe
Sierra Mayor Iberian suckling pig, melon, orange and beetroot, a famous classic from Celler de Can Roca, as good as ever.
Lemon cloud with Jordi Roca´s perfume.
Milks desert with Milk Caramel, sheep´s milk ice cream and curd-cheese foam with cheeps milk yogurt and milk cloud.
So-having finished all the courses how did we feel? Like we had been taken on a journey of the senses from the taste of mushrooms from the earth to the flavours of the mediterranean coast with the essense of fennel, bergamot, pine nuts and olives and finishing with the taste of sweet fruit jellies from our childhood.
After 4 hours of indulgent dining it was time to leave-not before introducing the humble Roca brothers to our guests, who were all to happy to sign our menus and pose for a quick photograph.   The Celler de Can Roca experience is one that stays  with everybody forever and we cannot recommend it more!
Why not experience this legendary restaurant as part of a Luxury Gourmet Tour of Spain which includes dining in some of Spain´s top Michelin restaurants, private wine tastings and tours of exclusive wineries and accommodation in 5* Luxury Spa Hotels- the ultimate indulgent gourmet tour!
https://www.gourmandbreaks.com/wp-content/uploads/GourmandBreaks_v12.png
0
0
admin
https://www.gourmandbreaks.com/wp-content/uploads/GourmandBreaks_v12.png
admin
2013-02-13 09:24:16
2020-10-27 11:09:53
A tasting Menu at Celler de Can Roca