Catalan Creme/Crema Catalana Traditional Spanish Recipe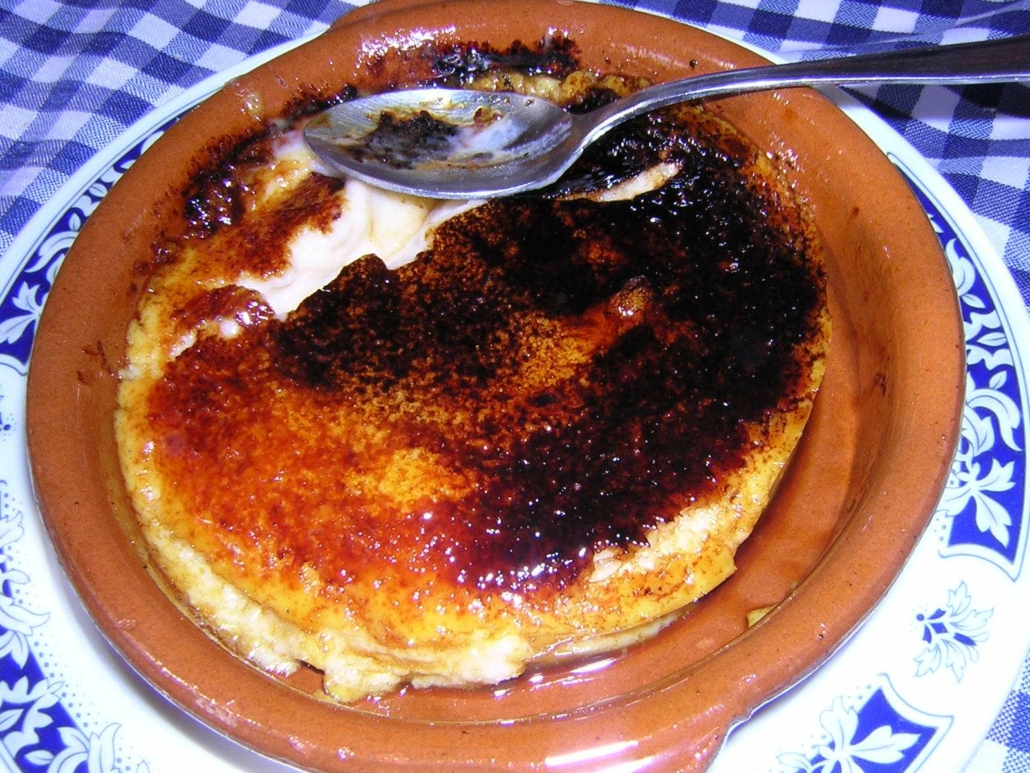 Ingredients for traditional Spanish Catalan Creme recipe:
2 cups (15 fl. oz) whole milk

1 cinnamon stick

Rind of 1/2 lemon

Rind of 1/2 orange
1 teaspoon vanilla extract

4 medium egg yolks

1 tablespoon cornstarch

1 cup (7 oz) superfine sugar

4 small, shallow heat-proof dishes, preferably cazuelas

4 Servings
Method for traditional Spanish Catalan Creme recipe
Pour some of the milk into a cup. While warming the rest of the milk with the cinnamon, lemon and orange peels over low heat, not forgetting to stir the milk every now and then, mix the yolks of egg together in another bowl with the sugar until creamy. Then stir cornstarch into the cup of milk at room temperature and stir until it is very well dissolved.
As soon as the milk has boiled, mix it with the eggs and cornstarch milk in the bowl. After taking out the cinnamon and the rinds, pass it through a strainer to make sure the liquid is smooth.
Then put the mixture back in the saucepan over low-medium heat, making sure that it doesn't boil and using a utensil to keep the cream from sticking to the sides of the pan. Just when it is about boiling, remove from heat with one hand while you continue stirring with the other hand for about two minutes. After doing this has thickened the mixture, pour into 4 shallow heatproof dishes. Allow it to cool at room temperature or refrigerate, preferably for a couple hours, until set.
Right before you serve your traditional Catalan Creme, scatter sugar evenly over each serving and caramelize it with a kitchen blow torch. If you don't have a blow torch, simply put dishes under the broiler until the sugar begins to caramelize. Remove from broiler and serve.
Fancy brushing up on your cooking skills?  our private Gourmet Cooking Tours introduce you to the best of Spanish cuisine as well as a range of culinary delights such as Michelin starred dining, exquisite wine tastings and authentic gourmet tapas tours.
https://www.gourmandbreaks.com/wp-content/uploads/DSCN29361.jpg
1200
1600
admin
https://www.gourmandbreaks.com/wp-content/uploads/GourmandBreaks_v12.png
admin
2012-09-18 08:00:59
2020-10-21 09:19:25
Catalan Creme/Crema Catalana Traditional Spanish Recipe